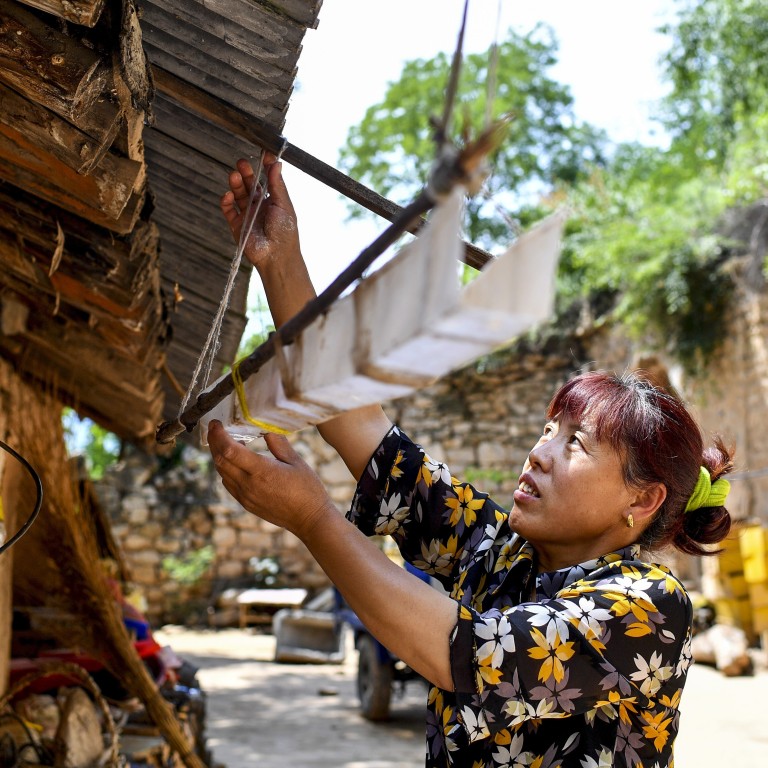 China trades rainwater for first time, but analysts say unstable trading system is far from being market-driven
A government-affiliated landscaping company paid a middleman a 450 per cent mark-up on the price of the water, but it was still cheaper than water from the tap
China is experiencing a water-shortage crisis, particularly in northern provinces that have been hit by droughts and inefficient water management
China traded rainwater for the first time on a state-run exchange this week – taking a small step toward reallocating water resources to solve its water crisis – but analysts say the country's water-trading system still has a long way to go.
China's deepening water-shortage crisis has been exacerbated by pollution and inefficient water management. With 80 per cent of its water resources concentrated in the south, at least a dozen northern provinces – including the Beijing-Tianjin-Hebei economic powerhouse – are suffering from water scarcity. Economic development is only putting more pressure on water demand.
Since 2014, Beijing has tried to use a market-based system to trade water rights in several pilot provinces across the country, and it formally set up the China Water Exchange in 2016. The process is similar to carbon emissions trading, which allows for the buying and selling of credits as a way to reduce greenhouse gas emissions and mitigate the effects of climate change.
On Monday, the exchange reported its first rainwater trade between two local private companies and the local government in Changsha, the provincial capital of Hunan province, in central China.
According to the exchange, the Hunan Yuchuang Environmental Protection Engineering Company bought 20,000 cubic metres of rainwater collected by a local property management firm, over the next three years, at a price of 0.7 yuan (US$0.11) per cubic metre. The former then sold 12,000 cubic metres of that rainwater to an urban landscaping company affiliated with the city government at a price of 3.85 yuan (US$0.60) per cubic metre for three years to replace the use of tap water for urban greenery and street cleaning.
That reflects a 450 per cent mark-up in the price paid by the government-affiliated company. However, 3.85 yuan per cubic metre is still 20 per cent cheaper than the local tap water price.
To collect the rainwater, equipment is installed on residential buildings, and the rights belong to residential property management firms. Upon purchasing the rainwater from these firms, it is disinfected and maintained by the purchaser – in this case, the Hunan Yuchuang Environmental Protection Engineering Company.
Environmental experts have been critical of the trading system. While China has taken some steps toward reforming its water rights and related trading, the system in its current format is still more government-mandated than market-driven, they say.
"China's water trade is neither developed nor a market. It is not developed because it is – at least in its current shape – nothing more than a patchwork of pilot programmes, the terms of which are set by local authorities who have yet to coordinate with each other. It's not a market because the whole mechanism would fall apart if it weren't for all the government subsidies and mandates," said Li Yifei, an assistant professor of environmental studies at New York University Shanghai.
As of the end of 2019, the exchange had traded only about 2.8 billion cubic metres of water, valued at 1.7 billion yuan (US$261 million), most of which was not traded publicly, according to official data.
One of the key problems with China's water trading system is the lack of a clear legal definition of water rights, or more precisely, the right to use water, since all water in China is owned by the state. The state sets annual water-use quotas for each province, and the provincial governments distribute them among local governments under their jurisdiction.
In a national water-conservation plan released last year, the Chinese government said it intended to keep the country's annual water use under 670 billion cubic metres through 2022, and under 700 billion cubic metres through 2035. By the end of this year, the utilisation rate of recycled water in water-scarce cities should also rise to more than 20 per cent, according to the plan.
Since 2006, Beijing has started charging industrial firms water-use fees and requiring them to obtain water-use permits. But for others without water permits, the lack of a clear definition of how much water one is entitled to only makes trading more difficult.
There is also a problem of getting more buyers and sellers to trade water-use rights.
"Especially in water-scarce areas in northwestern and northern China, the contradiction of less water and more land is prominent. There is a big gap between determined water rights and actual demand for water," Chen Jinmu and Wang Junjie, two researchers with the Development and Research Centre under the Ministry of Water Resources, said in an article for the state-run Water Resources Management publication in October.
"Whereas in some southern provinces that have relatively abundant water resources, there is a lack of demand for water-rights trading in the short term," they said. "The enthusiasm for trading water rights is not high, with low willingness to purchase water rights and a reluctance to sell them. So, the water-rights trading market is generally inactive."
This article appeared in the South China Morning Post print edition as: Rainwater traded for first time in China