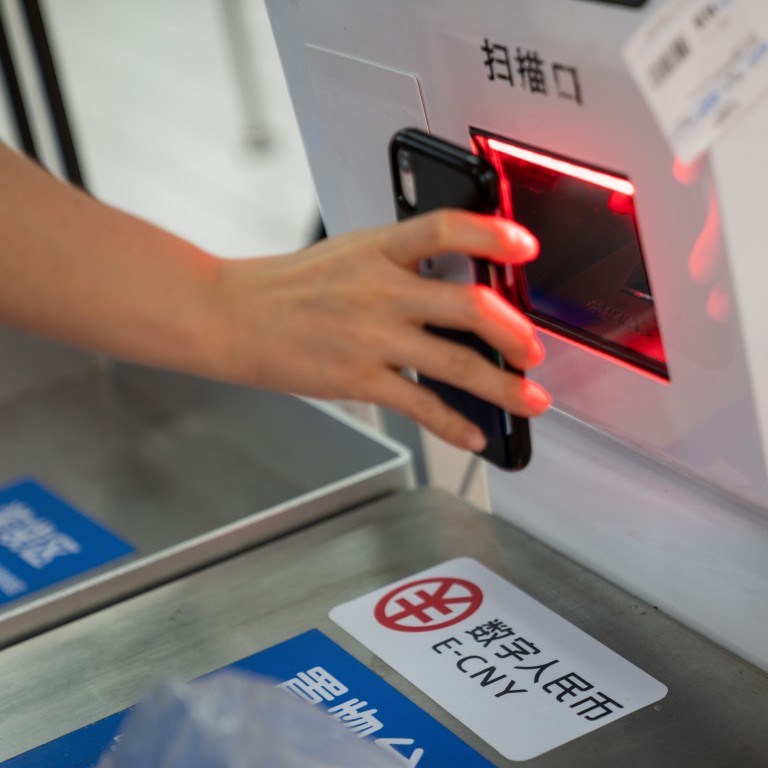 China's digital currency trial returns to Shenzhen for round two, with twice the participants and double the payout
A total of 100,000 digital 'red packets', each containing 200 yuan (US$31), will be distributed to residents on Thursday via lottery – the latest test of China's digital sovereign currency
This time it will take place in the tech hub's Futian district, and winners have until January 17 to spend their e-yuan before it expires
Shenzhen, China's technological hub, will start its second trial of the nation's digital currency this week, giving away virtual gift packets to its citizens as the nation steps up its testing efforts in a bid to launch the world's first sovereign digital currency.
The Shenzhen government said it will give away 20 million yuan (US$3.1 million) via "red packets" – gift envelopes traditionally given out during holidays and special occasions – to residents of Shenzhen's Futian district via a lottery.
A total of 100,000 digital red packets, each containing 200 yuan (US$31), will be distributed to residents on Thursday – doubling the number of recipients in
the city's first trial
.
The recipients will have to download the official digital yuan app to their smartphones to use the currency, and they have until January 17 to spend it in selected stores in the city's Futian district and on some domestic e-commerce platforms.
In mid-October, Shenzhen's first week-long trial of the sovereign digital currency resulted in
8.8 million yuan
being spent in over 62,000 transactions at the 3,389 designated shops in the city's Luohu district.
The Shenzhen government confirmed that 47,573 people out of the 50,000 selected by lottery received their digital red packets, after 1.9 million residents applied to take part in the 10 million yuan giveaway.
Last month, the municipal government of Suzhou in Jiangsu province gave away
20 million yuan
to residents as the People's Bank of China (PBOC) continued to test the e-yuan, which the government hopes will replace some physical cash in circulation, but not money deposited in bank accounts.
The central bank has also tested the new currency in the cities of Chengdu and Xiongan, as well as at venues for the 2022 Winter Olympics.
The series of pilot programmes have demonstrated that the digital yuan can work on the ground for goods and services, as well as
in cyberspace
.
The ongoing trials are meant to iron out some of kinks that still exist in using the new payment medium – such as some merchants not having access to real-time data to make sure a payment has been received. No time frame for a nationwide roll-out has been revealed.
China wants the e-yuan, known officially as the
Digital Currency Electronic Payment (DCEP)
, to help break the US dollar's dominance in the global financial system, and to help domestic monetary authorities maintain greater control over fund flows.
The PBOC vowed last month to punish those who refuse to take cash payments. Some merchants and companies have become more reluctant to accept cash in recent years as China increasingly moves away from physical coins and banknotes. And the trend was exacerbated by the coronavirus pandemic, the central bank said in notice on December 15.
"[Yuan] cash is the most basic means of payment. Entities or individuals cannot refuse to accept it," the PBOC said.
Central bank officials have also said the DCEP will not compete with
third-party payment apps
such as Ant Group's Alipay and Tencent Holdings' WeChat Pay, which have gained widespread popularity in recent years. Ant Group is affiliated with Alibaba, which owns the
South China Morning Post.
Unlike bitcoin and other cryptocurrencies, which are owned by their users, or stable coins such as Facebook's Diem (formerly Libra), which are linked to the value of a major currency, the DCEP is a sovereign currency issued and backed by China's central bank and designed as a digital version of the yuan.
China was the first country to begin looking into developing a digital yuan in 2016, and a number of Group of 20 countries have since said they are either exploring, developing or testing digital currencies. Non-Group of 20 nations such as Sweden, Norway, Switzerland and Cambodia have also confirmed they are considering digital currencies.
This article appeared in the South China Morning Post print edition as: Shenzhen to launch second trial of digital currency