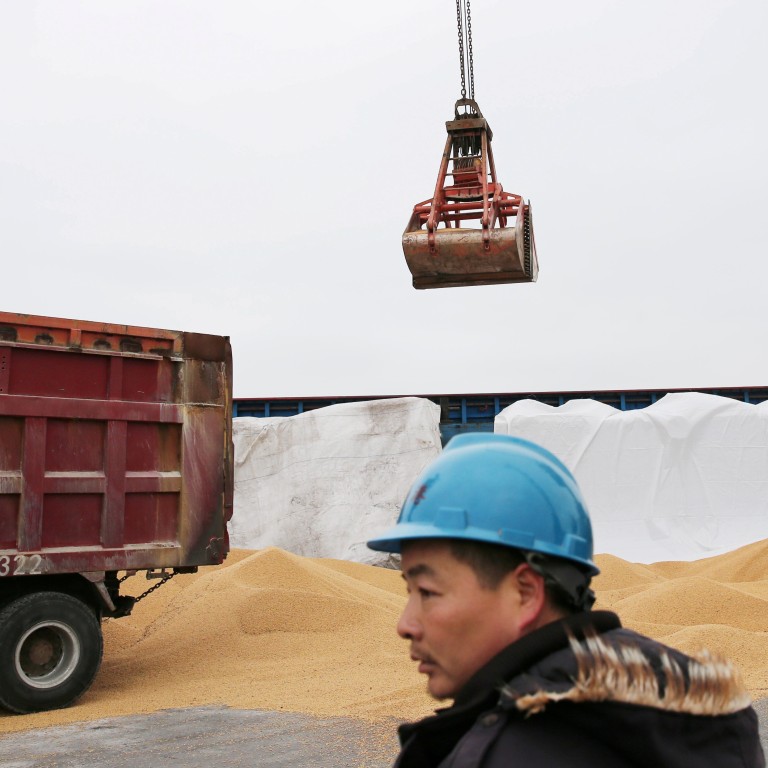 China's food security requires local Communist Party members to step up, new agricultural minister says
Comments serve as latest sign that Beijing is ramping up efforts to increase reliance on domestic harvests to feed the nation's 1.4 billion people
Agricultural minister doubles down on political rhetoric by singling out bureaucrats at provincial level
Beijing must hold provincial Communist Party secretaries and governors personally responsible for adequate grain output, the country's new agricultural minister said this week, calling this "the most important and necessary step" in ensuring China's food security.
The comments serve as the latest sign that Beijing is ramping up its efforts to increase reliance on domestic harvests to feed the nation's 1.4 billion people.
Tang Renjian, the newly installed minister of agricultural and rural affairs, also mapped out a to-do list to improve the country's crop production this year, including increasing the corn acreage and increasing self-sufficiency in edible soybeans, to keep the annual grain output over 780 billion kg (1.72 trillion pounds).
A series of
policy moves
from central authorities in recent weeks suggest that a cycle of large-scale expansion in grain-planting acreage is likely to be seen in China this year, according to analysts.
In the face of the lingering disruption by the Covid-19 pandemic over the global agricultural trade and what it perceives to be an increasingly hostile world, the Chinese leadership has been increasingly emphasising the importance of grain security since the middle of last year. Chinese President Xi Jinping even kicked off a nationwide campaign to
cut food waste
.
During China's
Central Rural Work Conference
on December 30, an annual gathering for the nation's leaders to discuss agriculture, Xi also told provincial party chiefs to take responsibility for securing the local grain supply.
That was after Beijing labelled grain security one of its top economic priorities for 2021 in the
Central Economic Work Conference
last month. The nation's top leadership has put domestic security on a par with economic development and is turning to
domestic demand
to power future growth, in an effort to reduce risks posed by external threats. This includes a goal of increasing domestic supplies of key products, technologies and foodstuffs over the next 15 years.
Tang on Tuesday doubled down on the political rhetoric by singling out local bureaucrats at a conference involving principal officials of the agricultural ministry.
"We should step up efforts to strictly carry out the most important and necessary inspection work, with both party and administration officials taking responsibility for grain security," said an official statement posted on the ministry's website after the meeting.
At another conference involving leading party members in the agricultural ministry on Monday, Tang also stressed the importance of ensuring an adequate supply of critical agricultural products.
He had expounded on that point one day earlier in an interview with the state-run Xinhua news agency, noting that stable crop production will be particularly symbolic this year as China's Communist Party celebrates its 100th anniversary.
Tang, who worked as a deputy to Vice-Premier Liu He – Xi's top economic adviser – in the former General Office of the Central Leading Group for Financial and Economic Affairs, was appointed party secretary and minister of the Ministry of Agriculture and Rural Affairs in December.
Tang also said the country this year would focus on expanding the corn-planting area in northeast and central regions, strive to keep the soybean acreage above 9.33 million hectares (23 million acres) to secure greater self-sufficiency in
edible soybeans
, and to some extent restore the wheat area in central and northwestern provinces to "ensure the absolute security of staple crops". China designates corn, wheat and rice as strategic staple grains.
China is the world's largest soybean importer, with commodities bought from overseas accounting for nearly 90 per cent of soybean consumption, and much of that is used as a key grain for animal feed.
He said seeds and arable land were principal vulnerabilities in China's grain security, after the central leadership last month signalled a push to improve
the nation's seed industry
and cultivate 6.66 million hectares (16.46 million acres) of "high-standard farmland" in 2021.
Tang was also quoted as saying that the "independent innovation in China's seed industry" is lagging behind that of developed countries, and that China might need to spend more than 250 billion yuan (US$38.7 billion) to achieve its target of increasing arable land this year.
Analysts at the Beijing-based think tank Trivium China wrote in a note on Tuesday that "small farmland plots and poor crop varieties impede both food security and the economic development of the agricultural sector".
Zhang Xin, an analyst at the Glocon Agritech Co-Innovation Institute think tank in Harbin, Heilongjiang province, said: "Starting from 2021, China's crop-plating acreage is likely to enter a new rebound cycle."
Tang's latest remarks indicate that state support for corn planting is likely to be stronger. Moreover, he said that increasing soybean-planting area to 9.33 million hectares as planned could result in annual production of 18 million tonnes, which would be sufficient to achieve total self-reliance in edible soybeans.
China's annual grain output in 2020 rose 0.9 per cent from a year earlier to 669.49 million tonnes, while the total crop planting acreage rose slightly by 0.6 per cent, according to the figures published by the National Bureau of Statistics.
But the country still imported 29.6 per cent more grain from a year prior during the January-November period, according to customs data. In terms of weight, the imports of soybean, corn and wheat rose 17.5 per cent, 122.8 per cent and 150.6 per cent, respectively, in the first 11 months of the year.
"China's problems in becoming more dependent on imported grains, and running a larger supply gap in feed crops, have begun to surface," Zhang said.
This article appeared in the South China Morning Post print edition as: Beijing seeks better food security