Exclusive

|
China tried to punish European states for Huawei bans by adding eleventh-hour rule to EU investment deal
Draft text shows Beijing looked to withhold telecoms sector benefits to firms from countries with restrictions on Chinese telecoms companies
The clause was struck-through by EU negotiators, with veteran officials pointing to a 'classic' Chinese negotiating move
At the eleventh hour of its painstakingly negotiated investment deal with the European Union, China tried to add a clause that would have frozen some of the benefits for EU states that restricted access for Huawei Technologies Co. and other Chinese telecoms firms, according documents reviewed by the South China Morning Post.
The insertion appeared in a draft negotiating text dated December 11, just weeks before the parties finalised their bilateral investment pact, but was struck-through by EU negotiators, suggesting it did not make the final agreement.
The deal took seven years to negotiate and is aimed at offering European firms better market access and trading conditions in China. It was
finalised on December 31
by China's President Xi Jinping, along with European leaders including European Commission president Ursula von der Leyen, German Chancellor Angela Merkel, French President Emmanuel Macron and European Council President Charles Michel.
But a footnote below a passage offering European firms 50 per cent ownership rights on internet data centres – licenses needed to host cloud computing in China – reveals an aggressive negotiating position from China late in the day, one which sources say would have been totally unacceptable to the EU.
The footnote, which is highlighted in yellow and struck-through with a blue line reads: "China reserves the right not to open this service to investors from countries that block or arbitrarily discriminate against Chinese telecommunications enterprises in law or policy."
The draft document is not the finalised agreement, but sources close to the talks said the final text confirmed by Xi and European counterparts could be legally scrubbed and released as early next week.
A European Union spokeswoman said: "The offers have not been published yet. We do not comment on leaks. We can confirm, as published, that China committed to market access in value added telecommunication services, including cloud services – currently under foreign investment ban - subject to equity cap."
The Chinese Ministry of Commerce did not respond to a faxed request for comment.
Analysts shown the footnote said it could only be referring to Huawei, the crown jewel of China's telecoms industry, which is being frozen out of a number of European markets due to security concerns, while others – including Germany and France – continue to debate its use.
Chen Zhiwu, director of the Asia Global Institute at Hong Kong University, said it was a risk free gambit from Chinese negotiators, since it would be bound to please those higher in the political hierarchy – even if it was unlikely to be accepted by the EU.
"For China, this would be one of the most obvious things to demand and if they succeeded, great for them," Chen said.
Nick Marro, global trade lead at the Economist Intelligence Unit in Hong Kong, described the clause as a case of China "wanting to have its cake and eat it".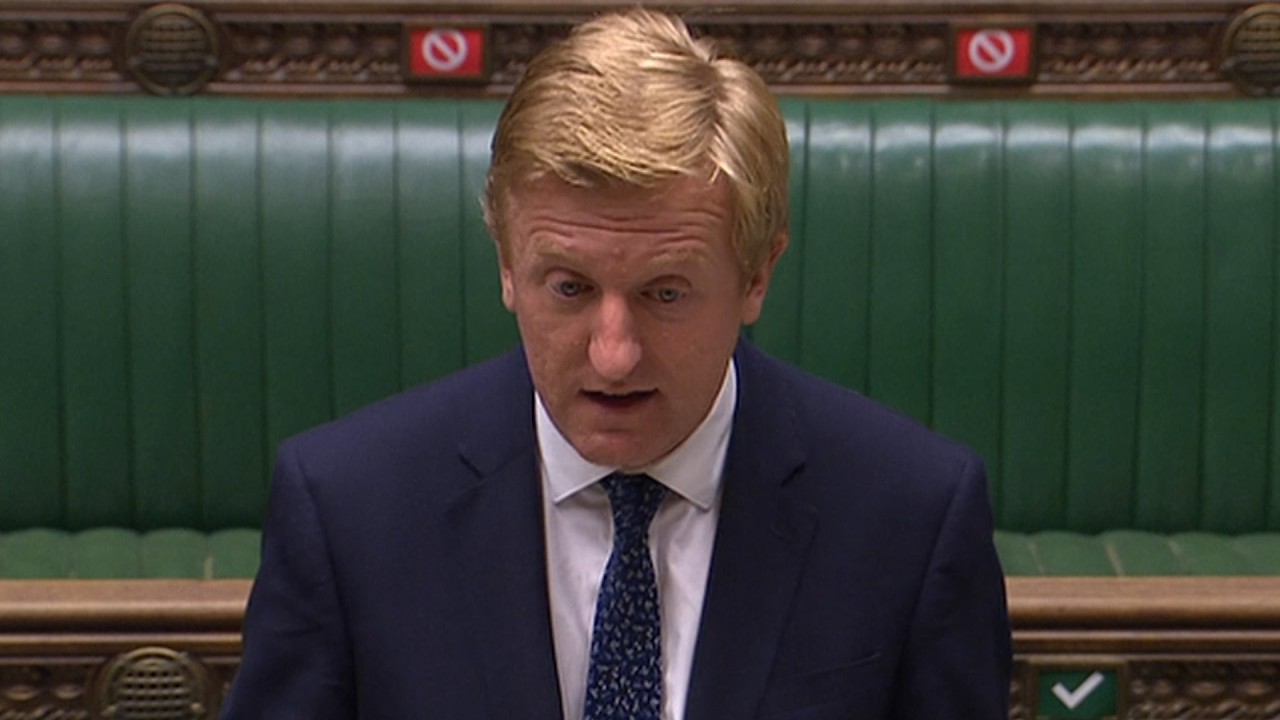 02:27
UK bans Huawei from 5G network after US sanctions
UK bans Huawei from 5G network after US sanctions
"The telecoms sector is the poster child of China's protectionism," he said. "For years China has used national security justifications as a thin veneer to block or restrict foreign investment, including into areas of emerging technology, such as cloud computing."
The fact that the clause was struck out by European negotiators in an draft dated December 16 suggests it was a bridge too far for Brussels, which is already under pressure for cutting a deal with China at a tumultuous geopolitical moment.
"I am quite surprised, as it is underestimating the EU negotiators," said Elvire Fabry, a senior research fellow covering trade policy at the Jacques Delors Institute in Paris. "This would provide more reasons for European capitals to reject the agreement, because it would be a sort of back door way [of allowing Huawei into European networks]."
Fresh controversy is swirling across Europe this week about Huawei's access to member states' 5G networks, with Swedish telecoms giant Ericsson reportedly threatening to leave the country due to the government's ban on the Chinese firm. While Huawei is a rival of Ericsson's, it is also a customer. The company also does not want to face getting frozen out of China's giant market.
The EU has no blanket ban on Huawei being used within the bloc, but individual members, including Poland, have issued domestic embargoes. Others, including Portugal and Italy, have cut Huawei out of 5G projects without formalising a ban.
Huawei has insisted its 5G technology is safe, and in 2019 threatened legal action against the Czech Republic after Prague issued a formal warning about Huawei and ZTE Technologies, another Chinese firm, according to The New York Times.
As deputy director general in the European External Action Service in charge of Asia, Hervé Jouanjean spent five years locked in annual negotiations with Beijing on joint communiques with the EU. He is not surprised by the negotiating position.
"This is classic Chinese [negotiating] behaviour, until the last minute, they tried to really bulldoze everybody by imposing language, which is absolutely unacceptable to the other party. And it takes until the last minute to get rid of this kind of language. I mean, this is clearly language which would have not been accepted by the Commission," said Jouanjean.
The EU-China agreement
– formally titled the Comprehensive Agreement on Investment (CAI) – has already come in for staunch criticism from parts of the European political spectrum.
Many said that commitments from China to work towards international labour standards are too weak in light of a constant drip of forced labour and wider human rights allegations about the
western region of Xinjiang.
"After a year in which it showed a disturbing face to the world with its Covid-19 cover-up, its security crackdown in Hong Kong, its Xinjiang denial, and the bullying of too many countries to count, [China] has been given the biggest Christmas gift of all. There is a Santa Claus after all. He resides in Europe, and he doesn't seem to care whether you've been naughty or nice," wrote Noah Barkin, an analyst on EU-China relations at the German Marshall Fund of the United States, in a note this week.
Others have questioned the timing, with the deal being swiftly concluded just weeks before
Joe Biden's inauguration as the president
of the United States, who has vowed to build a coalition of allies to tackle China's perceived threat.
But the text reviewed by the Post does not outline any further access to the European market for Chinese telecoms firms. It does allow both parties to maintain their own inbound investment screening mechanisms.
Other ex-negotiators who have spent significant time around the table with Beijing officials agreed that the clause looked like standard negotiating practice from China.
Charles Parton, a former British and EU official in Beijing, helped negotiate the Sino-British deal on the development of military-held land before the handover of Hong Kong, among other accords. He described the footnote as a "very common Chinese tactic in negotiations".
"At the eleventh hour and 59 minutes, they would stick in something which is often quite difficult for people, to see if the pressure will get it through. If you put it in right at the end, when people are just coming up to Christmas, maybe it will work well in those cases. But you would hope that the EU negotiators expected that sort of thing to happen," said Parton, who recalls one such communique being delayed by two days after Chinese negotiators "deliberately" inserted a comma, thereby changing the meaning of a sentence.
Others said that on a deal that is ostensibly about market access for both parties, it would have been unusual for Chinese officials not to make such a punt.
David Henig, a former trade negotiator for the British government, said that such a request was an "entirely reasonable ask in an agreement focused on investment access to another country".
"This definitely doesn't surprise me at all, until everything is agreed parties are quite frequently trying to bring back clauses that were previously discarded, to get the maximum possible result," said Henig, now UK director at the European Centre For International Political Economy.
Additional reporting by Stuart Lau
This article appeared in the South China Morning Post print edition as: Beijing Tried to hit back at Huawei bans in deal clause