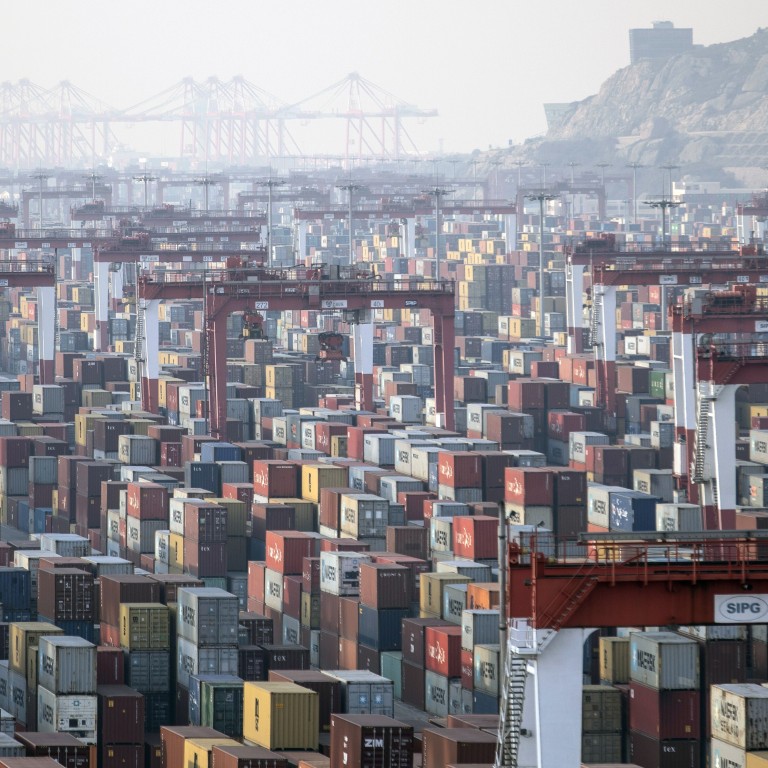 China's trade surplus hits record in December to end year in which it exported 40 masks per person around world
December figures show China's exports and imports both stronger than expected amid a global winter wave of coronavirus outbreaks, and trade surplus with United States rose again in 2020
From March to the end of last year, China exported US$67.82 billion worth of materials related to pandemic prevention and control
China ended 2020 with exceptionally strong exports and a historically large foreign trade surplus, despite being the first country hit by the coronavirus crisis, and in the face of international criticism of its mercantilist trade practices.
Amid prolonged debates over deglobalisation and decoupling during the pandemic, the latest official figures showed that China's trade surplus with the United States rose again last year – to the second-largest gap on record – in a fresh sign that the trade war kicked off by US President Donald Trump was unsuccessful in reducing the trade imbalance between the countries.
Both exports and imports were again stronger than expected in December, as the winter wave of virus outbreaks and lockdowns elsewhere in the world continued to boost demand for Chinese medical and work-from-home products, a trend that analysts argue could last for many more months, but is unlikely to be permanent.
Total China trade – a combination of exports and imports – rose to US$4.65 trillion last year, the highest level since records began in 1950, according to the data released by the General Administration of Customs on Thursday.
The country's annual trade surplus rose to US$535.03 billion in 2020, the highest since 2015 and the second-largest on record, with December's trade surplus rising to a record US$78.18 billion, the government data showed.
In US dollar terms, exports rose by 18.1 per cent and imports grew 6.5 per cent from a year earlier – both exceeding analysts' expectations in a Bloomberg survey.
That marked a far cry from the January-February period last year, when China saw its exports shrink by 17.2 per cent and imports drop 4 per cent due to the coronavirus impact.
"It is believed that China's foreign trade and surplus are likely to maintain a certain growth level this year, but it is indeed necessary to wait and see," Li Kuiwen, a spokesman for Chinese customs, said at a press conference on Thursday.
He touted the strong import growth as a result of China's "hypersized domestic market", noting that imports of crude oil and metallic mineral ores increased by 7.3 per cent and 7 per cent, respectively, while the import volume of grain and meat increased by 28 per cent and 60.4 per cent, respectively.
Lu Ting, chief China economist at securities firm Nomura, said China's export growth rate was expected to remain elevated in the first half of 2021 due to a low base of comparison from last year and given continuing strong overseas demand.
This view was echoed by Iris Pang, chief economist for Greater China at ING. "We still expect a net growth of exports from China in 2021 as the global export pie gets bigger", as global economies recover from the pandemic due to progress on vaccine inoculations.
"China's relative outperformance over global trade is likely to narrow gradually in the second quarter and fade more materially in the second half," Thomas Gatley, a Beijing-based senior analyst at research firm Gavekal Dragonomics, wrote in a note on Thursday.
Developed nations' production recovery will outpace their service-sector normalisation, reducing demand for Chinese products, while container shipping limits are beginning to bite on China's logistical capacity to fulfil remaining demand, he said.
From March to the end of last year, China exported 438.5 billion yuan (US$67.82 billion) worth of materials related to pandemic prevention and control, customs spokesman Li said.
In total, China exported 224.1 billion masks, valued at 340 billion yuan, in addition to 2.31 billion pieces of protective clothing, 271,000 ventilators and 1.08 billion coronavirus test kits to the rest of the world.
"That is equivalent to providing nearly 40 masks for everyone in the world outside China," Li said.
China's exports of laptops, which are necessary for remote working during lockdowns, rose 8.5 per cent to 2.51 trillion yuan in 2020. And exports of mechanical and electrical products were valued at 10.66 trillion yuan, an increase of 6 per cent, accounting for nearly 60 per cent of the total annual export value.
Last year marked the second-largest trade gap between Beijing and Washington on record, second only to 2018.
For the first time, the 10-member Association of Southeast Asian Nations (Asean) replaced the European Union to become China's largest trading partner in 2020.
China and 14 other nations in November signed the Regional Comprehensive Economic Partnership (RCEP), the world's largest trade deal, pointing to even greater regional trade in the future.
"China's approval and implementation preparations for the agreement will be completed within six months," Gao Feng, spokesman of the Chinese commerce ministry, predicted on Thursday.
China's imports from Australia were down 5.3 per cent to US$114.84 billion in 2020, while exports rose 10.9 per cent to US$53.48 billion.
This article appeared in the South China Morning Post print edition as: china's booming exports widen trade surplus