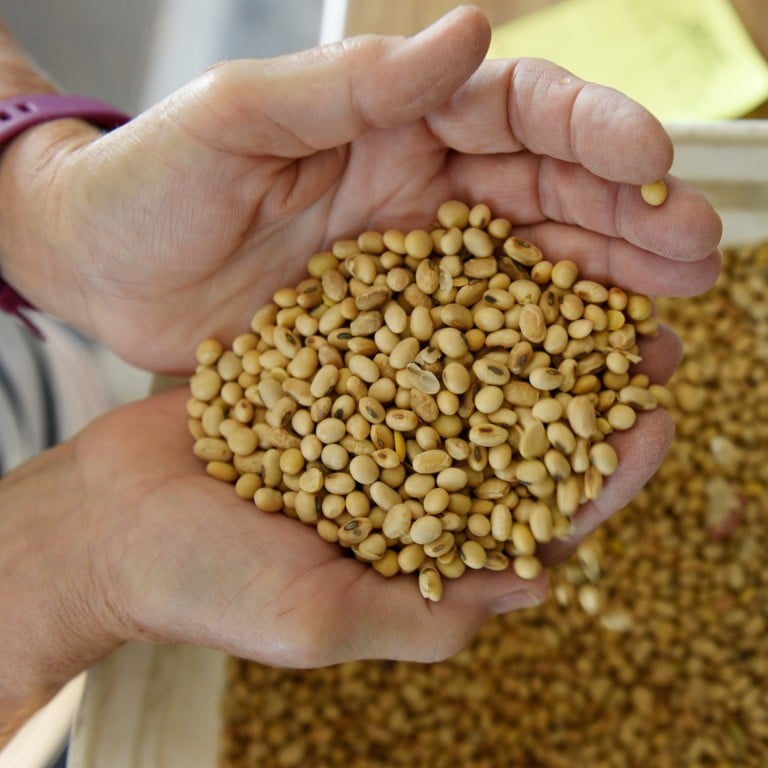 China's trade with US failed to meet phase one deal targets last year, and 2021 is not expected to yield more success
Even bumper sales of soybeans, pork and beef, plus market access for a range of other products, could not get China close to purchase targets
Analysts point to unrealistic goals in original deal with United States, and overall trade goals may continue to remain elusive in this year
China fell well short of meeting the lofty purchasing targets of its phase one trade deal with the United States in 2020, with analysts sceptical as to whether it will get any closer in the second year of the agreement.
In the first year of the deal, China fulfilled only 58 per cent of those targets, according to an analysis of Chinese customs data by the Peterson Institute of International Economics.
As part of the deal,
signed on January 15, 2020,
by former US president Donald Trump and Chinese Vice-Premier Liu He, Beijing committed to buy, over two years, at least US$200 billion more worth of American goods and services, compared with China's purchasing total in 2017. Those purchases were to comprise agricultural and energy commodities, manufactured goods, and services.
But the year was plagued by the coronavirus pandemic, which hit demand for crucial items such as Boeing planes – big orders that could have edged China closer to its goal. As it was, China reached 60 per cent of its US$77 billion purchasing target for manufactured goods, while energy shipments ran at just 39 per cent of the US$52 billion target.
Even bumper imports of soybeans, pork and beef could not bring China closer than 64 per cent of the US$32 billion agricultural purchase target – evidence to analysts that the original targets were largely unworkable.
"I think in my sector, animal protein, the imports exceeded my expectations," said Chenjun Park, an animal protein analyst at Rabobank in Hong Kong, who pointed to pork imports rising 230 per cent in the first 11 months of 2020, with beef imports up 150 per cent.
US chicken farmers gained access to China's poultry market
following a long hiatus
, coming from nowhere to become the second-largest supplier. Beijing reopened its markets to US suppliers of
products such as blueberries
, chipping potatoes, infant formula and pet food. It also lifted an embargo on US barley imports – around the same time it was slapping duties on Australian imports of the crop.
There were huge paydays for American soybean farmers, with customs data showing a 52.8 per cent increase in Chinese imports from a year earlier. China's
hog herd recovered
to 90 per cent of previous levels after a paralysing outbreak of African swine fever, driving up demand for the beans that are often fed to pigs.
Darin Friedrichs, a senior grain analyst at StoneX in Shanghai, said that the surge in soybeans was apparent in elevated crushing rates – the process through which soybeans are made into oil and meal – over the course of 2020.
"In 2017, we only saw a peak of 2 million tonnes of soybeans being crushed per week for four weeks in the year. In 2020, we saw that for 23 weeks in the year," he said.
But he was sceptical as to whether last year's purchase level could be exceeded, with question marks about whether the level of demand in China could be topped and whether the US could even supply more soybeans than it did last year.
"There is still definitely strong demand, but there is a limit to how much soybeans the US can sell to China," Friedrichs said.
At the same time, instances of positive coronavirus tests on meat imports have slowed their processing at Chinese docks, with importers having to pay for extended cold storage and disinfecting services provided by the government, Friedrichs said.
On intellectual property, China released a series of draft measures around pharmaceutical patents and "guiding opinions" on protecting trade secrets. It also released an intellectual property action plan in April, followed by a series of announcements around copyright protection – all of which ticked boxes laid out in the phase-one deal.
At a confirmation hearing on Tuesday in the US, Biden's nominee for Treasury secretary, Janet Yellen, told lawmakers that a comprehensive review of the phase-one implementation would take place, according to a transcript released later. Yellen described China's economic practices as "abusive".
Earlier in the week, Antony Blinken – the nominee for secretary of state – said he agreed with the Trump administration's designation of China's treatment of ethnic minority groups in Xinjiang as "
genocide
", in a sign that the US would not ease up on embargoes on the Western Chinese region's goods, many of which are suspected to be tainted by forced labour.
China's Ministry of Commerce this month rejigged its trade negotiation team, after a year in which it sealed the deal with the US that was seen as a ceasefire in the trade war, a
pan-Asia trade deal
with 14 partners and an
investment treaty
with the European Union.
Vice-Minister Yu Jianhua, 60, was appointed chief international trade negotiator – a position that had been vacant since Fu Ziying left the role in late-2018.
Commerce Vice-Minister Zhang Xiangchen was named deputy international trade negotiator. He, along with Yu and Vice-Minister Wang Shouwen, will head the office of international trade negotiations under the Ministry of Commerce. Wang Wentao, 56, was named the new commerce minister last month.
But analysts are sceptical as to whether there will be fresh US-China trade talks any time soon.
"There will almost certainly not be another agreement that focuses on purchase requirements, as the Trump administration's phase-one trade deal has clearly not achieved its goal. It's unclear what policies the [Biden] administration may pursue, but it is clear that tackling what it views as China's unfair trade practises will be a priority for the new administration," read a note from Beacon Policy Advisers this week.
This article appeared in the South China Morning Post print edition as: China missed targets under trade agreement with U.S.