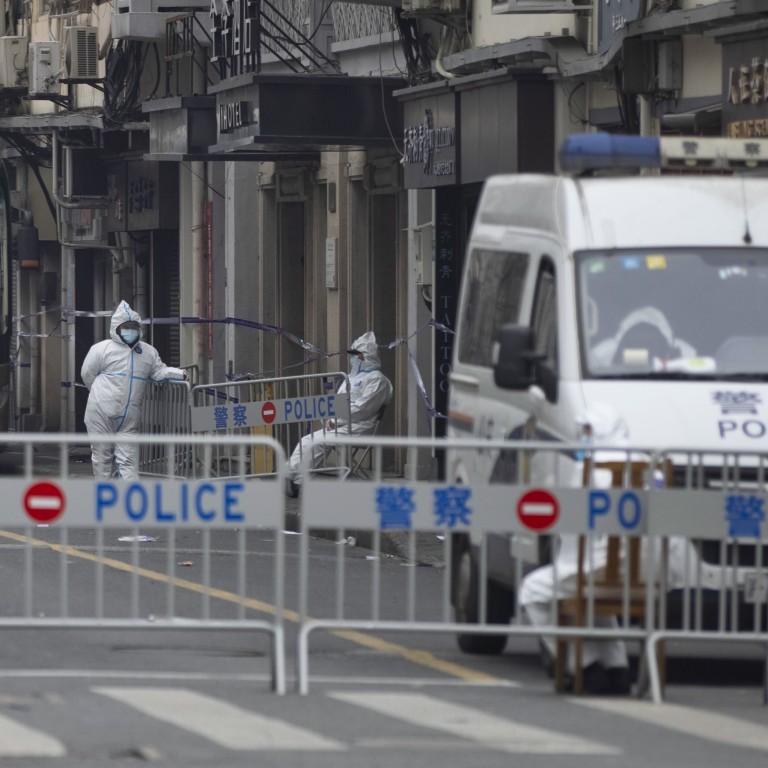 China's state-run economic model is not the answer to all future problems, despite coronavirus success, prominent economists warn
As lives in parts of the country are upended by coronavirus control measures, authorities are being called on to adhere to higher human rights standards
Ruthless pandemic crackdowns are said to be a reflection of how some local governments treat economic policies, resulting in poor business climates
China should be wary of relying too heavily on its state-led economic-management model and not get caught up in the belief that successfully controlling the pandemic last year is proof that the model will solve all future problems, prominent government advisers warned this week.
The words of caution came after Beijing
took a victory lap
this month in announcing that China's economy grew 2.3 per cent last year – likely the only positive growth rate among the world's major economies – touting this as proof of the state-controlled system's efficacy.
And to that effect, amid a resurgence of
domestic outbreaks
this month in northern and northeastern Chinese provinces, local governments in new coronavirus hotspots have doubled down on strong administrative controls to curb its spread.
A number of cities, counties and districts – even some without confirmed cases – have rushed to declare they were in "wartime mode" while ordering mandatory lockdowns and nucleic-acid virus testing.
But this approach, with its intensifying bureaucracy, has deeply disrupted many people's lives, according to the former head of research at China's Ministry of Finance who is also a member of the Chinese People's Political Consultative Conference – an advisory body to the central government.
"It is a simple continuation of the strong government-control model," Jia Kang said at an online economic forum on Tuesday. "While public opinion unanimously underscores the advantages of China … shouldn't we also attach importance to the disadvantages that are not being paid attention to now?"
Jia hearkened back to a notion known as a "low human rights advantage" to explain the "underlying logic" behind China's success in bringing the coronavirus under control through strict measures. The phrase was introduced more than a decade ago by Chinese historian and sociologist Qin Hui, and it reflects the state's commitment to economic development at any cost, resulting in a competitive advantage that is rarely seen in free-market countries or welfare states.
"Obviously, China relies not simply on the advantages of low wages, but on the advantage of 'low human rights'," Qin wrote in a 2009 article for the China Rights Forum publication.
One example of unintended consequences resulting from strict government controls was recently seen in Tonghua, Jilin province. City authorities imposed a lockdown last week after a spike in coronavirus cases, but the heavy-handed approach caused a widespread shortage of food and medicine in the city of 2.3 million people, sparking public anger against the local government on Chinese social media.
Ruthless epidemic controls are a reflection of how local governments treat economic policies, resulting in poor business climates and stagnated growth in northern and northeastern China, Jia said.
He called on authorities to adhere to higher human rights standards and rules so public policies are conducted in a more flexible manner.
In contrast to the strict practices seen in northern provinces, authorities in many southern regions of the country rolled out targeted control measures to minimise the impact on social life and business, which Zhang Wenhong, a Shanghai-based infectious disease specialist and a household name in China, described as "trying to catch rats in a china shop without breaking the plates".
Along with the diverging governance practices between northern and southern parts of China, the wealth gap between those regions has also widened during the pandemic.
Jia's view was echoed by Zhou Tianyong, a professor at the Central Party School of the Communist Party of China, who said that it is undesirable for military-style thinking on economic regulations that emerged during the coronavirus containment to become entrenched in future policymaking.
"We cannot take the short-term economic growth success achieved during the pandemic as a future advantage," Zhou said at the same virtual seminar on Tuesday. "Once the economy returns to normal, the advantage [of the state-led model] is likely to go nowhere."
"[The economic recovery] fully demonstrates the advantages of the socialist system with Chinese characteristics," Ning Jizhe, the head of China's National Bureau of Statistics, said at a press conference last week on the country's 2020 economic data.
The private sector contributes more than 60 per cent of the nation's gross domestic product and accounted for more than 80 per cent of non-government jobs in the world's second-largest economy in 2019, according to government data.
"Frankly speaking, private enterprises have fallen into a panic once again," Jia argued. "Now, nearly all leading companies have been impacted."
He pointed out the urgency to embrace a new round of ideological emancipation – as China's former paramount leader, Deng Xiaoping, did in the late 1970s to steer the country away from its ideological struggles to focus on economic development – as efforts to further liberalise the domestic market have become more difficult.
"Otherwise, some paranoid, simple, literal, conformist and irrational emotions in Chinese society are likely to create many [negative] side effects," he said.
Han Baojiang, director of the economics department at the Central Party School of the Chinese Communist Party, agreed that the ideological push to pursue a larger economic contribution from state-owned capital had "undoubtedly" squeezed the pace of private investment, inhibiting the vitality of the Chinese economy.
"How do we really reassure the thinking of private companies, to make them feel confident in becoming bigger and stronger in China? This is still a problem that the country must solve for its long-term development," Han said during Tuesday's online seminar.
This article appeared in the South China Morning Post print edition as: Beijing's state-run model not a cure-all, economists warn