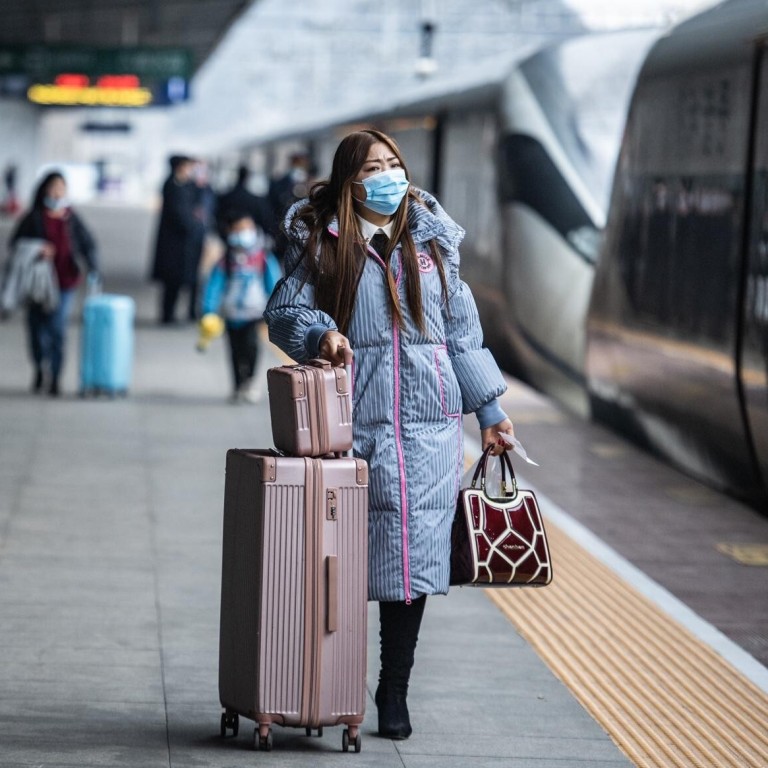 China's service sector recovery takes another hit as new coronavirus outbreaks cast pall over Lunar New Year consumption, travel
Ministry of Transport now projects that trips made during holiday period will hit a three-decade low, as it revises down its travel estimates by a third from a week earlier
Chinese plans for Spring Festival are expected to be subdued, as it will take extra effort for people to travel in the coming weeks
The Lunar New Year holiday, popularly known in China as the Spring Festival, traditionally results in hundreds of millions of workers in big cites returning to their hometowns, spending large sums of money on food, gifts and travel.
But a resurgence of new
coronavirus infections
in several cities has resulted in renewed restrictions on movement, and this looks to have a negative impact on annual consumption – particularly putting a dent in the recovery of the country's service sector.
Normally, hundreds of millions of people in the world's most populous country go on holiday to mark the beginning of the new lunar year, drawing comparisons with Christmas, Thanksgiving and Easter travel periods in the West, all rolled into one.
However, the Spring Festival this year, which officially begins on February 12, is expected to be much more subdued, as it will take extra effort for people to follow through on travel plans.
"I've spent a year planning this trip," said Li Lin, a Beijing-based tech entrepreneur who has set aside 50,000 yuan (US$7,731) to visit a ski resort in the northeastern Chinese province of Jilin, bordering North Korea and Russia. "I anticipated that the schools would discourage children from leaving [Beijing], so I sent my kids and wife to Jilin right after the exams were over. They have been in the resort for nearly two weeks now."
Li has since been monitoring the outbreak restrictions in Jilin, where there have been new reports of coronavirus infections, prompting local authorities to implement lockdown measures in certain areas.
But Li is determined to press on with his family holiday and will have to take a nucleic acid test before he is allowed to board his flight to meet up with his family next week. "You can't worry too much because of the resurgence and stop everything like taking holidays. I think Covid-19 may come back every winter now. I'd say being mindful of personal hygiene and getting a vaccine is the way to go."
Demand for air and railway travel has weakened with the Chinese government encouraging individuals to stay where they are instead of travelling during "chunyun" – the annual holiday period, which falls between January 28 and March 8 this year.
Typically, China sees around 3 billion trips during the chunyun period, making it the world's biggest annual migration. However, the common spectacle of crowds packed into railway stations is absent this year.
"We must make epidemic
prevention and control
the first priority of the Spring Festival travel season," Chinese Vice-Premier Liu He said on Wednesday when inspecting the preparations in Beijing ahead of the start of chunyun.
People planning to head to Beijing need to produce a negative Covid-19 test result within a week before they reach the capital, and they must get tested again seven and 14 days after arriving.
According to online travel firm Ctrip, air fares across China have plunged by as much as 60 per cent in recent days, while certain high-speed rail routes to western regions of the country have been temporarily suspended, according to the China Railway Xian Group.
Not everyone is willing to make a huge effort to travel for leisure during the spring break like Li is. Just a month after her wedding, which was attended by 600 guests in early December, Shenzhen-based Jeanine Song cancelled her honeymoon flight to Hainan island during the Lunar New Year holiday.
Her husband's company clamped down on employee movements across provincial borders during the holiday period and required that all trips get prior approval.
"I didn't imagine the epidemic situation would get worse [when making honeymoon plans]," said Song, who is in her late-twenties. She recently quit her job in Hong Kong due to the coronavirus and will start a new career at a bank in Shenzhen after the holiday.
But Song is still considering going back to her hometown in Shandong province for the holiday. "Even if I have to do home quarantine, I am OK with it," she said.
Others are not sure if they want to travel, given the various hoops they would have to jump through to do so.
"Local [restriction] policies are changing every day," said Li Xi, who works at a neighbourhood community organisation in Handan, Hebei province, noting that as of Thursday, anyone returning to the city from low-risk zones must produce a negative Covid-19 test issued within the past 72 hours.
China's transport system was estimated to have carried 19.91 million passengers on Thursday, the first day of the 40-day travel period, according to data from the State Council, the country's cabinet. This marked a 71.4 per cent drop from the start of chunyun last year.
On Thursday, the Ministry of Transport projected that about 1.15 billion trips would be made over chunyun, revising down its estimate by more than 32 per cent from a projection made just a week earlier.
The forecast not only marked a 22 per cent drop from the coronavirus-hit 2020, but also the lowest since level since 1989.
"It is expected that the actual number will still be lower than the estimate after chunyun begins," transport ministry spokesman Wu Chungeng said.
And the entertainment industry is also unlikely to recover during the Spring Festival. Cinema tickets booked for February 12, the first day of the Year of the Ox, hit 50 million yuan in presales this week, according to the film analytics platform Dengta. Last year, cinemas sold 100 million yuan worth of tickets when presales began. The box office receipts during Lunar New Year season in 2019 accounted for nearly 10 per cent of total revenue during the year.
Analysts said that the travel restrictions during the Lunar New Year holiday are not a good sign for consumption in the first months of the year and could delay the recovery of the service sector.
"While these measures can help limit the spread of the disease, they do not bode well for the transport and hospitality sectors, since the Lunar New Year is normally one of the peak seasons for passenger flow," investment firm Natixis said in a research note on Thursday. "Given this, the full recovery of the service sector is set to be delayed, which was a major drag on consumption in 2020."
Analysts at Citic Securities wrote in a note last Friday that the reduction of travel during chunyun was likely to reduce household consumption by 150 billion yuan, mainly due to lower spending on transport and tourism, with the impact being more significant in the rural areas.
Xiong Yuan, an analyst with Guosheng Securities, expects a loss of 85 billion yuan in the transport and tourism sectors, dragging down growth in February by about 1 percentage point, year on year.