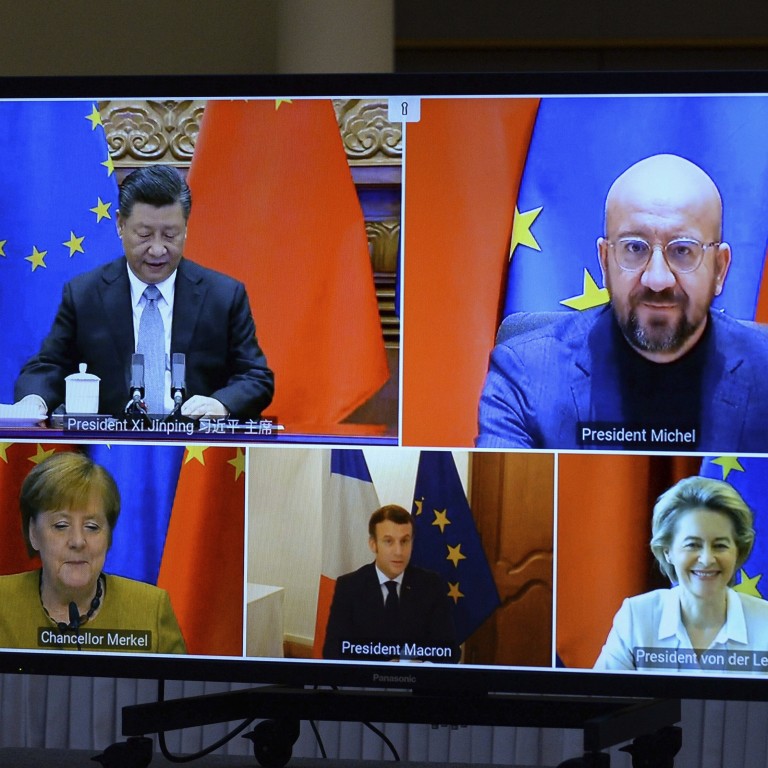 EU-China relations: services sector seen as untapped potential for growth in relationship after goods trade overtakes US
China overtook the United States as the European Union's biggest trading partner last year with trade volume in goods reaching €586 billion (US$707 billion)
The European Union and China also concluded negotiations for their long-awaited Comprehensive Agreement on Investment in December
Even as China overtook the United States as the European Union's biggest trading partner last year, the services sector offers untapped potentials to grow the relationship which reached €586 billion (US$707 billion) in 2020, according to the president of the European Union Chamber of Commerce in China.
China's trade volume in goods
with the 27-member European Union (EU), excluding Britain, reached €586 billion in 2020, according to the latest data.
Both the EU's exports to and imports from China grew last year, with exports valued at €202.5 billion and imports worth €383.5 billion, while the bloc's trade deficit with China rose 9.9 per cent, expanding from €164.7 billion in 2019 to €181 billion last year.
"We need to keep in mind that the US remains the EU's number one trading partner when you include services," Joerg Wuttke, president of the European Union Chamber of Commerce in China, told the official Xinhua News Agency in an interview on Thursday.
"The current headwinds include decoupling dynamics, politicised trade, import bans and export controls. Although the underlying economic forces for trade between the EU and China remain strong, we cannot take it for granted that it will continue to be that way indefinitely."
The EU and China concluded negotiations for their long-awaited
Comprehensive Agreement on Investment
in December, although it still needs to be ratified by various European governments and the European Parliament as a replacement for 26 bilateral investment agreements between China and members, and this process is unlikely to be completed until 2022.
"If ratification can be achieved, we hope that there will be the political will to go beyond the implementation of the agreement as it stands, and to continue reforming the Chinese economy to benefit not only EU businesses but also competitive and innovative Chinese private enterprises," Wuttke said.
"The current situation could act as the EU's 'Sputnik moment'. Obviously, the focus should not be Moon-bound endeavours, but artificial intelligence, biotechnology and information and communication technology. After all the EU is still an engineering superpower."
A Sputnik moment refers to the Soviet Union's 1957 launch of the first Earth-orbiting artificial satellite Sputnik 1, which caught the US unprepared, and has become shorthand for a moment in which people realise they are threatened and have to redouble their efforts to catch up.