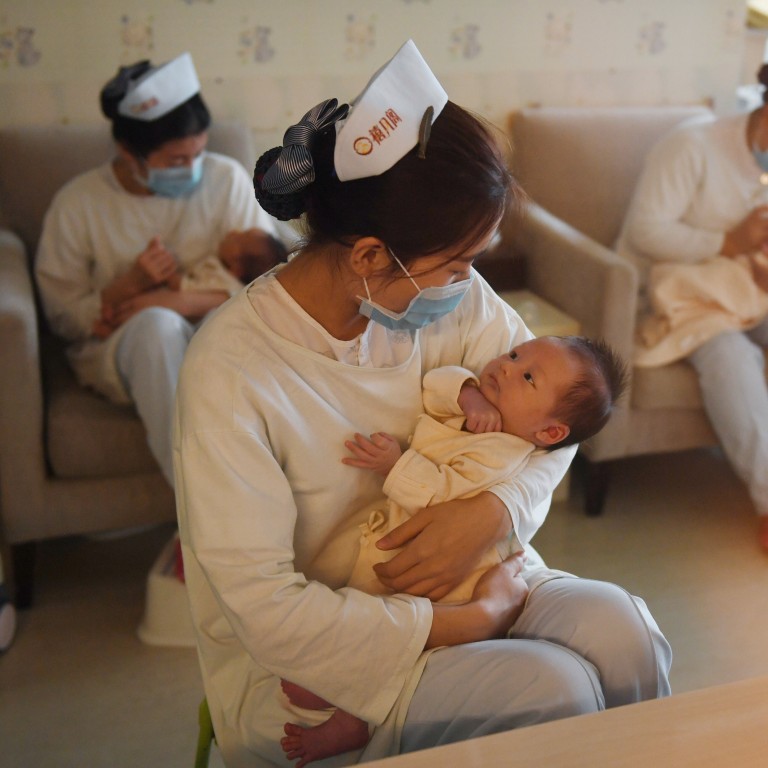 China population: economic powerhouse Guangdong aims to add 1 million residents a year, even as birth rate keeps falling
At least one demographer says the goal of adding roughly 15 million people by 2035 is far too ambitious
According to Guangdong's official statistics, its residential population grew by 6.72 million from 2015-19, thanks to large inflows of migrants from across the country
China's manufacturing and technology hub of Guangdong province has set an ambitious target to expand its population – including permanent residents and migrants – to 130 million by 2035, in spite of a sharply dropping national birth rate.
The total would be a 13 per cent increase from 2019's population of 115 million. But some demographers say such a goal – adding an average of roughly 1 million people a year – is too aggressive.
The plan was outlined in the Territorial Special Planning of Guangdong Province (2020-35) document this month
The proposal estimates that the Pearl River Delta population – excluding Hong Kong and Macau – will reach 84.4 million in 2035, up from 64.47 million in 2019, with 90 per cent of the population living in the cities.
According to Guangdong's official statistics, its residential population grew by 6.72 million from 2015-19, thanks to large inflows of migrants from across the country.
In December, Guangzhou moved to ease its restrictions to help lure young migrants, allowing all college-educated residents under 28 years old to gain permanent residency in seven of its 11 districts if they have been working and paying social security in the city for at least 12 months. Other family members, including parents, spouses and children, will also be allowed to benefit from the new regulations.
In January, provincial governor Ma Xingrui announced that Guangdong would relax the household registration system in all of its cities except the powerhouses of Guangzhou and Shenzhen.
To attract more talent to the city, Shenzhen offers housing incentives for professionals, including one-off living subsidies ranging from 15,000 yuan (US$2,161) to 30,000 yuan for undergraduates and graduate students who have taken up jobs in the city.
Nevertheless, Guangdong's population projections appear unsustainable, according to Yi Fuxian, a researcher with the University of Wisconsin-Madison and a long-time critic of China's birth restrictions, adding, "China's official demographic data in 2019 seriously overestimated the country's actual birth rate and population size."
"Guangdong's own total fertility rate is already very low," he said, adding that the migrant inflow to Guangdong will shrink in the short-term as the nation's young adult population declines.
In the provincial capital, Guangzhou, the official number of newborns fell in 2020 to its lowest total in nearly a decade, according to a report in the state-run Guangzhou Daily.
"My mother had only one child in the 1980s because of one-child policy. But now I'm also choosing to have only one child, regardless of how many children the authorities allow a mother to have," said He Ying, a Guangzhou-based resident. "And my mother gave birth to me in her twenties. I am pregnant now, but I am 34 years old already. And my three cousins, who are older than me, are married, but none of them have children."
The report added that the declining trend in the city broadly mirrored the situation for the whole province, which officially recorded 1.43 million newborns in 2019 – the most births among all provinces.
Guangdong will face fierce competition in the future for migrants, as the income gap between the central and western provinces and Guangdong is now narrowing, Yi said.
"Chongqing, Hunan, Hubei and Anhui have all relied on a backflow of migrant workers to boost their local economies," he added.
At the same time, in eastern China, a number of thriving cities with large inflows of migrants all registered drastic declines in newborns last year.
Yi estimates that China's population started to contract in 2018 and will shrink to about 1.2 billion by 2035. If that proves true, Guangdong's population plan is unachievable, he said.
This article appeared in the South China Morning Post print edition as: Guangdong looks to boost population