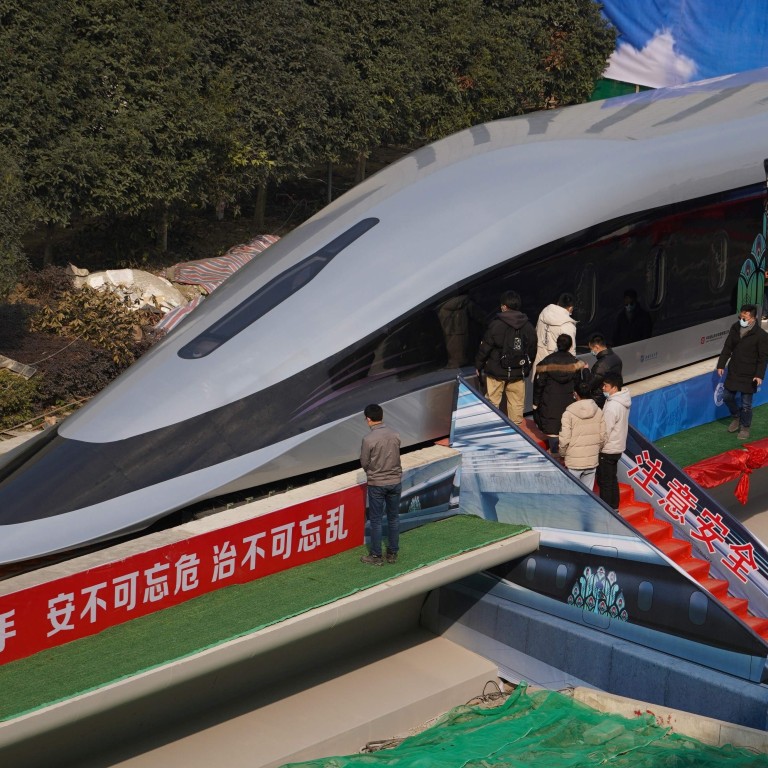 China sets 15-year transport expansion plan as it seeks to double size of economy by 2035
China's entire railway system could span 200,000km by 2035, according to a new policy document. That equates to about five trips around the world at its equator
Additionally, 162 new civilian airports are expected to be added across China by 2035, with innovation at the heart of Beijing's new transport strategy
The world's largest high-speed rail network could nearly double in size over the next 15 years as part of China's ambitious new plan to expand public transport – signalling that the government will continue to splash out on large infrastructure projects as it pursues its goal of doubling the size of the economy by 2035.
Beijing aims to increase the national high-speed railway network to 70,000km (43,500 miles) by 2035 – an 84 per cent increase from the estimated 38,000km at the end of last year, according to a blueprint jointly released on Wednesday by the Central Committee of the ruling Communist Party and the State Council, the country's cabinet.
And the length of the nation's entire railway network is anticipated to grow to 200,000km in 15 years, an increase of 37 per cent from 146,000km at the end of 2020, the document said.
The railway expansion is part of the comprehensive plan that will also include a 460,000km network of national expressways and ordinary highways, as well as a 25,000km high-quality inland waterway system.
The country also plans to add 162 civilian airports over the period, bringing the total number to 400.
As the two countries' overall economic competition deepens, infrastructure investment is emerging as a new area where Washington is seeking to catch up with Beijing.
"If we don't get moving, they're going to eat our lunch," Biden said at a closed-door meeting with senators on infrastructure spending.
He pointed in particular to China's extensive high-speed rail network and efforts to develop clean-energy alternatives to internal-combustion-engine vehicles.
An earlier document also called for the development over the next 30 years of magnetic-levitation train systems with speeds of 600km/h (373mph), as well as vacuum tube trains.
That document spelt out some details of the national project that kicks off this year to "build China into a country with a strong transport network".
"The problem of uneven development and insufficient development [in China] is still outstanding," the transport document reads.
The plan estimates that the number of trips made by Chinese passengers will grow by an average of 3.2 per cent each year in the 2021-35 period, while freight volume is expected to increase by 2 per cent each year, and the annual growth rate of the postal express service is expected to be about 6.3 per cent.
In addition, the government said it will establish an express-shipping network capable of delivering packages to any major city in the world within three days.
"The international environment is becoming increasingly complex," the document says. "Instability and uncertainty have increased significantly … the world has entered a period of turbulent change."
Infrastructure investment, especially large spending on high-speed railways that resulted from the country's 4 trillion yuan stimulus package in 2008, played a crucial role in helping China overcome the impact of the global financial crisis and then achieve fast economic growth and urbanisation progress over the past decade.
"In previous years, China's high growth relied on high investment, which was mainly driven by infrastructure and real estate, but the potential [for such investment] has gradually weakened," Liu Shijin, deputy director of economic affairs for the Chinese People's Political Consultative Conference, wrote in a note on January 28.
China's fixed-asset transport investment is expected to be around 2.4 trillion yuan (US$372 billion) in 2021, well below the 3.4 trillion yuan reached in 2020, transport minister Li Xiaopeng said at a conference in December.