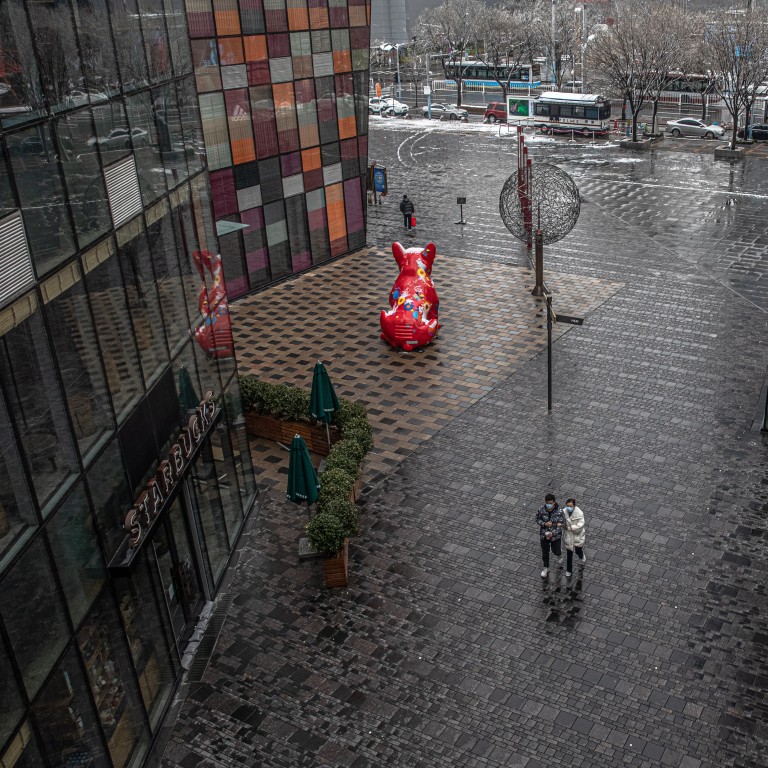 China's weakened consumer spending leaves 'a lot of work to do' in driving economic growth
Policies are needed to improve livelihoods and support low-income earners, or analysts say China's new plan to rely on domestic consumption could fall flat
Household debt has risen rapidly in China as more consumers turn to loans to make ends meet in times of economic hardship
At lunchtime on a recent weekday, Gu Zekun removed signboards at his small restaurant inside a Beijing shopping centre.
After struggling for more than a year in the throes of the coronavirus pandemic, Gu had no choice but to shut down his roast duck roll business.
"Fewer people came here amid the coronavirus. Many shops have closed since last year," Gu said, pointing to closed doors in an adjacent area that was previously occupied by small restaurants and shops. "We sold rolls at around 30 yuan (US$4.60). Many customers frowned at the price. They were reluctant to spend."
Gu's restaurant is among the countless Chinese businesses that collapsed amid lacklustre consumer spending last year. According to Banyuetan, a magazine run by state news agency Xinhua, at least 3 million shops and restaurants on the mainland were forced to close or had their licenses revoked in the first 11 months of last year, citing data from Qcc.com, a corporate credit information provider.
Chinese retail sales – consumer spending on goods – shrank 3.9 per cent last year from a year ago, marking the first annual decline since 1978. While gross domestic product (GDP) expanded 2.3 per cent and made China the
only major economy
in the world to post positive growth last year, it was mainly driven by infrastructure investment and exports.
While many economists expect Chinese consumer spending to rebound when the pandemic is over, there are widespread concerns that it will be an uphill battle for the nation to increase the share of private consumption in GDP over the long run, given that the
wealth gap
has increased significantly in the aftermath of the coronavirus.
In the government work report delivered by Premier Li Keqiang last week, China acknowledged that "the foundation of the economic recovery is shaky", and "residents' consumption is still restrained", while vowing to stabilise and expand consumption.
"We will increase people's income through multiple channels," Li said. "We will steadily increase people's consumption power and improve the consumption environment, making people able and willing to consume."
Boosting domestic consumption is an economic priority in China's five-year plan to 2025, as well as its long-term vision through 2035, according to a draft of the blueprint that is expected to be passed by the nation's top legislature this week.
"Consumption will become the backbone of China's economy, as required by China's new vision of 'dual circulation'", said Liu Qiao, an economist at Peking University. "So, it's urgent to address the issue: how do you make consumption a driving force of the economy?"
According to the National Bureau of Statistics, residents' annual disposable income totalled 32,189 yuan (US$4,935) per capita last year, representing a year-on-year increase of 2.1 per cent after adjusting for inflation. But their total annual consumption expenditures declined 4 per cent from 2019 to 21,210 yuan.
At the same time, household debt rose rapidly to the equivalent of 60 per cent of GDP in the third quarter last year from below 40 per cent five years ago, according to the National Institution for Finance and Development, as more consumers took out loans to make ends meet. Household debt is a "major concern" as government tries to boost consumption, Chinese authorities have warned.
China's total consumption has more than quadrupled to US$8 trillion in the past decade, accounting for 12 per cent of global consumption in 2018. Total consumption as a share of GDP has risen steadily since 2010 to around 55 per cent last year, but it is still lower than most developed economies where private consumption accounts for up to 70 per cent of the economy.
The
dual-circulation plan
, introduced in May by China's top leadership, places a greater focus on the domestic market, labelled "internal circulation," and is China's strategic approach to adapting to an increasingly unstable and hostile foreign environment. It is expected to see China place less reliance on its export-oriented development strategy, or "external circulation", without abandoning it altogether.
According to the 14th five-year plan, to make the dual-circulation plan work, the government will introduce policies that support employment, improve public services, bolster the social security network and reduce income inequality – all chronic obstacles holding back consumers' willingness and ability to spend.
Gan Li, an economist with the Southwestern University of Finance and Economics, said it was worrying that income inequality – the so-called wealth gap – worsened as a result of the coronavirus.
"China should roll out policies to improve people's livelihoods and support low-income earners, freelancers and self-employed small-business owners," Gan said. "Otherwise, they will be points of stagnation in the dual-circulation system."
According to a joint nationwide survey of more than 70,000 households by Gan's university and Ant Group Research, the income growth of households with annual incomes below 50,000 yuan was the slowest among all income groups. Those with annual incomes greater than 300,000 yuan, the highest bracket, fared best, thanks to stable jobs and good investment gains.
China had 600 million people living on a monthly income of 1,000 yuan (US$140) or less, Premier Li Keqiang said last year. That means more than 40 per cent of the nation's 1.4 billion people live on less than US$5 a day.
"It's barely enough to cover monthly rent in a mid-sized Chinese city," Li said, shedding light on the predicament of ordinary people in the world's second-largest economy and highlighting a major barrier to increasing consumer spending.
Overall consumer spending in 2020 was skewed by strong spending among well-to-do households, while consumers with modest incomes struggled to make ends meet.
High-end malls in China saw their sales grow 25 to 35 per cent last year compared with 2019, despite the pandemic. Sales of luxury goods in China soared 48 per cent to 346 billion yuan (US$53.5 billion), according to a report released by global management consultancy Bain & Company and the luxury division of online retailer Tmall.com. Tmall is a unit of Alibaba, which owns the South China Morning Post.
China's share of the global luxury goods market almost doubled to 20 per cent in 2020 even as the global market shrank by 23 per cent, underscoring the enormous spending power of China's wealthy class.
The Chinese government has vowed to address the nation's income-inequality problem since the beginning of the century. However, limited progress has been made as resource distribution has been tilted towards urban areas and sectors monopolised by the state.
"Only when most ordinary people are willing to spend can we say the people are benefiting from the country's economic prosperity," said Hu Xingdou, an independent political economist. "The Chinese government has a lot of work to do to make people able and willing to spend."
Xu Gao, chief economist with BOC International (China), said China was ready to tackle the chronic problem of insufficient consumption by ordinary people through an expansion of residents' income in the next five years and over the longer term.
"The government is expected to boost social security funding by transferring some state-owned assets and increasing residents' investment returns by supporting the development of pensions and mutual funds," Xu said.
A lack of adequate government health and retirement programmes has caused households to save more and cut back on discretionary spending, analysts said.
China is preparing to overhaul its decades-old
hukou household registration system
to allow people from rural areas to become permanent residents of cities, which generally offer better social services, according to the nation's 14th five-year plan.
"The efforts to increase urbanisation, especially in terms of permanent urban citizens, helped by fiscal reforms to increase local government revenues, should help [raise domestic demand],"
"To what extent the role of consumption in the overall economy will play depends in part on how future stimulus will be pursued," Kuijs said. "While China has made good progress with increasing the role of the service sector, there has been little headway in raising the role of consumption in the last five years," said Louis Kuijs, head of Asia economics at Oxford Economics. "That is in no small part because every time there is downward pressure on growth, the tried-and-tested way to stimulate the economy is by boosting investment."
UBS Securities' economists, led by Wang Tao, painted a rosy picture for consumption. They expect China's total consumption to grow faster than GDP in the next decade "as the middle class rises and the savings rate declines" due to improvements in the social safety net, they wrote in a research report last week.
Total consumption in China is expected to increase by US$8 trillion to US$9 trillion in the next decade to reach US$17 trillion in 2030, they forecast.