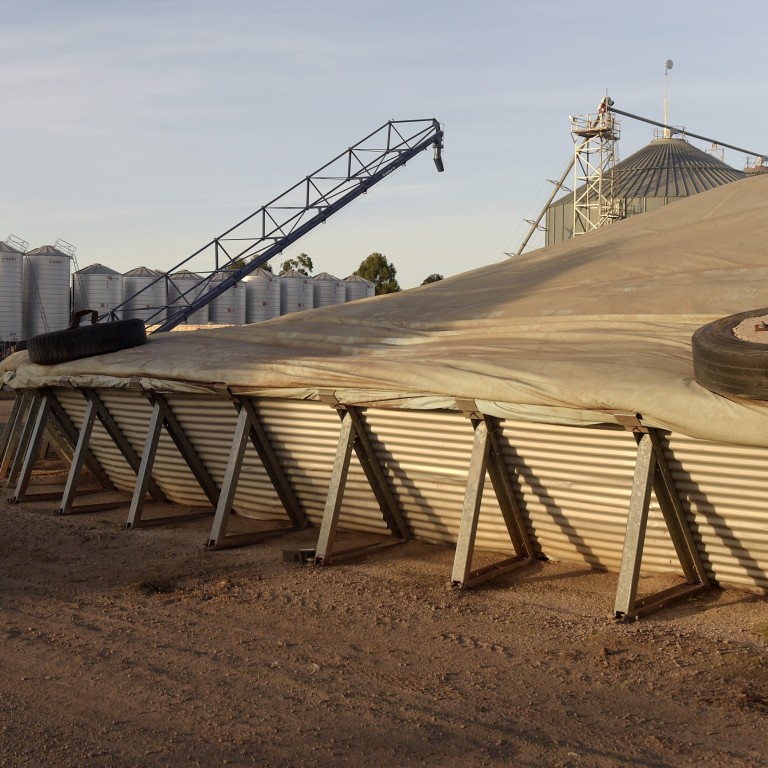 China-Australia relations: barley dispute going to WTO as headwinds loom in Australia's alternative markets
Australian government will escalate the resolution process by asking World Trade Organization to establish a dispute-settlement panel
A trade resolution at WTO could take years. Meanwhile, Australia has looked to new markets for its barley exports, particularly Saudi Arabia and Mexico
Informal talks between beleaguered trading partners China and Australia over their anti-dumping dispute involving barley have hit a wall, while some of Australia's redirected barley exports could face headwinds in the Middle East.
The Australian government said on Monday that it will escalate the resolution process by asking the World Trade Organization (WTO) to establish a
dispute-settlement panel
after failed attempts to resolve the complaint informally with China in late January.
Relations between the two countries remain frosty, particularly after several major Australian exports such as coal, log timber and wine were unofficially banned last year. Over the weekend, in a statement to the United Nations, China urged Australia to close its
offshore detention centres
, alleging human rights violations there amid
allegations of its own human rights abuses
involving Uygurs and other Muslim minorities in Xinjiang province.
Australian Trade Minister Dan Tehan also said on Monday that he had yet to make contact with his Chinese counterpart – new commerce minister
Wang Wentao
– as the communication breakdown experienced by his predecessor Simon Birmingham last year has continued.
"While there was constructive engagement on both sides, these consultations did not resolve our concerns," Tehan said in a statement. "Australia's barley trade with China represents a great deal of hard work on both sides over many years. The anti-dumping and countervailing duties imposed on Australian barley exports are not consistent with China's WTO obligations.
"The [Australian] Government is committed to defending the interests of Australian barley producers."
China imposed anti-dumping and anti-subsidy duties on Australian barley in May following an 18-month investigation that culminated with the start of their current political conflict, triggered when Canberra pushed for an international investigation into the
origins of the coronavirus
without consulting Beijing.
The total duties of 80.5 per cent destroyed the competitiveness of Australian barley in the Chinese market, prompting Australia to lodge a complaint at the WTO in December. The dispute-resolution process included informal discussions before a formal adjudication by a WTO panel.
Tehan revealed on Tuesday that those informal discussions with China have thus far been held at the "officials" level, rather than the ministerial level.
"I'm still waiting for a response to the letter that I sent earlier in the year, but our officials have dealt with the Chinese officials on this matter, and we've now informed China that we will be seeking to take this matter to the WTO and to establish a dispute-settlement panel," he said in an interview with Sky News Australia.
"I'm happy to be patient in waiting for a reply. I sent a very constructive letter seeking very constructive engagement, and now it's just time to be patient, and there's plenty else for me to be doing in my portfolio."
A trade resolution at the WTO could take years. Meanwhile, Australia has looked to new markets for its barley exports, particularly Saudi Arabia and Mexico.
In January, Saudi Arabia's central grains purchaser – the Saudi Grains Organization (SAGO) – bought 660,000 tonnes of feed barley from some of Australia's biggest exporters, including Glencore's Viterra and GrainCorp. And last month, Australia's biggest grains exporter, CBH Group, signed a deal to ship 30,000 tonnes of malting barley to Heineken in Mexico.
But new markets such as Saudi Arabia look to pose new challenges, especially with a reduction in imports following the liberalisation of the country's barley-purchasing procedures.
By the end of this month, Saudi Arabia's imports of barley feed for its camels, goats and sheep will be handled by 10 to 15 private importers, rather than the state-based central buyer, SAGO.
The US government, which also exports barley to Saudi Arabia, says the move, alongside discontinued subsidies for most animal feed imports, will reduce Saudi Arabia's barley imports.
The US Department of Agriculture expects Saudi Arabia's barley imports for the 2020-21 marketing year to "significantly reduce", forecasting an 18 per cent decline to 6.2 million tonnes. Saudi Arabia is the world's third-largest importer of barley.
Andrew Whitelaw, an agricultural analyst with consultancy Thomas Elder Markets, agreed that Saudi Arabia's privatisation move could create some uncertainty by potentially reducing transparency in its barley-buying process. Some buyers could also move away from straight barley – which Australia supplies – to compound feeds that are a mixture of several grains.
While there are risks ahead, the new Saudi Arabian market has helped alleviate some of the anxiety experienced by Australian barley exporters who can no longer rely on China as a trading partner, Whitelaw said.
"If they [Saudi Arabia importers] switched to compounds, it would likely see reduced overall barley imports," Whitelaw said. "However, this is unlikely to be an overnight move.
"There have been attempts to encourage compound feeding in Saudi Arabia in recent years. However, Bedouin farmers still prefer feeding straight barley."