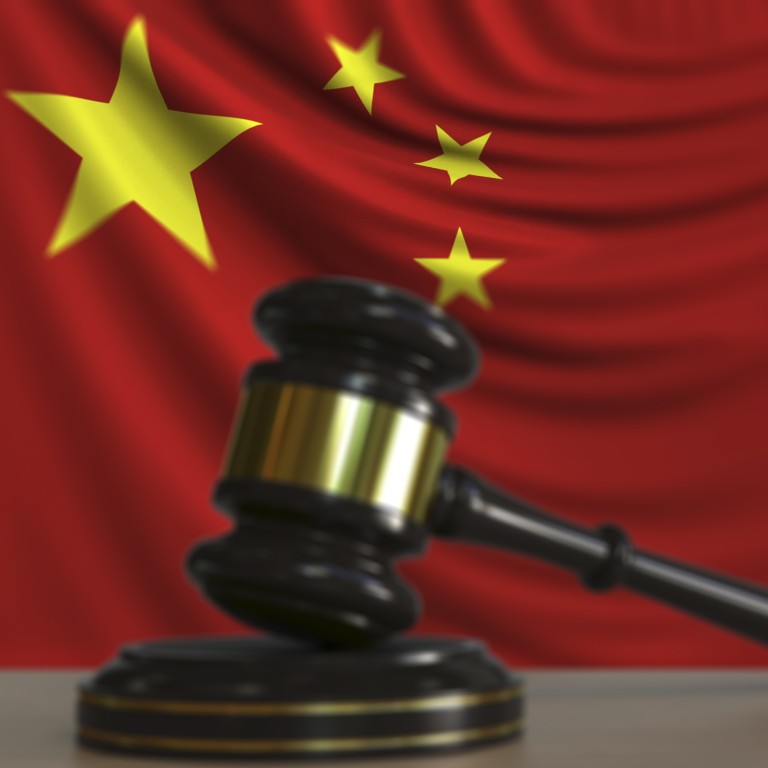 China's new financial court given jurisdiction to handle lawsuits involving overseas firms
Extraterritorial application of China's financial laws said to play a role in further opening up the domestic market
Announcement comes as China's overseas financial interests are increasing rapidly, and as Chinese companies have been targeted by American sanctions
China's top court has authorised the newly created Beijing Financial Court to hear lawsuits against overseas financial entities that have allegedly damaged the "legitimate interests" of Chinese domestic investors.
The move to "increase international influence" and "improve the extraterritorial application of Chinese laws" comes at a time when many Chinese firms have been targeted by United States government sanctions, even as China's overseas financial interests are increasing at their fastest pace in decades.
The announcement also comes just before US Secretary of State Antony Blinken and National Security Adviser Jake Sullivan are due to meet China's top diplomats, Yang Jiechi and Wang Yi, in Alaska on Thursday. Beijing has complained bitterly about Washington's application of its "
long-arm jurisdiction
" of American laws and regulations on Chinese companies amid escalating US-China tensions in recent years.
The Supreme People's Court decision on the Financial Court's jurisdiction took effect on Tuesday, according to a statement on the Supreme People's Court website.
The Beijing Financial Court is the second of its kind in China, following the
Shanghai Financial Court
, which was established in August 2018. A total of 25 judges were appointed by the Beijing municipal legislature last week, and the Beijing Financial Court's official inauguration could come in the near future.
The Supreme People's Court has not yet published the full text of the 13-article regulation outlining the new financial court's jurisdiction. However, the articles' contents were touched upon in the online statement, which said that Article 2 stipulates the new court's "centralised jurisdiction" over securities and futures disputes involving overseas-listed Chinese or foreign companies, as well as in cases involving alleged legal violations by "overseas providers of other financial products or services".
"The extraterritorial application of China's financial laws will play a bigger role in further opening up the domestic market," the court said, without elaborating.
Beijing has strongly opposed Washington's imposition of financial sanctions, which are usually based on American laws rather than international ones. Since last year, there have been lengthy discussions in Beijing on how to overhaul domestic laws – including those pertaining to export controls, cybersecurity, commercial banking and data security – to better respond to US actions.
Some Chinese lawyers said they believe China has the right to claim jurisdiction over overseas financial disputes, depending on where the dispute takes place and where the alleged financial damage occurred.
China's securities law, which was amended last year, explicitly stipulated that the Chinese government would target overseas financial entities that cause damage to domestic investors. Similar clauses are expected to be included in the country's new laws on financial futures and commercial banking, both of which are still in the legislative amendment stage, the Supreme People's Court said in a statement.
While decisions on specific cases are needed to discern Beijing's true intentions, an attorney at a foreign law firm in China said lawsuits against overseas entities are usually only symbolic. "The key to such cases lies in implementation. The verdicts of Chinese courts are hard to enforce overseas if defendants have no assets in China," said the lawyer, who asked not to be identified.
China had US$8.17 trillion worth of overseas financial assets at the end of September, including US$2.16 trillion in direct investment, US$772.8 billion in securities investment, US$14.4 billion in financial derivatives and US$3.28 trillion in foreign exchange reserves, according to the State Administration of Foreign Exchange.