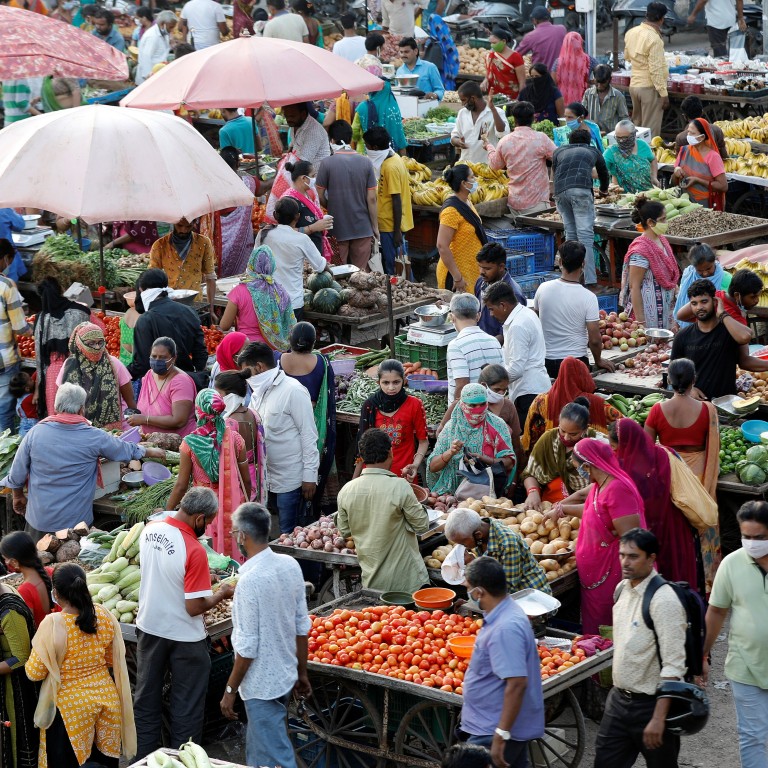 Coronavirus eroded China's middle class, but India has fared much worse, new findings reveal
Pandemic has forced about 32 million people out of India's middle class, accounting for 60 per cent of everyone who retreated from the middle class globally
Most of world's middle-class drop-off took place in Asia, while middle-class populations in developed economies rose as higher-income groups lost wealth
While the economic fallout from the coronavirus pandemic has taken a hefty toll on the world's two most populous nations, India's middle class has been hit much harder than China's, according to findings by the Pew Research Centre.
And a year into the pandemic, the scale of the world's middle class living on US$10 to US$20 a day looks to have dropped by 54 million people, while the number of poor people subsisting on US$2 or less has increased by about 131 million, the Washington-based think tank says.
"The erosion in the middle class might have been deeper if not for the fact that China – which is home to more than one-third of the global middle class – evaded an economic contraction, even though growth there was slower than anticipated," Rakesh Kochhar, a senior researcher with Pew, said in a report released on Thursday.
Pew's findings are based on the World Bank's household survey data and factored in economic-growth projections made in January 2020 and January 2021.
The research shows that most of the drop-off in the middle class took place in Asia, whereas the middle-class population in developed economies increased by roughly 16 million people when factoring in those who fell from higher income groups – living on more than US$50 a day – during the pandemic.
Pew found that the pandemic forced an estimated 32 million people out of India's middle class, and that made up roughly 60 per cent of everyone who retreated from the middle class globally.
Meanwhile, the number of poor people in India was estimated to have risen by 75 million last year, which also accounted for about 60 per cent of the increase in global poverty.
"The relatively outsized role of South Asia in the contraction of the global middle class and the expansion of poverty is the result of it seeing the sharpest reduction in economic growth in the pandemic," Kochhar said.
From 2011 to 2019, the number of poor people in India was projected to have decreased from 340 million to 78 million, while its middle class expanded by 57 million people, according to Pew.
"On both fronts, China alone had accounted for the majority of the increase in these tiers globally," Kochhar said. "Thus, the pandemic-driven pause on these fronts in China is also a let-up for the world at large."