Jobs
Get more with myNEWS
A personalised news feed of stories that matter to you
Learn more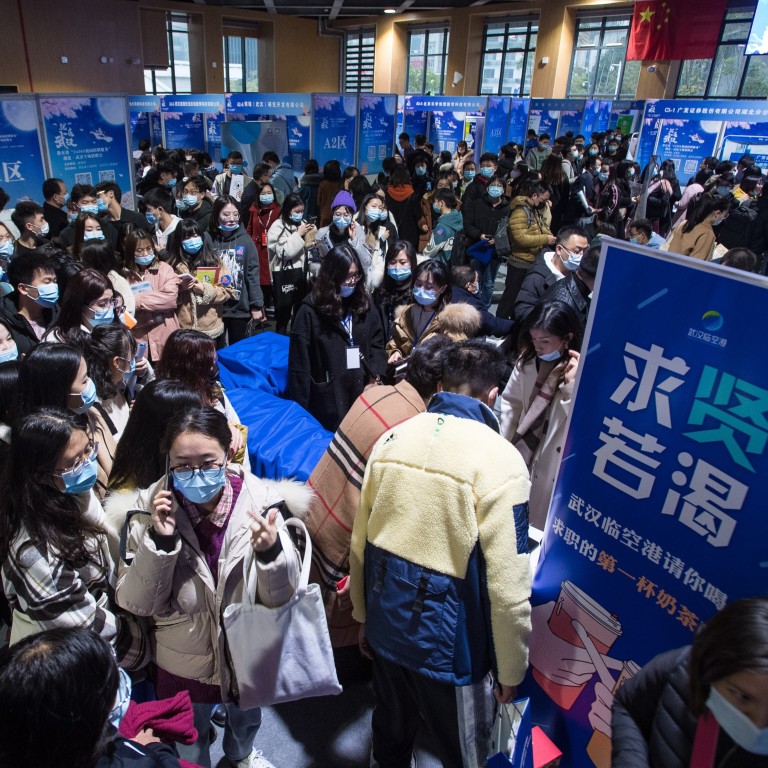 Want a job in China? US$7,700 VVVVVIP service still leaves applicants out of pocket, out of work
Career coaching consultancies charge up to 50,000 yuan (US$7,700) to help jobseekers in China gain an edge in an increasingly competitive market
But the coronavirus pandemic has made the fast growing industry a hotbed for complaints and controversies
In an increasingly competitive job market, many Chinese graduates have turned to career advisory firms for help. Yet the coronavirus pandemic has made this fast growing industry a hotbed for complaints and controversies.
George Zhao returned to Shanghai in September 2019 after studying in Britain. He was
anxious about finding a job
as it was almost the end of peak autumn hiring season. To boost his chances, he paid 36,000 yuan (US$5,500) to UniCareer, one of China's leading career coaching consultancies, for a six-month service plan.
The service offered 10 small group lessons pre-recorded by coaches, who were said to be professionals from different industries, five one-on-one coaching classes on anything from resume revisions to job interviews, and perhaps the most valuable, internal referrals to companies that matched Zhao's background. It guaranteed a 70 per cent refund if he did not receive an offer at the end of his service period.
UniCareer extended his plan to a year until November for free due to the coronavirus, but Zhao did not receive many job referrals. He attended one interview with a consultancy who carried out outsourcing work for other big firms. In April, he got a job on his own.
But when Zhao applied for refund when his service with UniCareer ended in November, the company kept delaying the payment without giving clear reasons. And since late February, he has lost touch with the company when the staff in charge of his service stopped replying to his messages.
Unfortunately, Zhao is not alone in expressing dissatisfaction with such services. Last year, an increasing number of complaints were launched against some of the biggest career advisory firms in China, which had failed to give refunds their students after the pandemic reduced job opportunities and threw their business models into question.
The boom of such firms can be partly attributed to a growing demand from young Chinese jobseekers trying to find an edge in an increasingly tough job market, with another
9.09 million students
set to graduate from universities and colleges this summer.
The scale of China's career coaching industry, also known as pre-service training, has grown more than three times since 2014 in terms of revenue, according to an industry report from Chinese consultancy LeadLeo.
Their main clients are
Chinese overseas students
who are believed to be more financially capable of paying services that cost as much as 50,000 yuan.
Last year, the number of Chinese overseas students who graduated and returned home for jobs went up more than 67 per cent from a year earlier, according to Zhaopin, one of China's largest job portals, with the global economy struggling amid the coronavirus.
"During the pandemic, many Chinese commercial study-abroad agencies that helped students prepare for their applications to foreign universities also started offering career advisory services to their clients. These agencies are also the main sources of clients for career coaching companies," said Tanya Wang, a close observer of the industry.
At the same time, reports of career coaching firms running into financial trouble started emerging. Last year, Zhiwen, another leading career coaching consultancy backed by Chinese technology giant Tencent, failed to pay the salaries of its employees and delayed refunding fees for months after its cash flow ran out, according to a report from Chinese financial media Caixin.
"I constantly receive messages from students complaining about their problems of getting refunds and in the past week alone, I got three complaints from three UniCareer students who wanted to expose the company," said Wang, who is active on social media warning potential customers of the risks associated with career advisory services.
Both UniCareer and Zhiwen did not respond to requests for comment from the South China Morning Post. 
One of the most controversial, also the most expensive, services offered is referred to as "job offer guaranteed," which introduces jobs to students and promises a refund if no offer is received at the end of the service period.
"You can see it as VVVVVIP, as opposed to VIP. You have better tutoring and internal referrals, and so more opportunities," Wang said.
"It's like a bet: If you want to go to [Baidu, Alibaba or Tencent], you pay 50,000 yuan and get back 80 per cent if you don't have success. The purpose is to gain an extra advantage in the job market."
However, the quality of such service is far from what is being advertised.
"Every month, they will send you a spreadsheet of job openings that you can find elsewhere. All they did was collect information … I only got one interview for a position that requires spoken Japanese from a company that did some outsourcing work and didn't have a good reputation," said Jane Xu, another UniCareer student who came back from studying in Japan in 2016 and decided to change her job before signing a contract with UniCareer.
Xu paid 33,000 yuan for the "offer guarantee" service that promised at least three job interviews until she had an offer and would refund 80 per cent of the service fee if she was not hired. It took her six months to receive a refund, which came earlier this month. She also found a marketing job on her own last year.
"The way I see how they make money is that they sell you some training courses and an internal referral service. And they refund old students with new students' money. But once fewer new students sign up, then they will have financial trouble," said Xu.
Looking back, Zhao, who now works in a foreign invested consumer goods firm in Shanghai, said UniCareer and other career coaching firms take advantage of young people's job anxiety to entice them into paying for their services.
Such anxiety-fanning messages are common among articles posted by China's career coaching industry firms on social media.
"How to make money to buy back homes that are sold by your family?" and "You are not a good lawyer if you have never seen what the 4am looks like in Beijing's [central business district]" are just some of the questions posed by firms.
"The service doesn't improve your job seeking skills much. What those coaches teach you is easily searchable online. Interview skills they teach you are more like common sense," Zhao added. "If you spend time looking for a job by yourself, you will find one eventually."