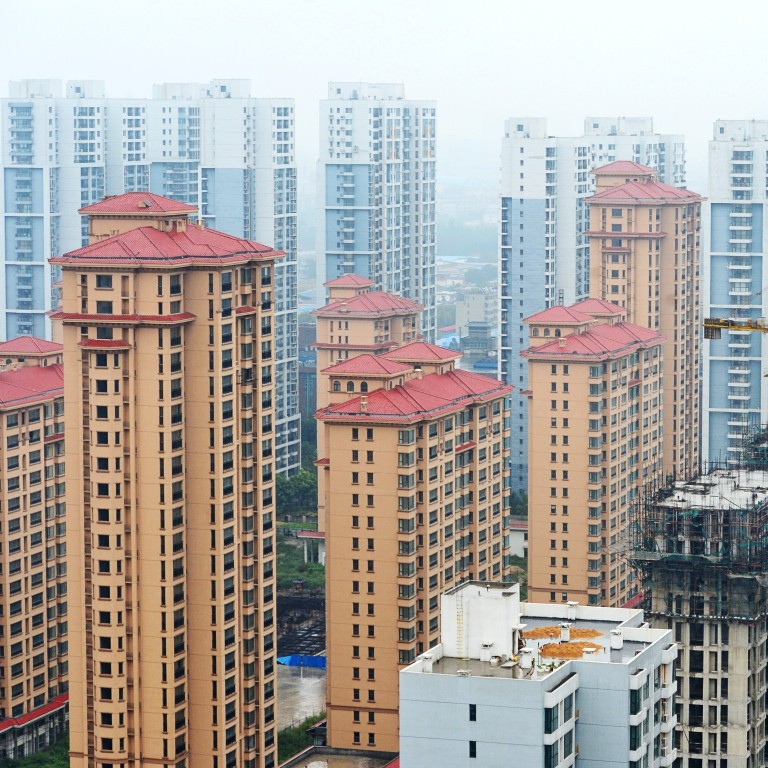 China's property price declines in lower-tier cities take heavy toll on middle class
Weakened real estate market in smaller Chinese cities is weighing on people's ability to spend, impeding government's goal of driving economic growth
Analysts say some third-, fourth- and fifth-tier cities have suffered due to a lack of industrial development and an outflow of workers seeking better jobs in bigger cities
Like countless parents throughout China, those of 34-year-old Yuan Yin want to do everything they can to support him and his future wife as they prepare to get married.
But the weakened property market in Sheyang county, Jiangsu province, is making it difficult to pull together a wedding dowry – marriage expenses traditionally offered by the groom's family in the country.
Yuan is a migrant worker, living and working as a freelance photographer in Guangzhou – nearly 1,700km (1,056 miles) away from his parents. They had hoped to provide him and his fiancée with about 800,000 yuan (US$123,000) by selling a small shop the parents own on a main commercial street, but the shop's value has plummeted amid the coronavirus-fuelled recession, and not a single buyer has inquired about the property since they listed it months ago.
Similar shops nearby have sold for less than 600,000 yuan recently.
"Local home prices [in Sheyang county] have dropped from 10,000 yuan [per square metre] in 2019 to just about 7,000 yuan now," Yuan said. "Whether I can start a business, get married, or even have a child is based on the value of our family home.
"I bet all ordinary Chinese families think the same."
Many people living in these smaller cities find themselves in situations similar to that of Yuan and his family, watching helplessly as property prices have steadily declined while investors and speculators opt to pump money into real estate in first-tier cities such as Shenzhen and Shanghai – larger property markets where prices are still rising.
Last year, 26 of 70 large and medium-sized cities across the country saw second-hand housing prices decline, up from 16 in 2019 and only one in 2018, according to official statistics.
However, the National Bureau of Statistics' housing price index may also be understating the scope of the problem by covering only 70 large and medium-sized cities and excluding more than 3,000 third-, fourth- and fifth-tier cities in China.
While there is no official list dividing China's cities into tiers, first-tier cities are the nation's largest, such as Shanghai and Beijing, while second-tier cities are generally provincial capitals and special administrative regions, most of which have more than 3 million residents each.
Third- and fourth-tier cities are prefecture- or county-level capitals, which account for more than 40 per cent of China's population. Fifth-tier cities are even smaller.
Analysts say that weakening property markets in some smaller cities indicate that they have fared worse economically in recent years due to a lack of new industrial development coupled with an outflow of workers seeking better jobs in bigger cities.
The coronavirus outbreak has intensified concerns about the outlook for smaller city economies, which have seen a large number of small and medium-sized enterprises close due to the pandemic. This has hit local employment and consumer spending, according to Liu Kaiming, head of the Shenzhen-based Institute of Contemporary Observation – a think tank that monitors working conditions in hundreds of Chinese contract manufacturers.
"The consumption of Chinese households weakened in 2020, and household debt grew significantly since most Chinese households and small and medium-sized enterprises saw their incomes plummet last year," Liu said. "Even though exports recovered quickly in the second half of 2020, a large number of manufacturing enterprises were making very low profits or even losing money due to exchange-rate fluctuations and soaring costs for things such as logistics."
A report released last month by the China Real Estate Index System (CREIS) indicated that most small and medium-sized cities will face downward pressure on their property markets in 2021 due to a lack of local industrial development, population outflows, and dwindling central government aid for redevelopment projects.
According to the National Bureau of Statistics, annual disposable income in China reached 32,189 yuan (US$4,950) per capita last year, representing a year-on-year increase of 2.1 per cent after adjusting for inflation.
But their total annual consumption expenditures declined 4 per cent from 2019 to 21,210 yuan.
According to a survey by the 58 Anjuke Real Estate Research Institute think tank, the percentage of respondents in third and fourth-tier cities who said they plan to buy housing in their hometown dropped from 37.5 per cent in 2020 to 11 per cent this year.
The survey showed that the main reasons for people not wanting to set down roots in smaller cities included fewer job opportunities, lower incomes and sparse medical and education resources.
"China's economic growth in the past decade was mainly driven by a real estate and infrastructure boom, which is now unsustainable," said Simon Zhao, associate dean of BNU-HKBU United International College's Division of Humanities and Social Sciences. "At the same time, the current 'new economy' wave, like advanced manufacturing and financial industries, has failed to benefit most second-tier cities, let alone third- and fourth-tier cities."
Due to a lack of sufficient industrial growth, the downward trend in housing prices may spread to more second- and third-tier cities across China, increasing the risk from Chinese household debt, he warned.
Many second-tier cities in northern China – including Tianjin, Jinan, Qingdao, Shijiazhuang and Zhengzhou – saw average property prices drop by 3 per cent or more last year, according to the National Business Daily.
"I feel so stressful when seeing how property prices are falling," said Li Feng, who has to pay mortgages on two flats in downtown Tianjin, where prices have dropped to less than 40,000 yuan per square metre from 50,000 yuan in 2017 when he made the purchases.
As of October, Tianjin property prices had fallen by as much as 21.8 per cent from their peak in March 2017, the National Business Daily report said.
"I already feel that stagflation has arrived because our income has stagnated in the past two years, but prices of necessities have all soared," Li said. "I thought that Tianjin's housing prices would pick up, since the authorities were easing interest rates during the Covid outbreak, but strangely that did not happen."
Most Chinese households' assets are tangible, and nearly 70 per cent of those are houses or other property, according to information released by the People's Bank of China.
Mortgages constitute the bulk of household debt, and some 77 per cent of indebted households have home loans with an average principal of 389,000 yuan (US$60,000), accounting for more than three-quarters of total household debt.
The report showed that the percentage of the households with debt was 56.5 per cent. Among those indebted families, the average total debt per household was 512,000 yuan. Among indebted households, 53.8 per cent had a debt balance of less than 300,000 yuan, while 35.6 per cent had between 300,000 and 1 million yuan in debt, and 10.5 per cent had more than 1 million yuan in debt.
The indebtedness of urban households is dominated by bank loans. Among households with debts, the average household bank loan was 496,000 yuan, accounting for 96.8 per cent of the total household debt.
According to last month's report by CREIS, local authorities in third- and fourth-tier cities sold 22,275 land lots to the market in 2020, with a total land area of 87.94 million square metres, down 49 per cent year on year. Among those land lots, 18,516 were sold, with a total land area of 731.25 million square metres, down 48 per cent year on year.
Yan Yuejin, director of the Shanghai-based real estate think tank E-House China R&D Institute, also flagged the property market risks in China's smaller cities, as most have implemented aggressive expansion plans in the past few years while coping with population outflows and weakened economies.
Back in Sheyang county, Jiangsu, Yuan's parents are still hoping to get 800,000 yuan for their small shop. But while they try to sell the shop, it remains vacant, with no tenant paying them rent.
Yuan said he thinks they should sell if anyone offers 600,000 yuan. In the current real estate climate, he fears property prices could continue to drop.