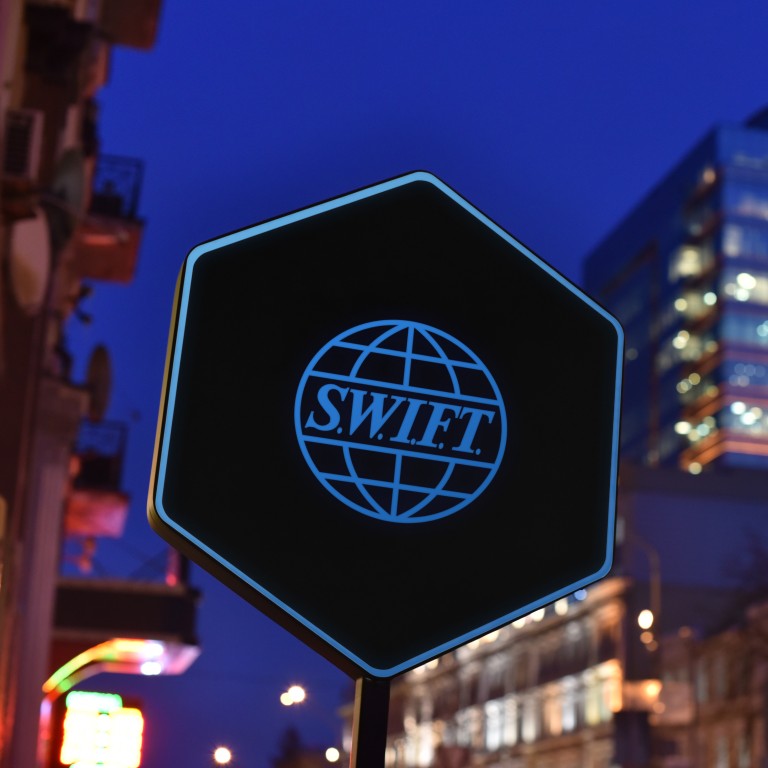 China's SWIFT joint venture 'defensive move' against US refuted by former bank executive
The People's Bank of China last week announced a newly established joint venture with Belgium-based SWIFT financial messaging service and four Chinese institutions
Concerns have been raised that the United States could cut China off from the US dollar-dominated SWIFT system amid souring relations over Xinjiang and Hong Kong
A theory that China's latest joint venture with the SWIFT financial messaging service is a defensive move against the United States has been refuted by a former Chinese bank executive, who insists the move is actually part of efforts to promote the internalisation of the yuan and the development of the nation's digital currency.
Last week, the People's Bank of China (PBOC) announced a
newly established joint venture
with Belgium-based SWIFT financial messaging service and four Chinese institutions that will see a financial messaging services set up through a local network. A localised data warehouse to monitor and analyse cross-border payment messaging will also be established in an effort to make transactions more stable and secure.
[The joint venture is rather to] strengthen cooperation with SWIFT and jointly promote the internationalisation of the [yuan] and the development of the
digital currency",
Wang Yongli, a former vice-president with the Bank of China and a former SWIFT board member, said on Sunday.
"It is obviously not in response to the US cutting off SWIFT's connection to China."
The joint venture comes amid China's ongoing tensions with the United States, the European Union, Britain and Canada over the alleged forced labour issue in China's Xinjiang region, relations which had already been strained by Beijing's
political crackdown on Hong Kong.
The move sparked some speculation and debate, with some arguing that it was a "precautionary measure" against the US cutting off China's access to SWIFT.
Others argued that there was no need for the central bank to cooperate with the US dollar-dominated SWIFT, and instead China should speed up the establishment of its own international payment clearing system to make preparations for the worst-case scenario if tensions spiral out of control and the US imposes economic and financial sanctions on Chinese entities.
Accelerating the internationalisation of the yuan, according to Wang, would require the support of the
China International Payment System (CIPS),
a Chinese financial telecommunications and payment platform offering clearing and settlement services for cross-border yuan transactions.
Since 2016, CIPS has adopted SWIFT as a secure communication channel between participating financial institutions.
"We should actively extend CIPS to SWIFT member units with the help of SWIFT to establish a global yuan clearing and settlement system. After that, even if SWIFT cuts off the connection with China in extreme cases, it will not be difficult to form an alternative messaging service network," Wang added.
A survey of 65 central banks by the Bank for International Settlements this year showed that 60 per cent are now conducting central bank digital currency experiments or proof of concepts, while China is already one year into pilot testing of its Digital Currency Electronic Payment.
Wang said given that SWIFT is also actively studying the digital currency operation and its own digital transformation, while China has conducted extensive public tests on digital yuan, it is "of great significance" for SWIFT to strengthen the cooperation with the PBOC, which will be a "strong alliance".
"It is not realistic to establish an independent cross-border messaging service network outside of SWIFT to avoid being strangled by it. For China, the priority still remains to strengthen the cooperation with SWIFT," Wang said.