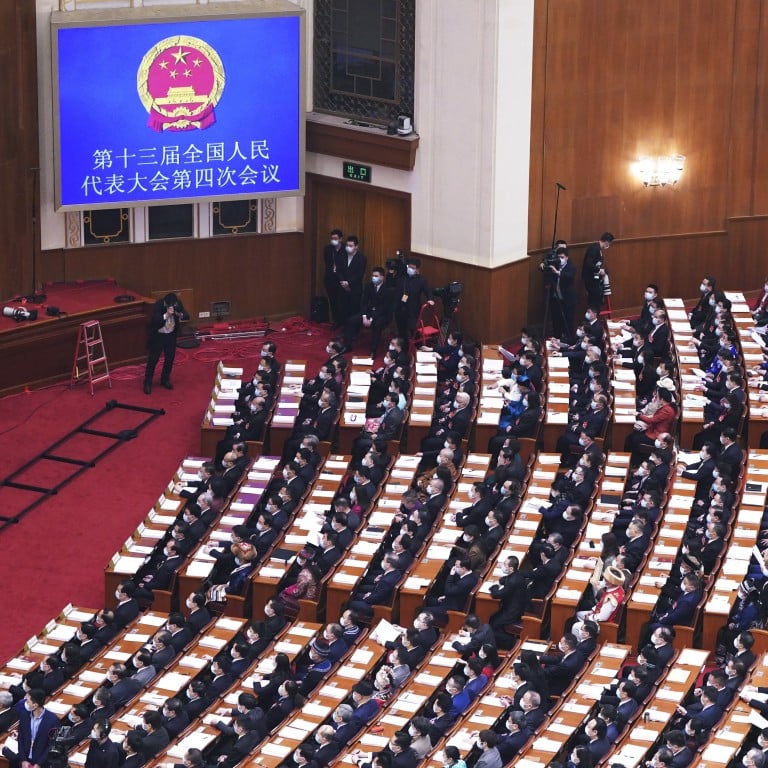 China's 14th five-year plan for 2021-25 discussed, unpacked explained
The Hong Kong-based One Country Two Systems Research Institute is hosting an event on Tuesday examining China's 14th five-year plan that was approved at the National People's Congress earlier this month
Hosted by former Hong Kong chief executive Leung Chun-ying, the event is being live streamed on scmp.com, and will also feature former Hong Kong Exchanges and Clearing chief executive Charles Li
A key drafter of China's 14th five-year plan and several of Beijing's top economists will take part in a high-level panel meeting on Tuesday to discuss the mainland blueprint and how it can create new opportunities for Hong Kong.
The five-year plan, which was approved at the National People's Congress during its
annual "two sessions"
meeting in Beijing earlier this month, sets out the country's main economic and political goals for 2021-25.
Watch the event live below
Hu Zucai, vice-chair of China's state planning agency, the National Development and Reform Commission, who played a key role in drafting the blueprint, will be among the line-up of speakers at the event.
Other panellists from mainland China are Wang Zhigang, Minister of Science and Technology; Yang Weimin, standing committee member and deputy director of the Committee on Economic Affairs to the 13th Chinese People's Political Consultative Conference National Committee; Xu Ze, president of the Chinese Association of Hong Kong & Macao Studies; and Professor Liu Yuanchun, a vice-president of Renmin University of China, and one of the top economic advisers to the central leadership. 
Former Hong Kong chief executive Leung Chun-ying will host the event, which is co-organised by the One Country Two Systems Research Institute.
Other representatives from the city will include former Hong Kong Exchanges and Clearing Limited chief executive Charles Li; Lionel M. Ni, provost of the Hong Kong University of Science and Technology; former deputy executive director of Hong Kong Trade Development Council Raymond Ip; and James Wang, research director at the Bay Area Hong Kong Centre.
The event will be live streamed at scmp.com between 3pm and 5.30pm (Hong Kong time) on March 29, 2021 (Tuesday).