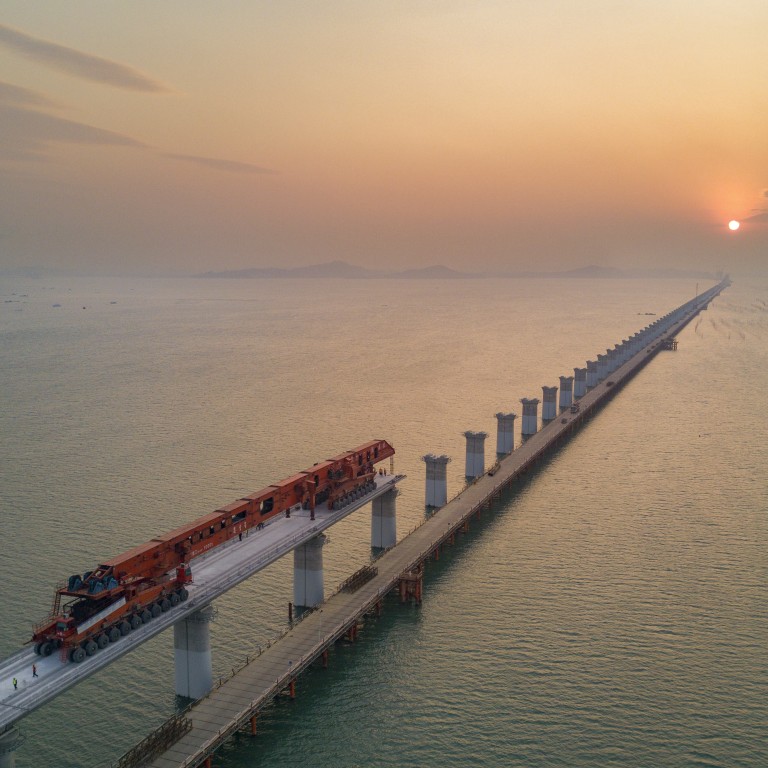 China must avoid 'blind competition' within high-speed railway network development to maintain 'reasonable' debt levels
China's 38,000km high-speed rail network is already the world's largest, with plans to add 3,700km of rail lines in 2021 compared with 4,933km last year
But authorities are worried about an increasing debt level, with 5.57 trillion yuan (US$850 billion) owed by the state-owned China State Railway Group alone
China's high-speed railway network development plan must avoid "blind competition" from local authorities to keep debt at a "reasonable" level, the State Council has warned.
The 38,000km network is already the world's largest, but Beijing is increasingly worried about an
increasing debt level,
with 5.57 trillion yuan (US$850 billion) worth of liabilities already on the books of the state-owned China State Railway Group alone.
"Some local governments prefer high-speed railways to ordinary-speed ones, and often ignore returns. Meanwhile, railway enterprises face high operational pressure and high debt burden," said China's State Council on Monday.
"Except for ones with national strategic significance, it is necessary [for railway projects] to be financially sustainable. We must avoid blind competition, obsolete and redundant construction."
It added that while the proportion of high-speed and ordinary-speed lines should be optimised, cargo and passenger transport should also be well coordinated.
To avoid duplicate investment, the cabinet also pledged to control the construction of additional lines on existing routes, particularly those with a utilisation ratio of less than 80 per cent.
Currently, a second high-speed link between Shanghai and Beijing is under construction, given the huge flows between the two major cities.
The State Council also set a regulation on the speed of planned lines, with only lines that connect provincial capitals and cities that have annual passenger flows of over 25 million allowed to travel at speeds of 350m/h, with ordinary intercity lines restricted to 200m/h.
"We must improve the early-warning mechanism over railway-related debt, check the financing capability and operation of local projects, and restrict the railway construction in regions where debt burden is high and surpasses its fiscal strength," it said.
Dealing with implicit
local government debt,
which could be much higher than the confirmed 26 trillion yuan (US$4 trillion), is widely believed to be a key task for the Chinese authorities this year, with railway projects often used in the past as a quick tool to
drive economic growth.
There is no official public data on railway-related debt, although the 5.57 trillion yuan associated with China State Railway Group as of September, is believed to be one of the largest having risen by 1.6 per cent compared to a year earlier.
However, unknown aspects concerned with local projects are more worrying for authorities, given the weak local fiscal position.
Currently, lines linking major cities are mainly funded by the China State Railway Group, while projects in Tibet and southern Xinjiang are largely financed by central governments, while branch lines are usually funded by local authorities.
The State Council also moved to stop debt-ridden cities building underground or light railway systems.
"Local governments should follow the demand and profit-oriented principles when making their railway development plans and must get approval according to procedures," it added.
In 2017, China's top economic planner suspended an underground project in Baotou, a city of 2.3 million known for its steel and rare earth industries, and the city was ordered to battle its implicit debt. In its 2020 work report, Baotou said it had reduced its debt by 17.5 billion yuan (US$2.7 billion) in 2019.
The slowing of investment was signalled at the annual conference of the railway authority in early January, which highlighted focusing on
efficiency and productivity this year,
rather than continuing to expand the network.
China's railway system carried 2.17 billion passengers last year, down by 39.4 per cent from a year earlier due to the impact of the coronavirus, while cargo transport rose 4.1 per cent year on year to 3.58 billion tonnes.
China plans to launch 3,700km of rail lines in 2021, compared with 4,933km last year, although Beijing is yet to disclose its five-year railway development plan.