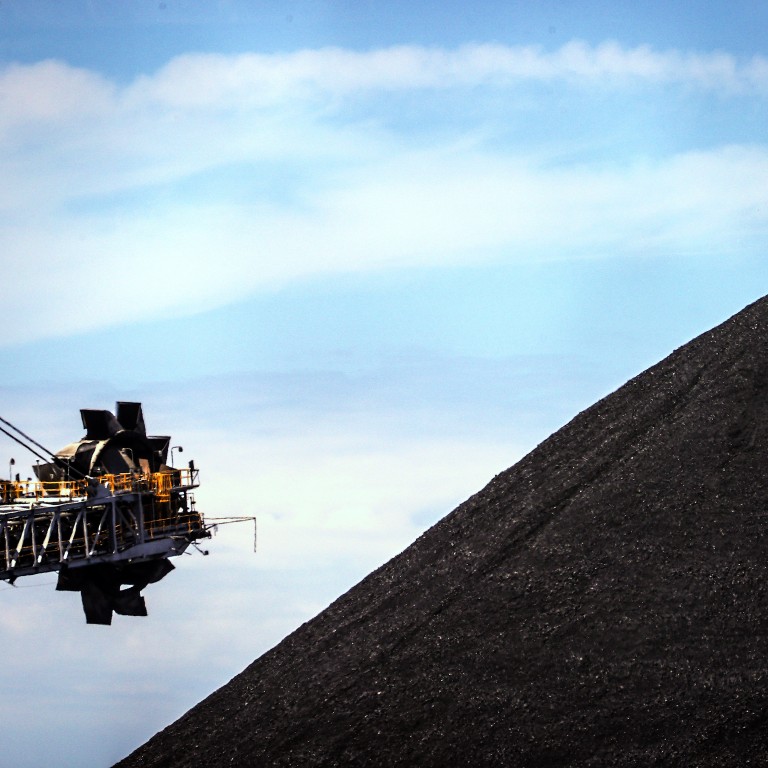 China energy supply faces 'no problems' despite Australian coal ban, Myanmar conflict
Chinese coal imports fell 39.5 per cent in January and 33.7 per cent in February this year, compared to the same period a year ago
With a ban on Australian coal, China has turned to imports from Indonesia, Russia and South Africa, while ramping up domestic production 
China is not facing a shortage in energy supply this year despite an ongoing ban on Australian coal, a key source of power for the world's second largest economy, the National Energy Administration (NEA) said on Tuesday.
"No matter what the situation, with the support of local governments and close cooperation with a large number of enterprises, there should be no problems with energy supply," said NEA director Zhang Jianhua on Tuesday when asked about the impact of the Australian coal ban.
His comments came as Chinese coal imports fell 39.5 per cent in January and 33.7 per cent in February this year, compared to the same period a year ago, Chinese customs data showed.
In 2019, about 57 per cent of China's thermal coal imports and 40 per cent of its coking coal, which is used in steel production, came from Australia, according to official figures.
As the
ban on Australian coal
stretches on, China has turned to imports from Indonesia, Russia, Colombia and South Africa, while ramping up its own production.
Domestic coal production in the first two months of the year rose 25 per cent compared to the same period last year, although daily production rates fell slightly, the latest data from the National Bureau of Statistics showed.
"We always adhere to the open, mutually beneficial and win-win guidelines in international cooperation, and these principles are persistent and unalterable in the international coal trade," Li Fulong, head of development and planning at the NEA, said at the press conference.
"We are very confident we have the ability to ensure all aspects of the country's energy needs," Zhang added.
Adequate supply of coal in China – especially thermal coal – is crucial as the raw material is still the primary fuel powering the economy, despites plans by the government to reduce coal consumption to meet its
carbon emissions reduction targets
.
China, the world's top greenhouse gas emitter, cut the share of coal use to 56.8 per cent of the total energy consumption at the end of 2020, from 69.2 per cent a decade ago.
But the country is still heavily dependent on the dirty fossil fuel, with coal consumption expected to continue rising in 2021, the China National Coal Association said earlier this month.
Despite the strong demand, the country has vowed to cap the domestic coal output at 4.1 billion tonnes by 2025 after Chinese leaders set ambitious targets of peaking carbon emissions in the next 10 years and achieving carbon neutrality by 2060.
China meets its thermal coal needs with production from coal hubs in the provinces of Shanxi and Shaanxi and the autonomous region of Inner Mongolia. It also imports from Indonesia and, before the ban, Australia. More recently it has since expanded imports from South Africa and Colombia.
Beijing unofficially suspended Australian imports in October last year and analysts do not anticipate the block being lifted soon.
The move was part of an ongoing diplomatic dispute between Australia and China, which also led to bans on Australian lobsters, wine, log timber, sugar and barley last year.
Last Friday, Chinese authorities officially imposed duties of between 116.2 per cent and 218.4 per cent on Australian wines after concluding an anti-dumping investigation.
China's reliance on imported coal is still low, under 10 per cent last year. In contrast, it imports 73 per cent of its oil and 43 per cent of its natural gas.
On the topic of energy security, Zhang said China's two pipelines through Myanmar – one for crude oil and one for natural gas – were "very safe", despite the social unrest that has followed a February coup by Myanmar's military.
"China and Myanmar have always been in friendship, no matter the people of Myanmar, the government or the military, they are very friendly to China," Zhang said.
Additional reporting by Su-Lin Tan