Trade
Get more with myNEWS
A personalised news feed of stories that matter to you
Learn more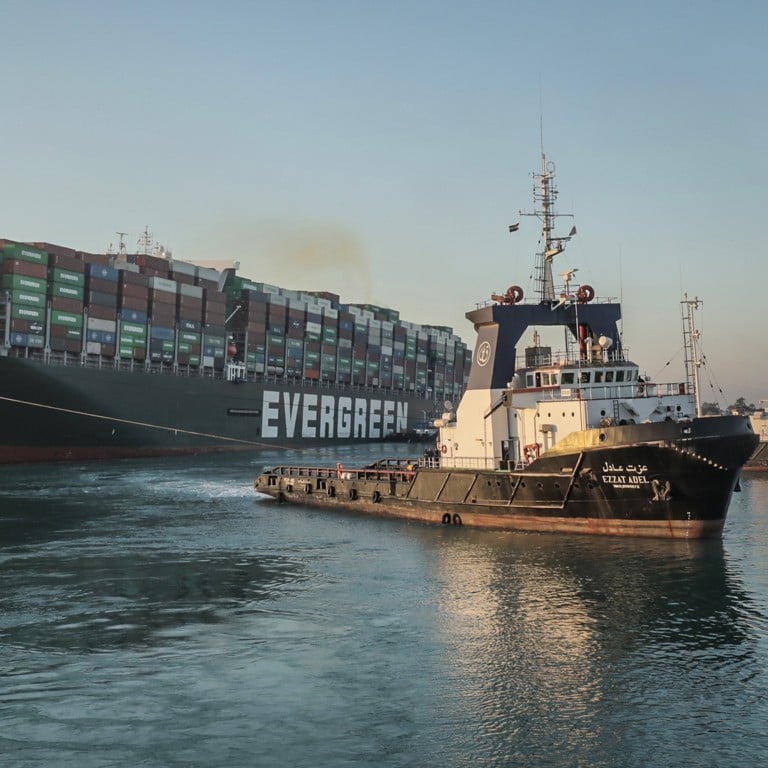 China container maker reaping rewards as Suez Canal blockage adds to global shortage, demand set for record high
China International Marine Containers (CIMC) has seen the price of their 20-foot standard container (TEU) more than double from a year earlier to above US$3,500
The blockage of the Suez Canal by the Ever Given ultra-large container ship has created a backlog of hundreds of vessels, which is set to further exacerbate global container shortages
Worsened by the recent Suez Canal blockage, global demand for containers could hit a historic high this year, further pushing up costs of shipping, according to the world's largest container manufacturer.
During the coronavirus pandemic, the price of a 20-foot standard dry storage container (TEU) more than doubled from a year earlier to above US$3,500, and it is not expected to fall much for the rest of year, as
demand for the containers
and the cost of the raw materials needed to build them remains high, said Mai Boliang, chief executive of China International Marine Containers (CIMC), which produces around half of world's containers.
"We have full orders for the first half of 2021, and expect the demand for containers to set new records this year. The latest blockage at the Suez Canal could worsen the shortage of containers for a longer time," said Mai on Tuesday.
The Suez Canal,
a major waterway for global trade connecting the Mediterranean Sea and the Red Sea,
reopened on Monday
after a container ship that had blocked it for nearly a week was refloated.
But it could take days or weeks to clear the backlog of hundreds of vessels, and analysts are worried that the delays could slow down empty container handling at ports and further exacerbate shortages.
"The knock-on effect to supply chains is also complicated by the congestion at many ports in Asia and Europe. While the absence of a week's worth of Suez-routed arrivals may help clear immediate backlogs, [there is] a wave of new arrivals and the need to rapidly move products onwards from ports," said analysts from Panjiva, a trade database under S&P Global.
"Trade lanes between Asia and Europe will be most keenly affected, with most Asia-North America shipping heading through the Panama Canal or to the US west coast."
There has been no significant fall in the
cost of shipping
lately as logistics hurdles remain in place, with the shipping fees from China to the east and west coasts of the United States reaching US$5,735 and US$4,909, respectively, for larger 40-foot containers, according to the Freightos Baltic Index. North Europe-bound freight, which travels through the Suez Canal, was as high as US$7,485 for the same 40-foot containers.
Shenzhen-based CIMC has been running at full capacity since late last year, as uneven recoveries from the pandemic expedited China's exports to the rest of the world and caused a shortage of containers when shipments from China and other Asian countries to the US and Europe soared.
Around 98 per cent of the world's containers are made in China, according to Mai. CIMC are currently operating 20 production lines to manufacture around 220,000 TEU every month, close to half of the total production capacity of the industry, with workers on a schedule of 11 hours per shift, six days a week.
Last year, CIMC's net profit more than doubled from a year earlier to 5.3 billion yuan (US$806 million), mainly due to its lucrative container business that made up around 23 per cent of its business by revenue, alongside road vehicles, logistics and energy.
It pocketed more than 1.9 billion yuan from its container sales last year, which increased by 13 times from a year earlier, after both the sales volume and price of containers surged. In total, it sold more than 1 million TEU in 2020, up around 12 per cent from a year earlier, while the cost expanded by 40 per cent.
Apart from surging demand, Mai said another key reason behind the high cost of containers is linked to the
cost of steel.
Partly due to an
infrastructure boom at home,
the weekly price of steel products in China has increased rapidly since earlier last year to the similar level of 2011, according to data from China Iron and Steel Association.
"It's unlikely for us to mark down our container price much this year, mainly because we believe that the high demand for containers won't ease probably until September," Mai added.