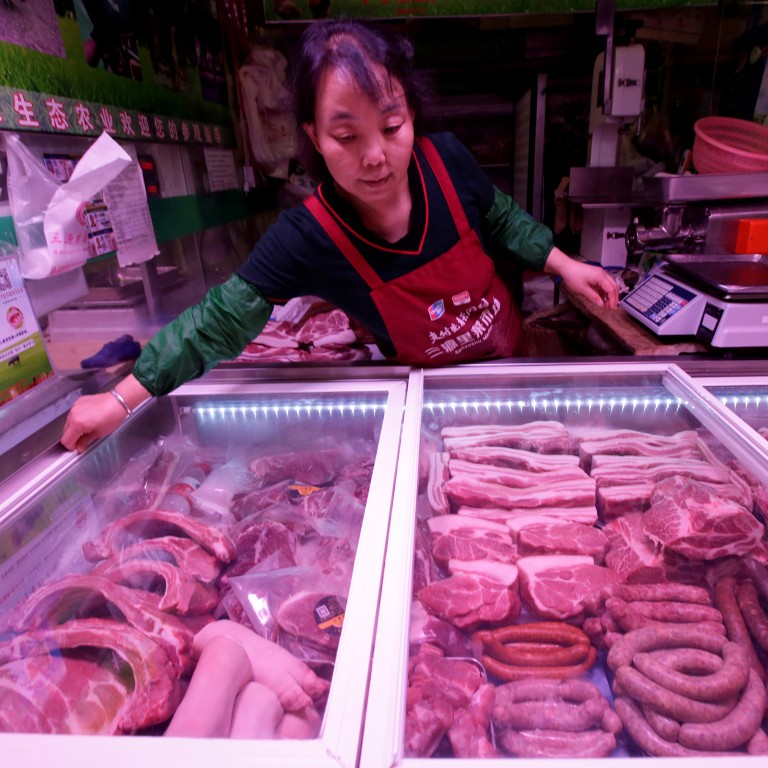 China's high pork prices are dropping, but African swine fever still poses a threat to supply
Wholesale price of pork has fallen for nine straight weeks, approaching the level from August 2019, but remains twice as high as it was in mid-2018 before the virus hit
Some analysts expect the price to gradually continue dropping, but others point to volatility and a lack of transparency in official data
Although pork prices in China have reached their lowest point in more than a year and a half, stabilising the nation's pork supply remains a challenge amid risks of a possible second wave of the devastating African swine fever, analysts say.
The wholesale price of pork, a staple food among Chinese households, has fallen for nine straight weeks, touching 33 yuan (US$5) per kilogram this week, which was close to the level in August 2019, according to data from the Ministry of Agriculture and Rural Affairs.
This round of declining pork prices is partly seasonal, with analysts noting that demand tapered off after the Lunar New Year holiday in February. But farmers rushing to sell their live pigs, after new variants of the
African swine fever
virus appeared in parts of China in recent months, also played a major role.
Like the retail price of pork meat, which plunged to 42.50 yuan last week, the retail price for live pigs similarly fell to nearly 26 yuan per kilogram, the government data shows.
African swine fever, which was first reported in China in August 2018, caused pork prices to surge in 2019 and 2020. In late February this year, researchers at the Chinese Academy of Agricultural Sciences published an article saying new variants of the virus – with lower death rates but harder to detect early – had emerged in some Chinese provinces and posed a challenge to controlling the disease.
The Chinese government has been encouraging pig farms to consolidate in an effort to stabilise the nation's hog supply. Last year, the central government earmarked at least 4.5 billion yuan (US$687.5 million) to improve infrastructure in pig farms.
The Ministry of Agriculture and Rural Affairs said last month that the stock of sows, an indicator of overall pig supply, had rebounded to 95 per cent of the 2017 level and could reach 100 per cent by mid-2021. However, some analysts called this estimate too optimistic, partly because of scarce information on recent African swine fever outbreaks in the country.
"The problem is that the Chinese government is not very transparent in publishing details about the pork supply. We can only gather info from other sources," said Xiao Chun Xu, an economist with Moody's Analytics.
"The wholesale price of pork is still very high compared with its historic average. It's still too early to say that [supply] conditions have stabilised, although there are some positive signs. I think for us to say that, you have to see a reduction in pork imports," Xu added.
At the end of March, the stocks of sows and live pigs in China had fallen 16 per cent and 13 per cent, respectively, compared with the end of last year, according to analysts from TF Securities, a Chinese brokerage.
China's pork imports have soared since 2019, and the year-on-year total doubled in 2020 to 4.3 million tonnes, according to Chinese customs data. In the first two months of this year alone, pork imports were 25 per cent higher than the same period last year.
From this month, the Chinese government has started restricting the transport of live pigs across provinces to contain the spread of the virus. Some southern provinces, including the tropical island of Hainan, have stopped importing live pigs from other provinces. This could cause a potential supply shortfall in the south and a divergence in pork prices across the country, analysts said.
Many analysts expect the pork price to remain volatile in the near future, given multiple uncertainties in the supply chain. In a reply to investors this week, WH Group, the world's largest pork producer and China's biggest meat producer, estimated that the price of live pigs could continue to decline this year, but with notable volatility.
The price of pork has a sizeable influence on overall Chinese consumer inflation, making up a big portion of the consumer price index. In February, the headline
consumer price index
was 0.2 per cent lower than a year earlier, up slightly from a fall of 0.3 per cent in January, due in large part to lower pork prices compared with a year prior.
China's inflation data
for March will be released on Friday, with the official consumer price index expected to rise by 0.3 per cent from a year earlier.