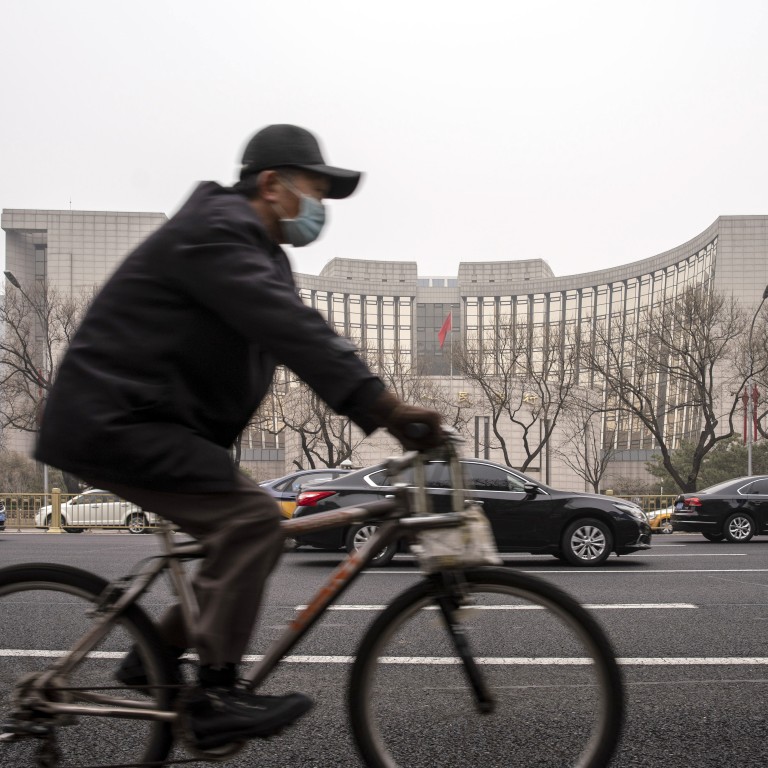 China economy: bank loans hit record high in first quarter as authorities balance growth and debt risk
China's bank lending in the first quarter hit a record high of 7.67 trillion yuan (US$1.17 trillion)
Banks extended 2.73 trillion yuan in new yuan loans in March, up from 1.36 trillion yuan in February
China's central bank kept an accommodative policy stance in the first quarter of the year, with lending hitting a record high of 7.67 trillion yuan (US$1.17 trillion) as authorities weigh economic support and risk prevention in the world's second largest economy.
Quarterly lending was even higher than 7.1 trillion extended in the same period a year earlier, when Beijing unveiled its stimulus package to help combat the economic effects of the coronavirus pandemic, the People's Bank of China (PBOC) said on Monday.
Sun Guofeng, head of PBOC's monetary policy department, said the increase in new bank loans met the needs of China's manufacturing and services industries.
In February, outstanding loans to small businesses and medium- to long-term loans for the manufacturing sector jumped 35.5 per cent and 38.8 per cent respectively, he said.
"We'll maintain a reasonable rise of money supply and credit, and balance the relationship between economic growth and risk prevention," Sun said at a press briefing.
China has adopted a prudent monetary policy compared to many Western countries, which have launched large stimulus packages to get their virus-hit economies back on track. Regulators in Beijing have pledged continued support for ailing businesses, but there is growing concern about debt risks.
Social aggregate financing, which measures the overall credit support for the real economy, was 10.24 trillion yuan in the first three months, down from 11.08 trillion yuan a year earlier. The growth of M2, a broad measure of money supply, stood at 9.4 per cent last month, compared to 10.1 per cent in February.
Some analysts have forecast the
Chinese economy
to grow about 20 per cent year on year in the first quarter thanks to the low comparison base, while full-year growth is estimated at around 8 per cent.
However, Premier Li Keqiang said on Friday that the complex international environment brought new uncertainties and domestic recovery remains uneven.
"We must consider both immediate and long-term objectives, keep the stability and continuity of macroeconomic policies, and make no policy U-turn," Li said at an economic symposium in Beijing.
The central bank still has more room to "optimise" lending. At a conference with 24 major Chinese banks last month, it reiterated its support for small businesses, while stating it had new tools to facilitate carbon emissions reductions and was eying bigger credit support for manufacturing and hi-tech industries.
Beijing has already extended the repayment period on inclusive loans to small businesses from March to the end of the year.
Huang Yiping, a Peking University professor who served as central bank adviser between 2015-18, warned the potential for high non-performing loans or debt defaults could dampen banks' enthusiasm to extend credit.
"There is a concern over whether they can get all their money back," he told an event organised by Caijing Magazine on Sunday.
"I don't think it will affect the country's financial stability. But it deserves our attention on whether financial instructions are willing to support the real economy in the second half [of the year]."