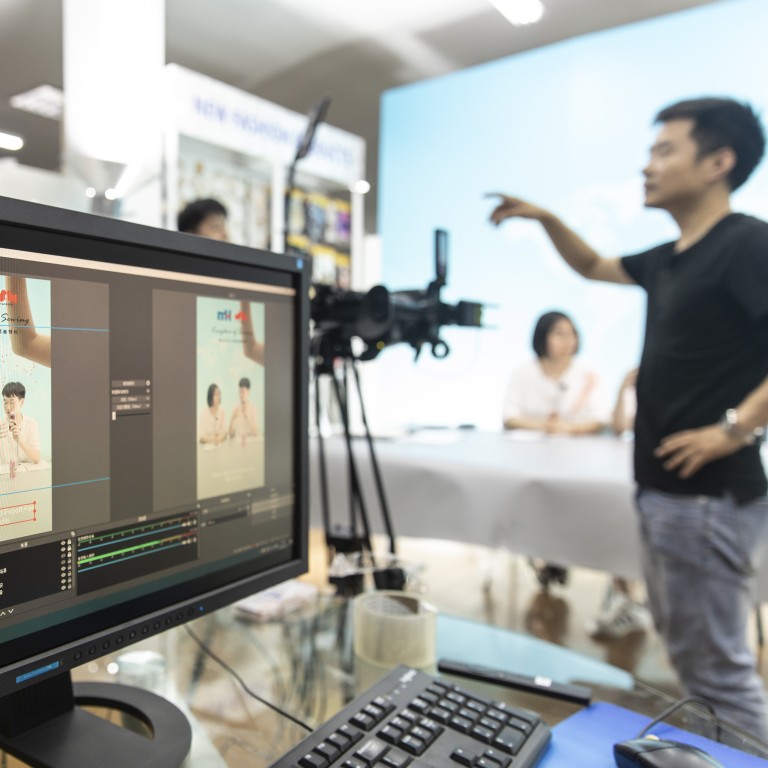 China's Canton Fair losing its lustre among export manufacturers and buyers who bemoan virtual forum
The rise of the digital economy and e-commerce, coupled with mounting geopolitical tensions and the coronavirus pandemic, have diminished some expectations for the biannual event that begins on Thursday
Chinese manufacturers, increasingly cautious about expanding operations amid global uncertainties, have scaled back plans for the long-running exhibition
The appeal of China's Canton Fair is fading among the nation's export manufacturers, as already-strong export orders and new worries about operating risks force them to re-evaluate the pros and cons of participating in the 10-day event that begins on Thursday.
The twice-a-year exhibition – held since 1957 – is the largest of its kind in China. It was long the epicentre of China's export economy – a must-attend event for sellers and buyers alike. But the rise of the digital economy and e-commerce, coupled with mounting geopolitical tensions and the coronavirus pandemic, have taken the shine off the event.
As raw material costs soar and Chinese authorities tighten their controls over foreign trade transactions and payments, manufacturers are becoming increasingly cautious about expansion plans.
"We participate in the Canton Fair every year, and this year is no exception," said Kevin Huang, who produces hardware in Guangdong for export. "But to be honest, we did not make any deals in last year's two online sessions. So, we have even fewer expectations for this year's fair."
As it was in April and October last year, the fair will be held solely online due to the coronavirus pandemic. About 26,000 exhibitors are expected to participate in the virtual fair this month, showcasing more than 2.7 million products, including 340 international exhibitors from 28 foreign countries, Xu Bing, spokesman for the Canton Fair, said on Tuesday.
However, the fair's operator did not release attendance figures for the last fair in October, saying only that the event remained crucial to maintaining trade between Chinese enterprises and the world and to ensuring the stability of supply chains. 
Many Chinese exporters said the virtual Canton Fair was not suitable for deal-making. 
"In previous years, the main reason that foreign buyers came to the Canton Fair was to interact [with sellers] on the spot, and then visit the factories to review real production capacity and quality," Huang said.
Linda Zhang, a sales manager for a Zhejiang-based producer of smart home devices, echoed that sentiment, saying the online fairs did not live up to expectations.
"Unlike last year's 24-hour around-the-clock live broadcast, this year we only plan on letting our new salesmen practice and familiarise themselves with the products, and it's also an opportunity for them to introduce the products," she said.
Other former Chinese exhibitors have given up entirely on the event.
"I have no plans to participate in the online Canton Fair this year," said Steve Xie, who runs a textile-processing factory in Zhejiang. "Amid the pandemic, my export business tripled last year compared with previous years – via WhatsApp, Amazon and various emerging cross-border e-business platforms."
At the moment, Xie is focusing on new challenges facing his business rather than trying to grow it.
"I'm starting to get cautious, especially about possible risks in payments [for goods sold] and [production] overcapacity" as competitors increase their capacity to meet strong overseas demand, he said. 
Xie said he and most of his peers are now requiring foreign customers to pay a 30 per cent deposit for their orders, with the balance due before shipment.
"Several factories nearby have encountered problems of order withdrawals during the pandemic," he said. "For example, a friend of mine is still struggling to get back the balance of a payment totalling more than US$2 million because his Mexican buyers died from Covid-19.
"But frankly speaking, the risks [to the outlook for demand] are also blowing up. If the pandemic is well enough controlled later this year, orders will likely flow back to the Pakistan, Bangladesh and Indian textile industries. Besides, developing tensions between China and other countries, such as the US and India, also makes us nervous."