Xinjiang
Get more with myNEWS
A personalised news feed of stories that matter to you
Learn more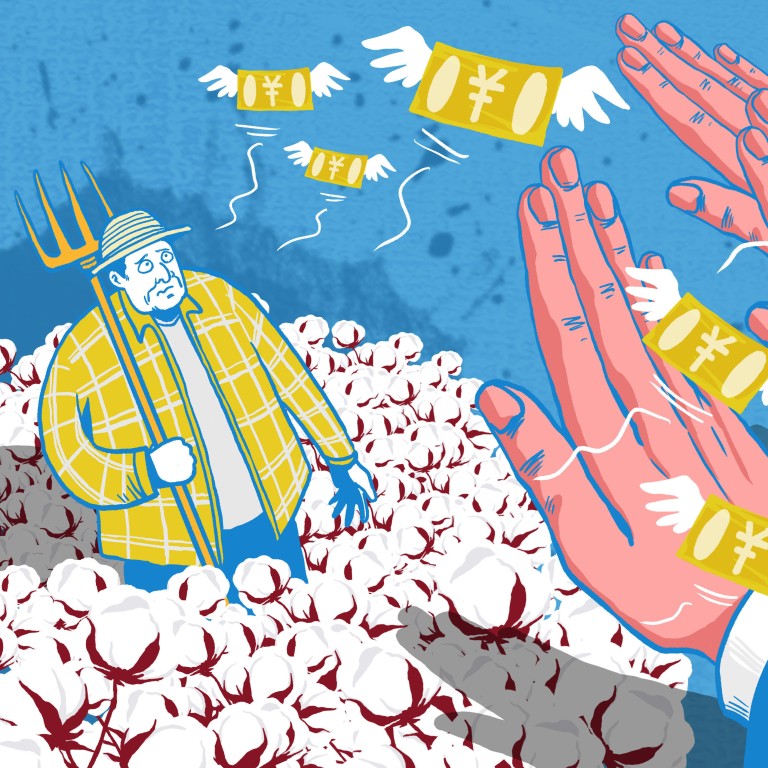 Xinjiang cotton ban uncertainties weigh on Chinese farmers, smaller textile firms
Some cotton suppliers in the restive Chinese region sold only half of their ginned cotton in previous years
Xinjiang's annual cotton output is about 5 million tonnes, accounting for 87.3 per cent of China's cotton production last year
But Zhang figured the suspension would last for just a year, and then everything would return to normal.
"The suspension had some impact on the sales of ginned cotton, but fortunately we managed to sell most of the inventory by the Chinese New Year," Zhang said. "However, we don't know what will happen this upcoming September. There are so many uncertainties, and we can only wait and see."
But not every cotton producer in Xinjiang is as fortunate as Zhang. Some managed to sell only half of their ginned cotton in previous years and still have some in stock, as a number of big international retailers have cut ties with these suppliers, Zhang said.
China is the world's largest cotton consumer and the second-largest cotton producer.
"Cotton is a pillar industry in Xinjiang, and half of Xinjiang's land is used to grow cotton, as land resources are scarce in other provinces," said Luo Yan, secretary general of the Xinjiang Digital Cotton Research Centre.
"The government also provides subsidies to cotton farmers. That's why farmers prefer to grow cotton here rather than other crops."
By the end of 2019, there were 808 cotton processing companies in Xinjiang, accounting for 84 per cent of the country's total, according to the China Cotton Association. Those cotton-manufacturing firms employ about 600,000 people in Xinjiang.
More than half of Xinjiang's farmers – over 70 per cent of whom are members of ethnic minority groups – grow cotton, and the crop is the main source of income for farmers, particularly in the Uygur-populated areas of southern Xinjiang, according to the association.
Nationwide, the textile and apparel industry employs at least 8 million, according to a note by the JD Digits Research Institute last year.
"If this industry shrinks too quickly and there is a wave of factory closures, unemployment could increase dramatically, and poverty may follow soon after," the institute warned.
That impact is already evident in parts of Xinjiang. Mr Song, the manager of a cotton spinning factory in Korla city, central Xinjiang, said his firm may be forced to lay off some workers if its sales of cotton yarn continue to drop because big international brands have cut ties.
"It will impact us over the long run if these brands stop sourcing cotton from Xinjiang. We will have no choice but to reduce our capacity," said Song, who gave only his surname.
The Xinjiang Digital Cotton Research Centre's Luo said the impact on last year's cotton sales "was not that big", but the toll could be more substantial this year.
"We may see an impact when cotton-processing factories start to purchase cotton from farmers this year, but we cannot predict anything at this stage," she said.
Official data shows that textile mills across the country use more than 65 per cent of all the cotton grown in Xinjiang to make their yarns, and the rest comes from other domestic sources and from imported cotton.
A majority of textile plants are located in provinces such as Shandong and Henan, so Xinjiang produces only about 16 per cent of domestic yarn. Thus, the reduced buying of Xinjiang cotton by Western brands is not only affecting cotton plants in Xinjiang, but also textile factories nationwide.
Zhang from Yuli county said his downstream textile clients in China have already ratcheted up their importing of cotton to mitigate further risks.
In 2020, China imported a total of 2.16 million tonnes of cotton – up 16.8 per cent from the previous year – though the total figure was affected by the coronavirus outbreak last year. Chinese customs data shows that, from July to December, after the height of the pandemic last year, the country aggressively increased its cotton imports by 88.1 per cent over the same period in 2019.
However, more expensive domestic cotton prices last year, as well as the US' ban on Xinjiang cotton, also contributed to the increase in cotton imports, said OilChem, a Shandong-based energy and chemical information provider.
"The overall quality of Xinjiang cotton is mixed and not as good as that of the US and Australia, as agriculture is more modernised there," Luo said. "But the [Chinese] government has already taken measures and is offering subsidies to improve the cotton quality in Xinjiang."
Liu Kaiming, head of the Institute of Contemporary Observation in Shenzhen (ICO), said the Xinjiang cotton ban might force some small and medium-sized Chinese textile manufacturers out of business, as international fashion brands reorganise their supply chains and suppliers to relocate production from China to elsewhere in Asia.
Additional reporting by He Huifeng