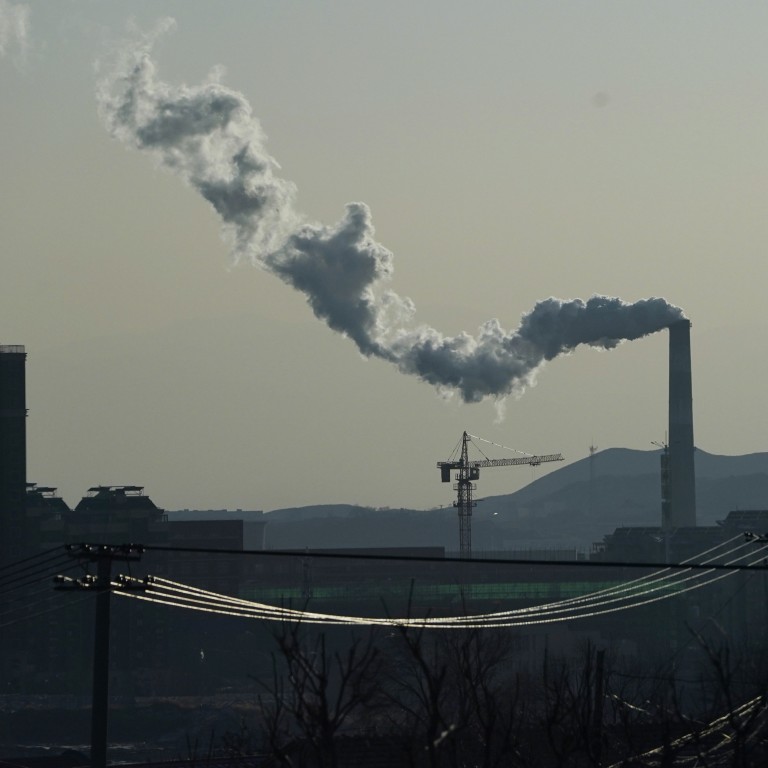 China's carbon-neutrality plans now in the hands of central bank, which will ramp up green financing and establish carbon-trading market
People's Bank of China governor Li Gang says push to become carbon neutral by 2060 will cost nation nearly 139 trillion yuan (US$21 trillion)
China is working with other countries to establish an international standard for green financing, while IMF is advocating for a carbon tax on greenhouse gas emissions
China's central bank is now spearheading the country's carbon-neutrality initiative, with plans to provide low-cost capital, boost green financing and invigorate the carbon-trading market to fund the ambitious undertaking.
The People's Bank of China (PBOC) will create carbon-reduction-facilitation tools to provide funding support, and it will boost
green financing
channels, PBOC governor Yi Gang said at a joint seminar with the International Monetary Fund (IMF) on Thursday.
Yi estimated that the neutrality endeavour will cost China about 2.2 trillion yuan annually through 2030 - the year the country aims to have its carbon emissions peak - and then the yearly expenditure will rise to roughly 3.9 trillion over the following three decades. If those estimates hold up, it would bring the total cost to around 139 trillion yuan (US$21 trillion).
The total projected cost is considerably higher than a US$5 trillion estimate by consultancy Wood Mackenzie and the US$15 trillion forecasted by Boston Consulting Group in October.
"Government funding is far from enough," Yi said at the online seminar, which was attended by officials from the securities, banking and forex regulators, environment ministry, economic planners and executives of eight state-controlled banks. "We must use market means to further mobilise public and private capital to support green economic activities."
In Yi's proposal, green financing - policy and institutional arrangements to attract private capital investments into green industries via financial channels - will act as an "accelerator". The central bank also said it would push for the compulsory release of "climate change information", including emission totals, by listed firms and financial institutions, while supporting the
carbon-trading market
.
China had 12 trillion yuan (US$1.8 trillion) in outstanding green loans – the highest in the world – by the end of last year. And the size of its green bond issuance - currently at US$125 billion - is the world's second-largest total. More than 40 tranches of carbon-neutrality bonds were sold in recent months, raising more than US$10 billion, Yi said.
The central bank conducts a quarterly evaluation of commercial banks' green credit and bonds, and it is in the process of revising its green bond standards.
China is also working with other countries to establish an international standard for green financing, and the issue could potentially come up today when President Xi Jinping meets with German Chancellor Angela Merkel and French President Emmanuel Macron during a
virtual climate change summit
. This meeting precedes next week's virtual
Earth Day climate summit
, hosted by US President
Joe Biden
.
Yi urged Chinese financial institutions to take action as quickly as possible. "Some institutions now hold high-carbon assets. We need to pay attention to the asset risks caused by the green transformation," he warned.
The national carbon-trading market is expected to be launched in Shanghai by the end of June. Its development has been largely overseen by the National Development and Reform Commission, which allocates emission quotas to involved enterprises.
"We must play the pricing role in the carbon market," Yi said. "Carbon-emission-related derivatives should be introduced so that the risk can be fully reflected in carbon-emission-trading prices."
Speaking at Thursday's seminar, IMF managing director Kristalina Georgieva advocated for a carbon tax. Setting a price on carbon by defining a tax rate on greenhouse gas emissions is the most efficient and cost-effective approach to curbing emissions, she said.
She also urged China's carbon-trading system to place a cap on a firm's total emissions, adopt more ambitious targets and expand the system beyond the energy sector.
The Washington-based agency has said a policy mix of carbon taxes and green investment stimulus could increase the level of global GDP in the next 15 years by about 0.7 percent.