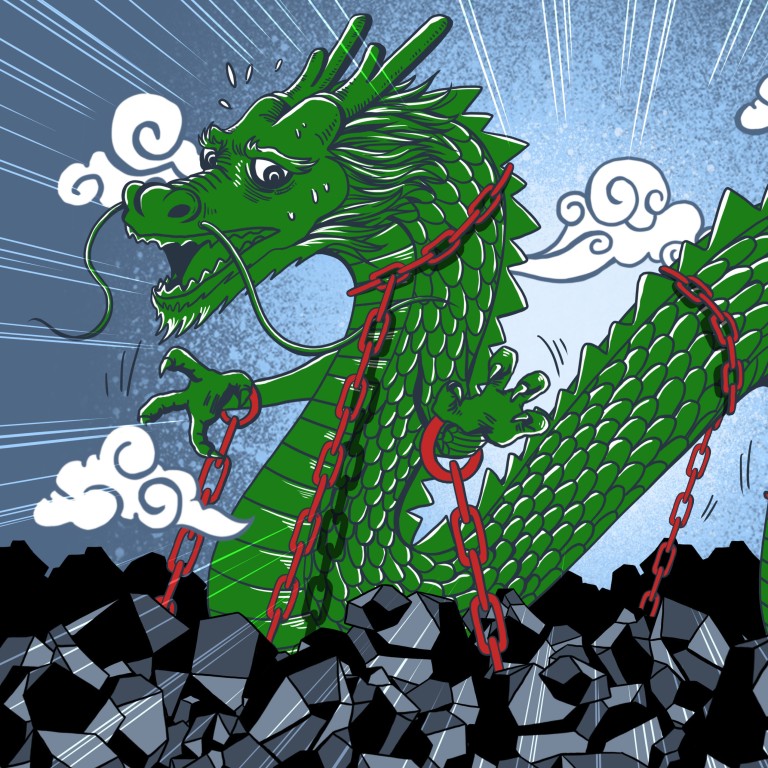 China's carbon neutral goal: can it really kick its coal addiction to achieve its 2060 target?
Phasing out the use of coal is one of the biggest challenges facing China as it works towards peaking emissions by 2030 and becoming carbon neutral by 2060
Despite climate ambitions, energy security and economic stability will drive use of the fossil fuel in world's second largest economy for decades, say experts
Ahead of this week's summit of global leaders to discuss ways of tackling climate change, this South China Morning Post series looks into how attitudes have changed among China's leadership, the challenges faced by the world's largest polluter and what we can expect from Thursday's meeting.
When China pledged in September to reach carbon neutrality in four decades and peak emissions before 2030, it was a watershed moment in the global fight against climate change.
But seven months later, one question in particular hangs over those goals: can the world's biggest emitter of carbon dioxide
kick its addiction to coal
?
Coal has powered China's breakneck economic growth over the past four decades, but it also presents one of the biggest challenges to its climate ambitions. 
Although many scientists and policymakers in Beijing want to see the country hasten its transition away from the fossil fuel, concerns about
energy security,
economic stability and the powerful interests of cash-strapped local governments and giant state-owned enterprises are all pulling China the other way. 
"Given that new coal-fired power plants are still being built and that steel plants will be needed, I would expect coal to continue to play a significant, though declining, role for many years," said Dr Philip Andrews-Speed, senior principal fellow at the Energy Studies Institute in Singapore and a China energy expert.
China's relationship with coal is critical to global efforts to tackle climate change. It is the world's largest producer of coal and consumes more than half of global supplies.
The country's total installed coal capacity is estimated at 1050 gigawatts, larger than all other countries combined, according to Global Energy Monitor. 
Mindful of overcapacity and smog belching power stations that have contributed to pollution in cities, Beijing has taken steps to decommission the oldest and most inefficient coal plants in recent years.
But new plants continue to be built. China commissioned 76 per cent of the world's new coal-fired power plants in 2020, about 38.4GW, offsetting a shift away from coal in the rest of the world, Global Energy Monitor said in a report released earlier this month.
That has left some experts wondering how China plans to transition from coal – and whether it can do it in time. 
"If we look at the 14th five-year plan period, I didn't see a clear road map to phase out coal in this part of the world," said Kevin Tu, non-resident fellow at the Centre on Global Energy Policy and adjunct professor at the School of Environment of Beijing Normal University.
It also set modest goals to reduce energy consumption per unit of gross domestic product (GDP) by 13.5 per cent and cut carbon emissions per unit of GDP by 18 per cent.
But it contained no absolute cap on coal use or carbon dioxide emissions. Many advocates for China's shift away from coal hope further details will be released in sectoral five-year plans later this year. 
"It would be very helpful for China to define its timetable to reduce emissions by key sectors of its economy, and in particular in reducing consumption of coal," said Dr Jiang Lin, a China energy expert at University of California, Berkeley.
"For example, China has announced that its future power system will be dominated by renewable energy, and yet it is unclear when this will be accomplished."
China must almost completely phase out coal by 2050 to reach its carbon neutral goal by 2060, experts said.
"Our analysis indicates that this is achievable as early as 2040, so long as China stops building new unabated coal power plants, and starts planned retirement of the existing coal fleet," said Lin.
On Monday, China's National Energy Administration proposed to boost power generation from solar and wind sources to around 11 per cent of the country's total in 2021, from 9.7 per cent in 2020, with that figure rising to 16.5 per cent by 2025.
But coal will remain a mainstay in China's energy mix for decades to come, due to limitations in the scalability of renewables, nuclear and natural gas, as well as overarching economic concerns, experts said.
"Security and stability are the main concerns against coal phase-out in China," said Dr Ryna Cui, assistant research professor and co-director for the China Programme at the Centre for Global Sustainability at the University of Maryland School of Public Policy.
"This includes a broad set of issues, such as energy security to ensure stable electricity supply with increasing [use of] intermittent renewables, economic stability to reduce stranded assets and lower impacts on coal-dependent economies, and social stability to avoid large lay-offs of coal employment."
"Every province aims to have enough thermal power capacity to cover peak loads without relying on imports from other provinces – this leads to enormous amounts of redundant capacity and economic waste, and will make the low-carbon transition harder," said Lauri Myllyvirta, lead analyst at the Centre for Research on Energy and Clean Air.
But Beijing will enter the talks on Thursday without a well-defined strategy on how to curb the use of coal.
Analysts say that needs to change, and fast.
In the short term, coal use in buildings and industrial small boilers should be eliminated and old inefficient plants should be shut down, Cui said. 
Then, most of the remaining plants need to gradually switch from baseload generation to only providing electricity during times of peak demand to support renewable energy, before coal is either completely phased out or operated with carbon capture, utilisation and storage technology (CCUS), she added.
Deploying CCUS technology – which captures carbon emissions from the combustion of fossil fuels and from heavy industry – in newer ultra supercritical coal plants will allow China some room until renewable energy and nuclear power can be scaled up.
Most new coal-fired power plants built in China over the past decade have been ultra supercritical, which use more efficient technology and have less emissions than conventional subcritical plants. 
However, an ultra-supercritical coal power plant might only emit 10 per cent less carbon per unit of electricity generated than a conventional coal plant in China, Myllyvirta said.
To meet emissions reductions targets, analysts say they need to be paired with CCUS technology, which has so far failed to meet expectations because of its expense and high energy efficiency penalty.
According to the International Energy Agency, there are only 21 large CCUS facilities around the world, including in China.
"It is still uncertain about how CCUS might be deployed by Chinese companies in the coming decades," said Tu.
Myllyvirta said the big question remains how fast China's leadership is prepared to shift away from high-carbon growth. 
"The recent jump in coal power projects and other high-carbon infrastructure, and coal and construction-heavy recovery from the Covid-19 shock have seen China move in the opposite direction, and the outline of the five-year plan indicated very gradual progress. 
"On the other hand, [President] Xi Jinping has repeatedly emphasised that the carbon neutrality goal is a major strategic direction and these coming five years are crucial, which does sound like there is an expectation of higher ambition."