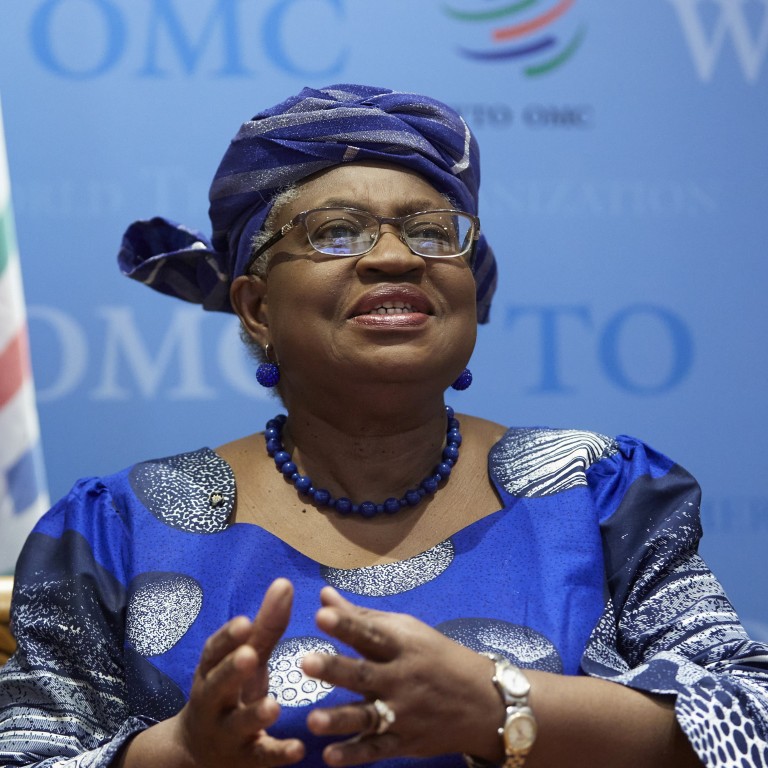 China 'central' to WTO reform, global trade chief Ngozi Okonjo-Iweala says
Nigeria's Ngozi Okonjo-Iweala took over as the director general of the troubled World Trade Organization (WTO) in March
The Geneva-based body widely acknowledged to be in need of overhaul and reform and it has been operating without its Appellate Body since December 2019
World trade chief Ngozi Okonjo-Iweala says she has been "heartened" by China's commitment to revitalising the multilateral trading system, insisting the country is "central" to reform at the World Trade Organization (WTO).
Former Nigerian finance minister Okonjo-Iweala
took over as the director general
of the troubled WTO in March, with the Geneva-based body widely acknowledged to be in need of an overhaul and reform.
The 164-member WTO has been operating without its 
Appellate Body
, which arbitrates global trade disputes, since December 2019, while the long-standing complaint from the United States and Europe about subsidies enjoyed by Chinese state firms favoured by the government remains a major issue.
"Looking into the future, we need to strengthen the multilateral system with more effective global governance to support a strong, sustained, an inclusive global economic recovery," she told the Boao Forum for Asia on Tuesday.
"A reinvigorated WTO would be an essential part of a strengthened multilateralism. It would enhance openness, transparency, global markets, and reinforce the certainty and predictability provided by the multilateral trading system."
China joined the WTO in December 2001, with Okonjo-Iweala acknowledging the "monumental moment that happened 20 years ago".
"In 2001, China joined the WTO, and 20 years later, China has significantly transformed itself whilst the world has also changed," she added.
"This is a good moment for us to look back, but also to look forward together and how to build a more robust and equitable multilateral trading system that will deliver results for everyone in every corner of the world. I believe it's possible if we can join hands. So let us join hands and work together."
Okonjo-Iweala made particular reference to
China's dual circulation strategy,
which places a greater focus on its domestic market, or internal circulation, and is viewed as China's strategic approach to adapting to an increasingly unstable and hostile outside world.
"China is a key player in the WTO and in global economic governance as the world's second largest economy and its leading merchandise exporter," added Okonjo-Iweala.
"We are encouraged by the
dual circulation strategy
articulated in the new 14th five-year plan, and its objective of higher quality consumption-oriented development."
"Indeed, trade is the link between the two aspects of China's dual circulation. We're hopeful that a strong and sustainable
Chinese economy
is good for the global recovery.
"In this regard, we are further heartened by China's commitment to revitalise the multilateral trading system, clearly articulated in the five-year plan and by its Chinese leadership, including President Xi [Jinping] and others."
The 12th Ministerial Conference will take place from November 30 to December 3 in Geneva, Switzerland, with the highest decision-making body of the WTO attended by trade ministers and other senior officials from the organisation's 164 members.
"China is indeed central to WTO reform and in making sure that the WTO works. By helping WTO members deliver results, China can contribute to bolstering global trade and improving growth prospects for all, particularly the poorer developing countries," said Okonjo-Iweala.
"We look forward to working with China in delivering concrete results for the WTO starting, with a 12th Ministerial Conference later this year."