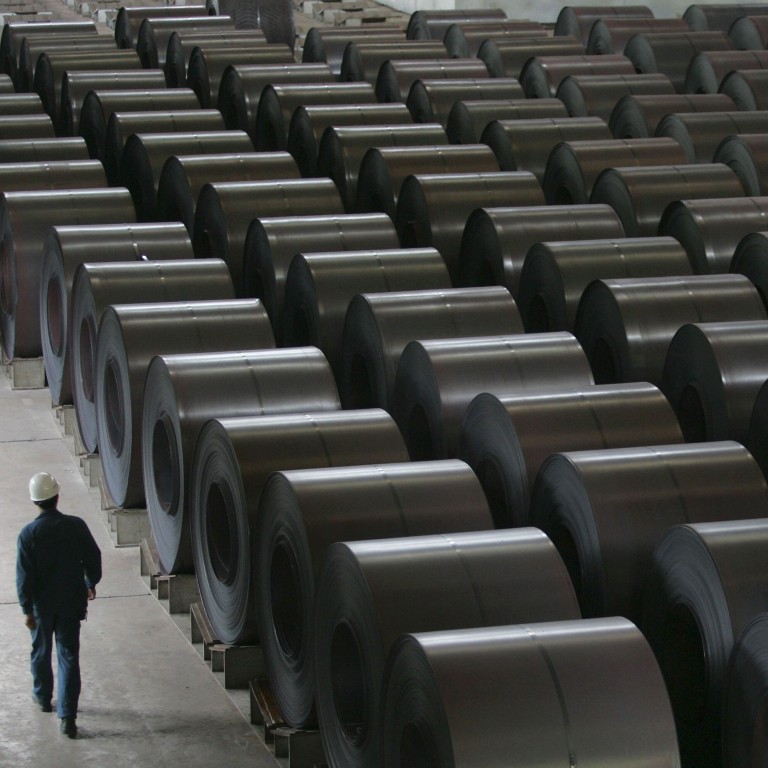 China targets air pollution, steel overcapacity with new curbs on 'blind investment'
China's government has ordered steelmakers to begin scaling back production capacity from June to avoid overcapacity and help meet emissions reductions targets
Production cuts come after a government-stimulated building boom helped the Chinese economy rebound from damage caused by the coronavirus pandemic last year
China has increased efforts to curb the massive production capacity of its domestic steel industry, a sector central to trade disputes with the United States and the European Union (EU), but also one of the nation's largest sources of air pollution.
China's crude steel output reached a record high of 1.07 billion metric tonnes last year, more than all other nations combined.
In a joint circular published on Thursday, the National Development and Reform Commission (NDRC) and the Ministry of Industry and Information Technology ordered steelmakers to begin scaling back production capacity from June.
Steelmakers in areas of high air pollution – which is where the vast majority of Chinese steel mills are located – are allowed to add new capacity, but expansions are capped at two thirds of the previous size. Steelmakers in low pollution regions can replace 80 per cent of their production capacity.
Under previous rules to reduce capacity, steelmakers were permitted to rebuild or relocate 80 per cent of their production in key producing regions, but weak local enforcement resulted in an expansion of capacity.
"For the sake of local development interests, some regions tried every means to keep 'zombie' enterprises alive, which led to an increase of actual [steel] capacity," the industry ministry said in an accompanying statement.
In a separate circular released Thursday, the NDRC ordered a nationwide check of existing metal smelting facilities and set a high threshold – 20 million tonnes for coastal projects – for factory relocation.
"For steel projects in [high] air pollution regions, ecological pilot zones, the Yangtze River economic belt and the Yellow River basin, provincial overcapacity work teams should organise discussions on the necessity [of these mills] and to ensure the prevention of blind investment and disorderly construction," the online release said.
Over the past decade, China's steel industry has been the source of quarrels with the European Union and US, who have accused China of dumping products in their markets at artificially low prices. US imports curbs on steel and aluminium from all countries to protect its domestic industry predated the start of the
trade war
with China.
The order to cut steel production comes amid heightened concern in China about high iron ore prices, especially as the nation is dependent on supply from Australia, with which it is locked in an increasingly rancorous trade dispute. China's steel sector has been
calling for the government to intervene
to stabilise prices.
The new order is the first step in reducing steel output, but more aggressive measures are expected in coming months, as production in the first quarter rose 15.6 per cent year on year to 271 tonnes.
Beijing has not yet released a reduction target, which will be unveiled in the sector's 2021-25 development guidelines later this year. The previous five-year plan proposed a 150 million tonne reduction in capacity.
To help meet domestic demand amid exceptionally high steel prices, the State Council announced last week it would temporarily waive import tariffs for iron and crude steel, while removing the export tax rebate for many steel products from May.
The world's second largest economy has long complained about the hefty profits of global miners, but emissions and pollution considerations dominate the current work agenda after China promised to reach net zero carbon emissions in four decades.
The steel sector, which is the largest energy consumer in the country, is essential to reducing China's emissions footprint.
"Curbing the fast rise of steel output is a new requirement … and a strategic choice," Gao Wenping, deputy secretary general of China Iron & Steel Association, told a media briefing a week ago.