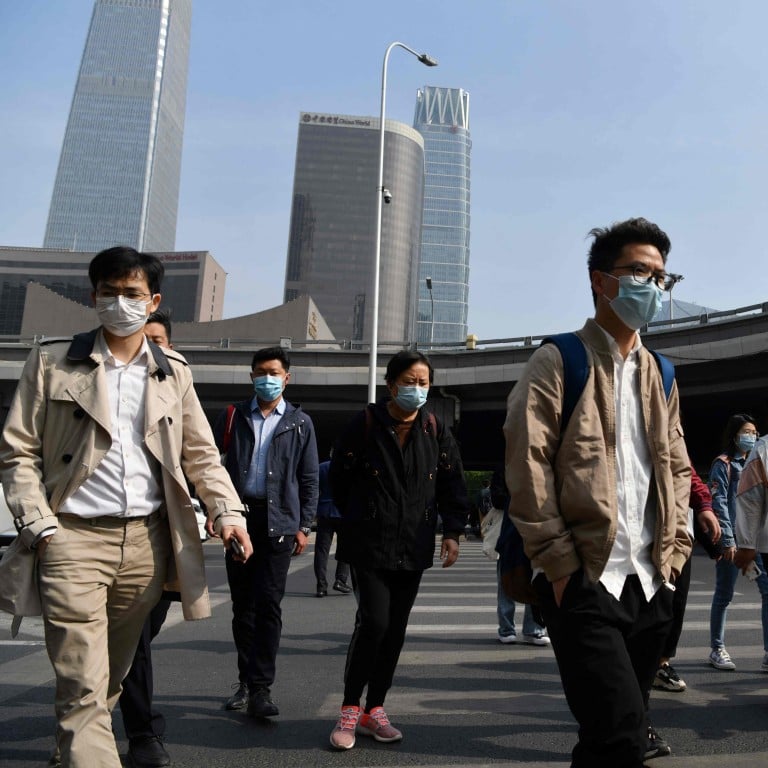 Explainer

|
Is China's population a cause for concern?
China's overall population continued to grow in 2020, rising to 1.412 billion people, up from 1.4 billion a year earlier
Chinese mothers gave birth to just 12 million babies in 2020 – the lowest total since 11.87 million in 1961 amid the Great Chinese Famine
What is China's population?
China's overall population continued to grow in 2020,
rising to 1.412 billion
at the end of the year from 1.4 billion a year earlier.
Beijing began releasing the results of its seventh national population census on in early May 2021, and the results showed the number of new births fell for the fourth consecutive year in 2020, according to the National Bureau of Statistics (NBS).
China's population by decade (1950-2020)
| Year | Population (in millions) |
| --- | --- |
| 1950 | 552 |
| 1960 | 662.1 |
| 1970 | 829.9 |
| 1980 | 987.1 |
| 1990 | 1143.3 |
| 2000 | 1267.4 |
| 2010 | 1340.9 |
| 2020 | 1412 |
Source: National Bureau of Statistics
The once-a-decade census was conducted in late 2020, but the data release ended up being twice postponed in 2021 – first from early April to late April, and then to an indefinite date in the future.
Earlier in 2021,
various provinces and cities
in the world's most populous country disclosed their own birth data through government and state media reports. In some cases, birth rates declined more than 30 per cent in 2020 from a year earlier.
How is China's population measured?
China conducted its seventh
national population census
in November and December 2020, and a wide range of personal and household information – including the age, education, occupation, marital and migration status of its people – was gathered.
Because of the vast
number of citizens surveyed,
the census offers the most accurate information on changes to China's population, and the results serve as a key resource for future planning.
China intends to conduct a sample survey of 1 per cent of the population – also known as a "micro population census" – between the 2020 census and the 2030 census to monitor population changes, according to official regulations.
In non-census years, population figures are updated based on annual births and deaths data.
Why was the release of China's census data postponed twice?
In late April 2021, about two weeks before data from the country's seventh national census was released, the NBS
issued a one-line statement
saying that China's population kept growing in 2020, refuting the validity of a
report by the
Financial Times
saying the world's second-largest economy could have more deaths than births for the first time since 1961.
At that point, the data release had already been delayed twice. This gave rise to heated
debate and suspicions in some quarters
that the government was trying to cover up perceived problems with the data, but there has been no evidence to support such speculation.
One simple explanation was that China's statisticians were taking additional time to make sure the population numbers were accurate. Another guess is that the delay was political in nature, as any changes to the
demographic picture in China
could lead to a rethinking and drastic adjustment of existing economic and social policies. As such, every government agency would have needed to be on the same page.
Furthermore, China's statistics agency has a monopoly on demographic data, as it is impossible for any third party to conduct a separate census. The NBS data remains a state secret until its official release.
The previous six population censuses were conducted in 1953, 1964, 1982, 1990, 2000 and 2010.
What are the problems facing China's population?
The number of Chinese people aged 60 or older reached 264.02 million in 2020, or 18.7 per cent of the population. That was 5.44 percentage points higher than during the previous census in 2010.
There was also a decline in the share of the population soon to be or already at working age. A total of 894.38 million people were aged 15-59 in 2020, accounting for 63.35 per cent of the population. That was down 6.79 percentage points from 2010, adding pressure to the
nation's health and social welfare system.
A projection released in November 2020 by the Insurance Association of China said that the nation's elderly population could reach 300 million by the end of 2025, and that the gap between contributions and outlays could be as high as 10 trillion yuan (US$1.6 trillion) in a decade.
An earlier estimate by the Chinese Academy of Sciences in 2019 projected that China's state pension fund would
run out of money by 2035
due to a rise in the number of retirees and a decline in the available work force contributing to the fund.
The reserve of the urban worker pension fund – the backbone of the country's state pension system – is predicted to peak at 7 trillion yuan (US$1.09 trillion) in 2027, then drop steadily to zero by 2035, according to a report last year by the World Social Security Centre at the government-supported Chinese Academy of Social Sciences.
And the gap between contributions and outlays could reach 11 trillion yuan (US$1.64 trillion) by 2050, with each retired citizen supported by only one worker, down from the current level of two, the government think tank calculated.
And as the number of workers able to pay their taxes to add to the pension fund declined, the number of elderly people aged 65 and over rose to 191 million in 2020 from 119 million in 2010. This means the group that will need to rely on that fund accounted for 13.5 per cent of the population in 2020, up from 8.9 per cent a decade earlier.
What is China's fertility rate?
Chinese mothers gave birth to just 12 million babies in 2020 – down from 14.65 million babies in 2019, and the lowest total since 11.87 million in 1961 amid the Great Chinese Famine.
The 2020 figure represents a
fertility rate
of 1.3 births per woman, while a rate of 2.1 would be needed to maintain a stable population. NBS commissioner Ning Jizhe said the census results showed that Chinese women, on average, were willing to have only 1.8 children in 2020.
The weak birth data came after years of calls by veteran demographers for the Chinese government to abandon its restrictive birth policy because of the damage it would do to future economic growth and the nation's ability to support its ageing population, as fewer births mean fewer wage earners and consumers in the future.
"Without strong policy intervention, China's new births are likely to fall below 10 million in the next few years, with a fertility rate lower than Japan's and perhaps the lowest in the world," warned Liang Jianzhang, a Chinese demographer.
Beijing had expected a surge in births after it abolished its one-child policy and embraced a two-child policy in 2016, but after decades of economic boom and tight birth controls, as well as the
high cost of raising a child
in Chinese cities, the population has proven more reluctant to take advantage of the change than the government had anticipated.
Births in 2016 rose to 17.86 million from 16.55 million in 2015 following the introduction of the two-child policy, but the acceleration was short-lived as births fell to 17.23 million in 2017 despite the government
offering incentives
for couples to have a second child.
A total of 10.035 million newborns were recorded in the household registration system, known as hukou in China. That was a drop from 11.79 million in 2019, according to figures released by the Ministry of Public Security in February.
What else did China's census tell us?
The gender ratio of males to females stood at 105.07 in 2020, "basically the same level with a slight decline compared with that in 2010", the NBS said.
There were 723.34 million male Chinese in 2020, or 51.24 per cent of the population, compared with 688.44 million females, or 48.76 per cent. The gender ratio at birth was 111.3, down 6.8 points from 2010, showing that the gender composition of China "continued to improve", the NBS said.
The data showed that the number of Chinese children aged 14 years or younger rose to 253.38 million in the 2020 census, accounting for 17.95 per cent of the population, up 1.35 percentage points from the previous census in 2010.
"The share of children rose again, proving that the adjustment of China's fertility policy has achieved positive results," the NBS said, in apparent reference to the implementation of the two-child policy in 2016.
The census also confirmed anecdotal evidence of a regional population shift in China, with more developed eastern coastal provinces gaining population, with provinces in central and northeastern China seeing an outflow of people.
The population in the eastern region of China accounted for 39.93 per cent of the population, up 2.15 percentage points from 2010. The nation's western region also gained population, rising 0.22 percentage points from a decade earlier.
Central provinces accounted for 25.83 per cent of the nation's people, while the northeast accounted for 6.98 per cent, down 0.79 percentage points and 1.20 percentage points, respectively, from the 2010 census.
China's urban population grew over the last decade, boosted by Beijing's urbanisation efforts. The percentage of urban residents rose to 63.89 per cent, up 14.21 percentage points, while the rural population fell to 36.11 per cent.
The country's "floating population", largely
migrant workers,
also increased over the decade. Those living in places other than their household-registration area rose to 375.82 million, up 69.73 per cent from 2010. Of those, 124.84 million moved to other provinces.
Compared with 2010, the main data release in the 2020 census offered more information on regional breakdowns, including details of people from Hong Kong, Macau, and Taiwan who lived in mainland China, and on a share of different age groups in provinces.
The number of Han Chinese increased to 1.286 million in 2020 from 1.226 million in 2010, while the number of those belonging to ethnic minority groups increased to 125 million from 114 million during the same period.
What is the outlook for China's population?
Like other countries in Asia, including Japan and South Korea, China is close to reaching a point where deaths exceed new births, resulting in a fall in the total population, and some experts are warning of grave consequences.
He Yafu, an independent expert on China's demographics, expects that population decline to occur in 2022 as the number of births fall to nearly 10 million and the number of deaths surpass 10 million.
"I estimated the number of new births in China … will fall to around 11 million this year, and then drop by another 1 million in 2022," He said.
Over the past five years, the number of Chinese women in the prime childbearing ages between 20 and 34 fell steadily at an annual rate of 3.4 million. This rate of decline will almost double to 6.2 million in the next five years, according to the China Population and Development Research Centre, a think tank under the central government.
Want to know more?
Each week the China Geopolitics podcast wraps up the latest developments in tariffs, diplomacy and economics, with insight from reporters and editors at the Post.
In every episode of the Inside China podcast, we take a deep-dive into a specific topic, mixing independent reporting and exclusive interviews to bring you unique insights into an emerging potential superpower. We are now featuring regular updates on the coronavirus pandemic from across the country.