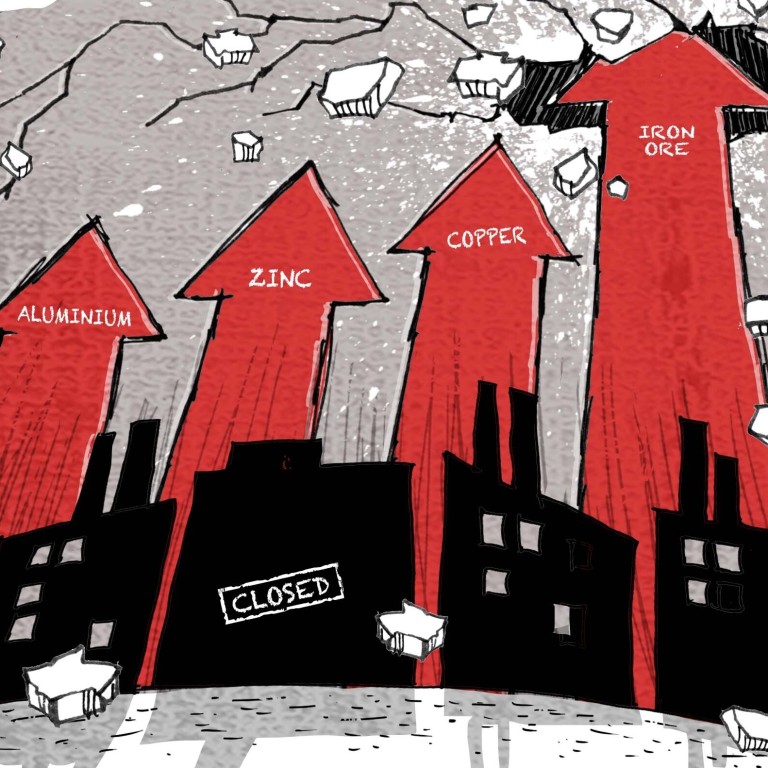 China's factories decry surge in raw material prices as they cut production and say 2021 may be worse than 2020
Manufacturers in the 'world's factory' say it is too risky to take new orders, resulting in shutdowns and staff cuts that could threaten China's economic growth goals for the year
Even as supply lines have shifted back to China from coronavirus-hit countries, crucial raw materials such as metals are becoming too expensive to turn a profit
A wave of shutdowns and temporary production stoppages is sweeping through a number of factories in China's southern manufacturing hub as the surging cost of raw materials eats away at profits and raises concerns over inflation risks in the world's second-largest economy.
Across Guangdong province, small and medium-sized enterprises in the industrial chain – producing everything from steel castings to home appliances – lament that it may be even more difficult to stay afloat this year than it was last year.
This may come as a surprise to some, given that many overseas customers have been turning to China to fulfil orders that would normally go to countries currently being ravaged by the coronavirus,
including India
and China's Southeast Asian neighbours – competitors in the manufacturing sector.
But as the pandemic takes a heavy toll on supply chains across the globe, some Chinese manufacturers say it has become too expensive to source the materials they need to make the goods they sell.
Modern Casting Ltd, one of Guangdong's biggest factories supplying iron and steel castings, issued a statement to its clients last week saying it would not be able to make good on the orders it had received, pointing to crippling price increases and a lack of raw materials.
"The cost of casting materials has far exceeded the company's gross profit, and it has reached the point where we can no longer afford any loss," the statement said. The company, located in Jiangmen city, produces grey iron, steel and ductile iron castings up to 60,000kg (132,277 pounds) in size.
In the same industrial estate, a smaller casting factory – JiangXin Foundry Ltd – also had no choice but to reduce production, according to its chief production manager, Huo Huagen. He said the factory was operating just four days at a time. It then closes down for three days before opening for another four.
Huo attributed this to "the price of scrap steel – the main raw material of our foundry enterprise" skyrocketing to more than 4,500 yuan (US$700) a tonne in recent weeks. It started with a 700-yuan surge in price on May 3, then increased by hundreds of yuan a tonne over the following days, he said.
"It means that, the more we produce, the more we lose," he said. "Each tonne we produce is equivalent to a loss of 1,500 yuan."
Huo expects their output to shrink significantly this year, and probably next year, too.
"Our output was about 5,000 tonnes last year," he said. "From January to April, the output was about 400 tonnes per month. In May, it will fall to only about 200 tonnes."
Workers at the factory are also struggling, with their monthly salaries dropping to about 3,000 yuan as they lose shifts, Huo said. Last year they were earning up to 8,000 yuan in peak production months.
"Our biggest customer is [the Chinese branch of] a Japanese elevator company, and we have already proposed a 15 per cent price increase to downstream companies for new orders," Huo said. "They have not yet responded."
The situation wasn't any better at Guangdong's Bangzhan Construction Formwork Ltd, where a sales manager said that the price of aluminium had risen to more than 20,000 yuan (US$3,111) a tonne in the span of two weeks this month, up from about 15,000 yuan earlier this year.
"Chinese manufacturers … dare not proceed with normal mass production," he said, adding that the risks of taking new orders are considerable when raw material prices are so high.
Home appliance producers in the province have similarly halted production to various degrees on price-inflation concerns.
"Rising prices of raw materials – metals, plastic casings, copper to make [home appliance] chips – have eroded the profits of all upstream and downstream enterprises in our entire industry," said Zheng Leqiang, who runs a kitchen-appliances factory in Zhongshan, Guangdong.
"Our suppliers have raised prices, and so we have had to lift prices, passing on the extra cost to downstream customers," he said. "However, the current domestic demand in China is weak, as are sales of kitchen appliances, so it's hard for downstream customers to raise prices in the consumer market."
Zheng said the company is still struggling to recover from the effects of the pandemic, as many Chinese consumers are still reluctant to spend money on small home appliances and household renovations. As a result, he said, the industry "has been generating zero profit, and many small household appliances factories – especially those with fewer than 100 workers – have had to shut down in the past month".
Both Zheng and Huo said their only hope is that the central government will intervene to rein in the surging prices of raw materials. In the meantime, they said there was not much they could do other than suspend orders, furlough workers or lay them off.
The economic risks associated with high commodity prices are indeed being discussed at the highest levels in China. Just a few days after the South China Morning Post spoke with Zheng and Huo, the State Council said authorities were paying closer attention to the impact of high prices and were deploying a two-pronged approach to stabilise markets, increase supply and enhance supervision.
And yesterday, the NDRC revealed that China would strengthen price controls on iron ore, copper, corn and other commodities in its 14th five-year plan (2021-25) to address the fluctuations in prices.
This came after China's Financial Stability and Development Commission, which is headed by Vice-Premier Liu He, President Xi Jinping's top economic adviser, flagged concerns early last month about potential economic risks associated with high commodity prices and inflation.
"The PPI sub-index for raw materials is moving in line with global commodity price trends," London-based research firm TS Lombard said in a note on May 17. "In other words, China is now importing raw material inflation. The key unknown is how these inflation impulses are likely to be transmitted through the domestic economy. Prices for intermediate products are up 5.3 per cent, year on year, so there are early signs that a spillover of raw materials prices onto intermediate goods is under way."
The NDRC had said on May 18 that there were both pros and cons to high commodity prices.
"On the one hand, it is conducive to improving the profitability of upstream raw material companies and reducing debt risks. On the other hand, it will also increase the operating costs of mid- and downstream manufacturing and affect the efficiency of the industry," said Jin Xiandong, an NDRC spokesman.
Jin said that the NDRC expected the PPI growth to further expand in the coming months, but the "year-on-year increase will decline in the second half of the year".
"The NDRC, in conjunction with relevant departments, has issued adjustments and improvements to the relevant policies for the import and export of steel products, and strengthened the supervision of the futures market," Jin said, adding that the economic planner would coordinate its resources in domestic and international markets to "effectively strengthen supply guarantees".
The Australian government forecast this month in its budget that its top export earner, iron ore, would tumble to US$55 a tonne by March 2022 from the current price of more than US$200, a conservative estimate amid an ongoing trade dispute with China.
But even though Beijing has said it intends to curb inflation risks, some analysts say there are not many options to control commodity prices because China relies so heavily on imports of raw materials such as iron ore from Australia and Brazil.
In a bid to pump up the domestic steel supply and discourage exports, the Ministry of Finance removed export tax rebates for 146 steel products from May 1, and it waived import tariffs on others, including pig iron, crude steel, recycled steel raw materials and ferrochrome.
However, such measures to discourage steel exports have not been effective, a research note by Mysteel Global said last week, due to the fact that global demand for steel is still on the rise, and a curb in steel exports from China would drive up prices.
In fact, China's steel exports increased significantly in the first four months this year. In April, the export of steel products hit 7.973 million tonnes, a record monthly high since 2017.
"In the face of high export profits, reducing emissions and pollution are no longer priorities. It is very difficult to require domestic manufacturers to reduce exports, let alone import high-priced overseas steel," Mysteel said.
To help meet President Xi's goal for China's emissions to peak before 2030, Beijing ordered Tangshan, China's largest steel-producing city in the northern province of Hebei, to slash its steelmaking capacity from March until the end of the year. And earlier this month, Chinese regulators met with steel companies in Jiangsu province to push for a reduction in steel overcapacity.
Additionally, at an executive meeting of the State Council on May 12, Premier Li Keqiang said the government would strengthen financial support for enterprises in industries that continue to be affected by the pandemic.
"It is necessary to closely follow up and analyse the domestic and foreign situation and market changes, make market adjustments, and deal with the excessively rapid rise in commodity prices and its associated effects," Li said. "[We need to] strengthen the coordination of monetary policy and other policies to keep the economy running smoothly."
Additional reporting by Orange Wang
This article appeared in the South China Morning Post print edition as: Why the world's factory has had to hit the brakes