Yuan
Get more with myNEWS
A personalised news feed of stories that matter to you
Learn more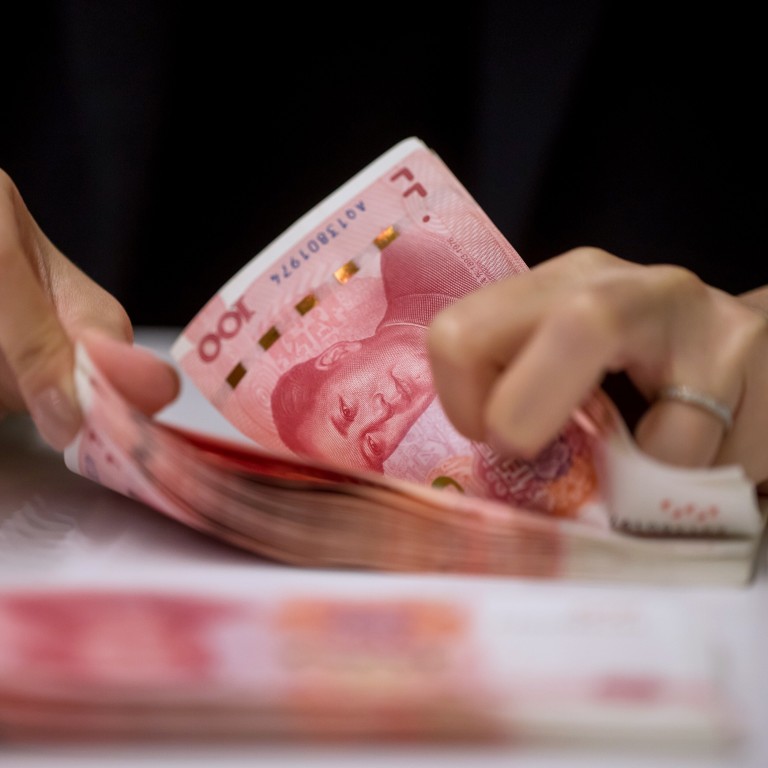 China's yuan gets stronger as regulators warn against speculative bets on the currency
The People's Bank of China says it will crack down on speculation in the foreign exchange market following recent gains by the yuan
The currency has advanced by 1.6 per cent against the US dollar since May, with many analysts expecting it to strengthen further
Chinese regulators have signalled concerns about the rapid
appreciation of the yuan
, calling on traders to refrain from one-way bets on the exchange rate.
The People's Bank of China (PBOC) on Thursday said the exchange rate cannot be used as a tool to boost exports or offset the high price of commodities, while warning against speculation.
The yuan has advanced by 1.6 per cent against the US dollar this month, with many analysts expecting it to strengthen further in coming months, fuelling concerns it could weigh more on Chinese exporters.
Tan Yaling, head of the China Forex Investment Research Institute, said more shocks could arrive as the US dollar weakens, which would demand stronger government interference for the health of the economy.
"The current level is not supported by economic fundamentals at all. The competitiveness of Chinese businesses is deteriorating," she said.
"As more economic damage shows up later this year, it would be justified for the authorities to intervene."
The central bank set the daily US dollar-yuan fixing at 6.3858 on Friday, compared to 6.4030 a day earlier. It edged 0.13 per cent higher to 6.3675 in onshore markets.
Under the managed floating
exchange rate system
, which Beijing has used since 2005, the PBOC maintains a tight rein on the yuan by setting a daily central parity rate against the US dollar and limiting changes to its value to within 2 per cent either side of that mark.
A lower yuan exchange rate figure means it takes fewer yuan to purchase one US dollar, indicating a stronger Chinese currency.
"No one can accurately predict the direction of exchange rates … Governments, institutions or individuals must avoid being misled," the central bank said in its statement on Thursday.
"The key is to manage [market] expectations well, and in the meantime take firm action to crack down on malicious market manipulation and one-way bets."
Wen Bin, chief macro analyst with China Minsheng Bank, said the US dollar index remains key to observing the future direction of the yuan exchange rate.
"There are obviously higher uncertainties and instability factors in international markets, and China's economic recovery is slowing. Under such circumstances, China needs to maintain yuan stability," he said, adding he expected a fluctuation range of 6.3 to 6.7 this year.
Expectations that the yuan could appreciate further grew following a speech by Zhou Chengjun, director of the PBOC's finance research institute, in April. He said China would eventually have to give up control of the exchange rate if it wants to achieve greater global use of the yuan.
This article appeared in the South China Morning Post print edition as: Warning against speculation on yuan