Coronavirus: shipping rates to stay at 'unprecedented' levels until pandemic brought under control
The coronavirus pandemic has driven shipping costs to record levels, with trade disruptions throwing global container flows into disarray
Despite efforts to boost container production in China, some experts estimate shortages and port congestion could stretch on until early 2022
In more than 10 years in the logistics business, David Sun says he has never seen shipping fees climb as high or quickly as they have this year.
"It's unprecedented," he said on the phone from Yiwu, a central Chinese city known as the world's largest trading centre for small commodities.
Ocean
freight fees
are three to five times higher than the same period last year. The cost of moving a 40-foot sea container from China to Dubai is normally less than US$1,000, but it now costs about US$5,000.
The volatile prices have caused a huge financing problem for Sun, who must pay his shipping booking agent monthly, but receives payments from clients once every two or three months. Some customers may take up to six.
"That means every month I need to pay the agent three to five times," Sun said. "The cash flow pressure is so high that I have mortgaged my house to the bank."
As with many trade-related problems this year, the coronavirus pandemic is to blame.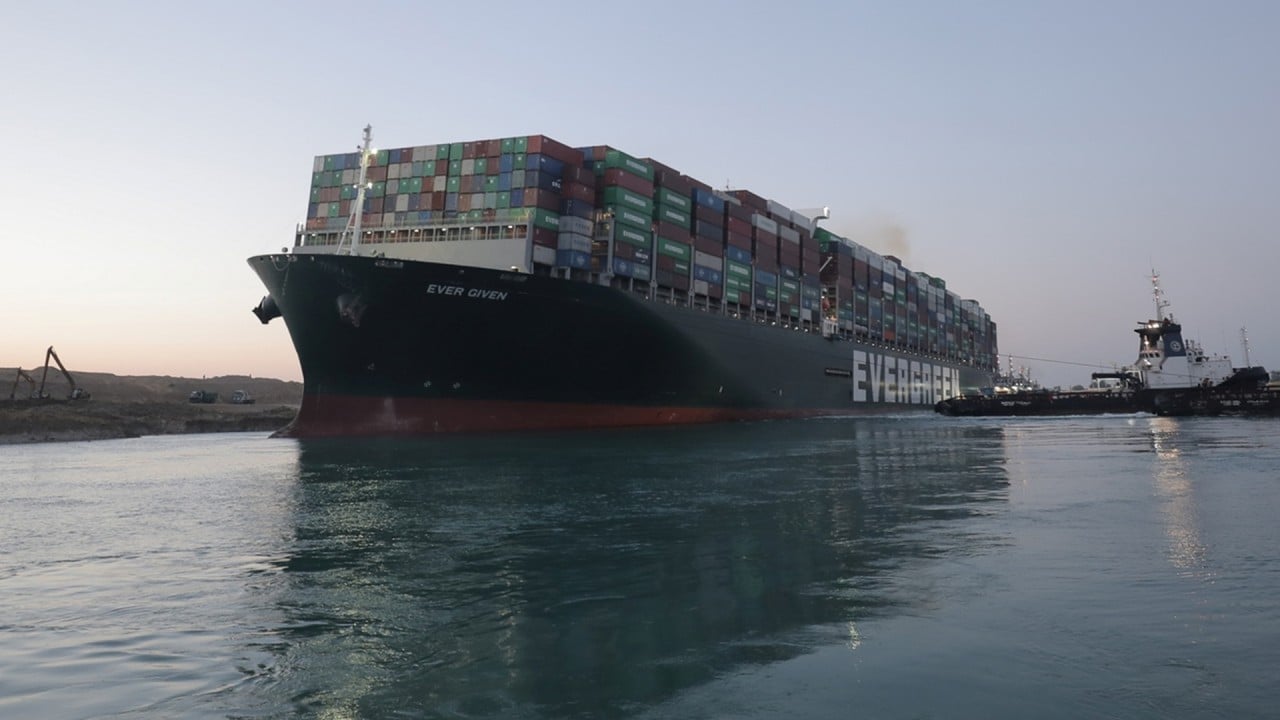 03:04
Stranded Ever Given partially refloated after blocking Egypt's Suez Canal for nearly a week
Stranded Ever Given partially refloated after blocking Egypt's Suez Canal for nearly a week
For shipping costs to return to pre-pandemic levels, global production will have to resume its normal patterns, with North America and Europe producing more of their own products and relying less on those made in Asia, especially China.
The sharp rise in export volumes from Asia and decline in shipments from the rest of the world has skewed global trade flows, causing bottlenecks at ports and throwing the flow of containers into disarray, driving up shipping prices in the process.
It remains unclear how long the problem will last, with estimates of a return to normal being extended in recent weeks from later this year to early 2022.
Since the middle of last year, most
shipping containers
sent from Asia to North America and Europe have not been returned because of logistics disruptions and a lack of goods to stock them.
The container shortage in Asia was made worse by the

Suez Canal blockage

in March.
In the United States, greater spending on personal protection equipment and home electronics because of the coronavirus caused containerised imports from Asia to jump by 31 per cent in April from a year earlier, and 27.4 per cent from April 2019, according to PIERS, the US trade reporting service compiled by IHS Markit.
Vessel space in Asia might get even tighter this month because advanced bookings show strong demand for imports into the US, partly because American retailers are building up their inventories ahead of the peak Christmas holiday shopping season.
When containers are being returned to Asia, many are empty because carriers are trying to maximise yields on shipments from the region, rather than wait for less lucrative loads going the other way, according to Container xChange, a German platform for leasing and trading shipping containers.
In normal circumstances, the world's current supply of shipping containers is sufficient to handle trade flows, but uneven distribution caused by the pandemic has boosted demand for more production.
Chinese factories make more than 96 per cent of the world's dry cargo containers and 100 per cent of temperature controlled, or "reefer", containers, with three Chinese companies accounting for most of that output, according to Drewry, a British maritime consulting company.
The Chinese government is pushing shipping companies to help alleviate the problem. In April, the Ministry of Transport said it would "actively coordinate" Chinese shipping companies to increase freight volumes on key routes and expedite the return of empty containers.
Zhang Shouguo, executive vice-president of the China Shipowners' Association, said the current capacity of container ships would exceed demand under normal circumstances.
But because of a surge in exports due to the pandemic, 11 to 12 per cent of Chinese ships that were sitting idle in the first half of 2020 were put back into service in the last six months.
Zhang said shipping companies have also invested more in maintenance, which they had not done before because of the costs.
In addition, Chinese shipowners have transferred some of their domestic vessels to international routes to boost capacity.
"Shipowners in China have already begun to manufacture more ships and more containers, but it takes up to one and a half years to build a new container ship," Zhang said.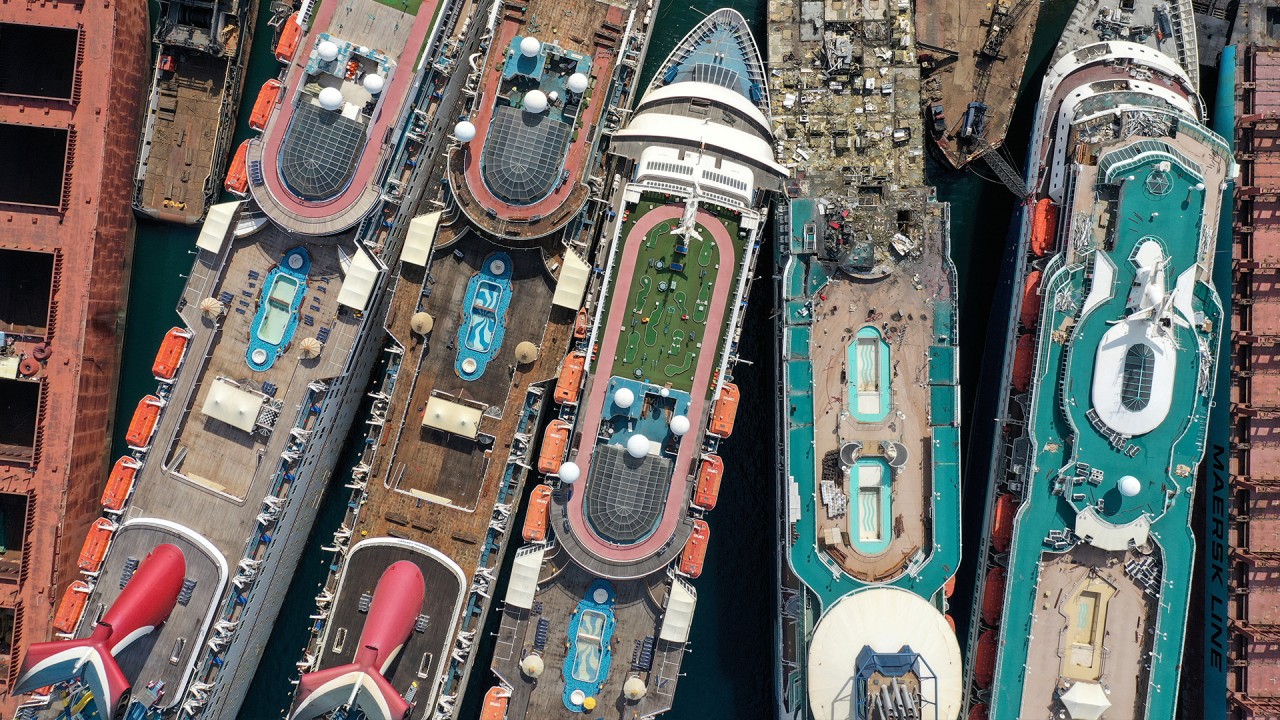 03:23
Turkey's ship-breaking business steams ahead as coronavirus sinks global cruise liner industry
Turkey's ship-breaking business steams ahead as coronavirus sinks global cruise liner industry
The China Container Industry Association said last year that workers' shifts have increased from eight to 11 hours to keep up with demand.
But according to Zhang, when the pandemic is brought under control, there will be another problem – surplus capacity.
"You cannot treat the symptoms and not the disease," he said. "Even if we increase shipping capacity and manufacture more containers, it will not work if low efficiency and congestion at ports remain unchanged."
The biggest delays have been at the neighbouring Southern Californian ports of Los Angeles and Long Beach, according to shipping executives.
But last week, Danish shipping giant Maersk said in a customer advisory that the Port of Oakland in northern California has become the epicentre of congestion, with a situation "even more dire" than in the southern part of the state.
Waiting times to dock and unload in Oakland have risen to as much as three weeks, while vessels at Los Angeles and Long Beach are waiting one to two weeks on average.
Industry insiders say it is hard to predict when the tight supply will ease, but few think the pressure will let up this year.
Mai Boling, chairman of China International Marine Containers – which produces about half of the world's containers – said in March the shortage could last until August or September.
Germany's Hapag-Lloyd said it could stretch on even longer, saying the situation would not be resolved before the fourth quarter of this year, with little chance of supply chain congestion being resolved before then.
High shipping costs have been baked into many transport contracts for the next 12 months, Bloomberg reported in April.
While exporters have been having it tough, the surge in shipping prices has been a financial boon to ocean freight carriers.
COSCO Ship Holdings, the container shipping arm of the China COSCO group, reported a net profit of 15.45 billion yuan (US$2.4 billion) in the first quarter of this year, up from 290 million in the first quarter of 2020, when the pandemic ravaged global supply chains.
The company said it was expecting "significant growth" in the first half of 2021 compared with the same period last year.
01:49
China's freight trains to Europe hit all-time high amid coronavirus crisis in 2020
China's freight trains to Europe hit all-time high amid coronavirus crisis in 2020
Maersk reported a record net profit of US$2.7 billion in the first quarter, up from US$209 million in the same period a year earlier.
In a May statement, Maersk said it expected strong demand for exports from Asia to continue in the third quarter and equipment shortages to remain an industry-wide challenge in the Asia-Pacific, with 40-foot and 45-foot dry containers still in short supply. The supply of 40-foot non-operating reefers will also remain in short supply.
Given major seaborne carriers have set new rates and peak season surcharges across the world, some Chinese exporters are shifting European bound cargo to freight trains.
The cargo trains carried about 117,000 20 foot equivalent unit containers in April, an increase of 33 per cent from a year earlier, according to the National Development and Reform Commission, China's top economic planning agency.
The number of trains making the journey from China to Europe reached 1,218 in April, up 24 per cent year on year.