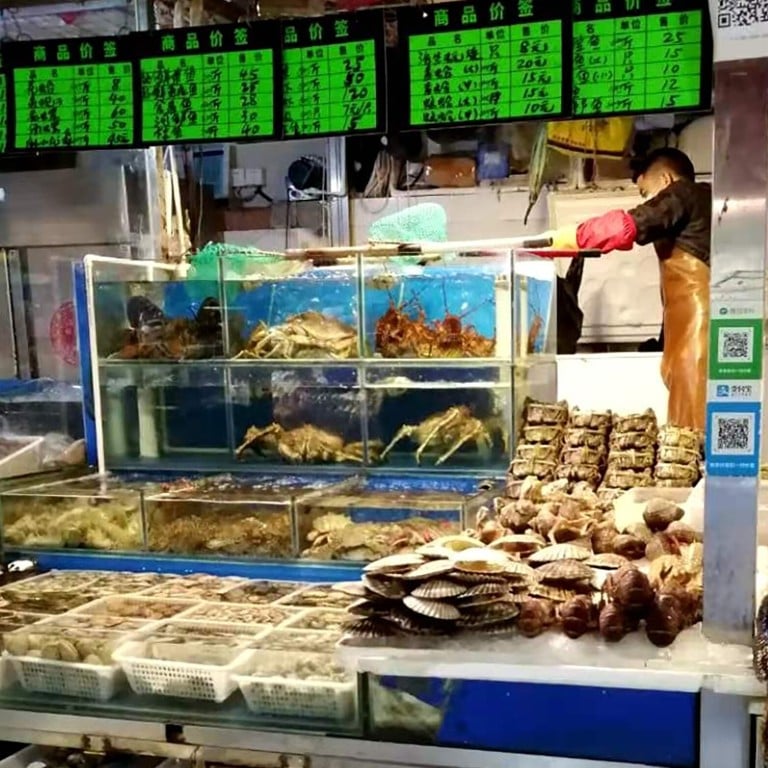 China inflation worries hang over store owners already struggling with weak consumer demand
Store owners at Beijing's Sanyuanli market have been dealing with weak consumer demand since last year due to the coronavirus
But now amid rising global commodity prices, they are so far resisting passing on increased costs to customers as consumer 'demand is just not strong'
Faced with global commodity prices that show no signs of retreating, store owners at Beijing's Sanyuanli market are facing the possibility that inflation may add pressure onto China's already weak consumer demand.
With the coronavirus having weakened local demand since last year, the prices of some products such as seafood and meat have risen recently, partly due to seasonal factors, and owners are unable — or in some cases unwilling – to pass on the increased costs to customers.
"Usually around this time, wild caught products are more expensive because of a lower supply. But these days even prices of freshwater fish from inland fish farmers are up quite a bit. I have no idea why," said a store owner who has been selling seafood for over 20 years in the market, but asked not be named.
"We've tried not to raise prices too much. Many stores here are the same, so business is just so-so."
A lamb and beef butcher at Sanyuanli market said the wholesale price of domestically produced meat has risen by a small amount, but he has chosen not to pass on the cost to his customers.
"We didn't lift prices. They are pretty much the same since the start of the year," said the store owner, who also asked not to be named.
"These days we rely on our old customers. You can buy imported meat everywhere now, which can be cheaper at times compared to ours."
China's downstream producers have already seen their profits slashed as a result of high metal prices as a result of
surging raw materials prices,
including iron ore, with weak consumption meaning Chinese manufacturers are not able to pass on the additional cost to customers, dragging down revenue and investment in the sector, analysts said.
"[Consumer] demand is just not strong," said Larry Hu, chief China economist at Macquarie Group.
In April, China's factory gate prices rose at the fastest rate in more than three years, raising concerns that inflation could further deter consumption.
China producer price index (PPI)
– a gauge of industrial profitability – rose by 6.8 per cent in April from a year earlier, but consumer price index (CPI) – a main gauge of inflation – only grew by 0.9 per cent year on year in April compared with 0.4 per cent growth in March.
Analysts said while there is a record high divergence between PPI and CPI, the rise in consumer prices may catch up in the coming months if global commodities continue to rally.
Zhang Rui, director of Chinese Association of Market Development, said that the rise in CPI was lower than PPI because it is inflected more by the price of pork, which has declined substantially in the past few months.
"Food, clothing, and general daily necessities are the overlapping components of CPI and PPI. The increase in the price of these items in the PPI will inevitably be directly reflected in the CPI," Zhang wrote in the state-owned International Finance News at the end of last month.
The Food and Agriculture Organization of the United Nations (FAO) said last week that global food prices rose in May at their fastest monthly rate in more than a decade.
In particularly, the FAO Meat Price Index increased by 2.2 per cent from April, with the organisation attributing the increase in the price of all meat types to a "faster pace of import purchases by China" and "rising internal demand for poultry and pig meats in the leading producing regions".
Besides iron ore, China is now the world's biggest food importer as well. In April, its imports of corn rose 301.2 per cent year on year, while pork rose by 18.1 per cent, wheat jumped by 134.7 per cent, and barley by 147.5 per cent, according to data from Chinese customs.
May's trade data also showed
that China is spending more on food imports, with its grain shipments up 20.5 per cent from April to 15.88 million tonnes.
Last month, China also bought 9.61 million tonnes of soybeans, which is often crushed to feed livestock, up 29 per cent from 7.45 million tonnes in April. Total meat imports, including pork, however dropped 14.4 per cent to 789,000 tonnes.
"If the rally of global commodities goes on for a long time, it is not impossible to transmit it to the CPI. However, considering that the current regulators have noticed the overshooting of commodity prices, they have recently begun to strengthen supervision to suppress them," Zhang Qidi, a visiting researcher at the International Finance Research Centre at the Central University of Finance and Economics said in a Jiemian News op-ed last month.
Louis Kuijis, head of Asia economics at Oxford Economics, said there is a "second order" effect weighing on consumption when the manufacturing sector begins to see job losses as a result of persistent high commodity prices.
"Meanwhile, employees' real income is supported by the relatively low CPI inflation. If the pressure from high commodity prices is temporary, then I would expect the impact on consumption not to be a major problem," Kuijis said. "Indeed, consumption is a key downside risk to the growth outlook at the moment."
China's CPI and PPI in May will be released on Wednesday, with factory-gate prices set to hit a 13-year high.
The median survey of analysts by Bloomberg expects China's PPI to rise 8.5 per cent from
6.8 per cent in April,
which would be the highest level since hitting 8.8 per cent in June 2008.
CPI, meanwhile, is predicted to rise to 1.6 per cent in May from 0.9 per cent in April
Beijing has set a 2021 CPI growth target of around 3 per cent per cent, compared with around 3.5 per cent last year.
This article appeared in the South China Morning Post print edition as: Inflation adds pressure to weak consumer demand