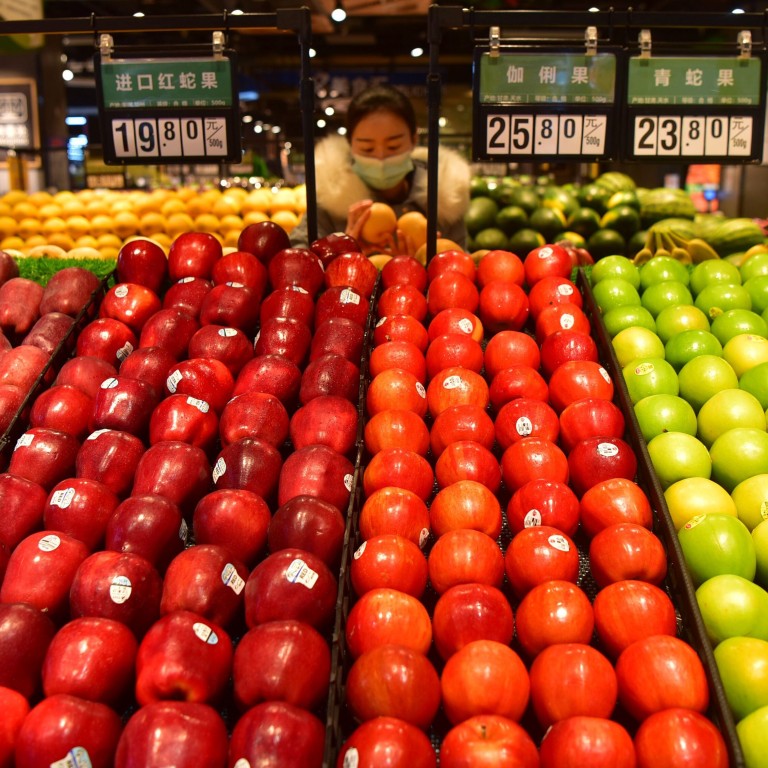 China's factory-gate price inflation hits near 13-year high, manufacturers pass on surging raw material prices
China's official producer price index (PPI) rose to 9 per cent in May from a year earlier, compared with 6.8 per cent in April
The consumer price index (CPI) rose 1.3 per cent from a year earlier, compared with a 0.4 per cent rise in April
Factory-gate price inflation in China hit a 13-year high in May as manufacturers passed on the surging prices of raw materials, data released on Wednesday showed.
The producer price index (PPI), which reflects the prices that factories charge wholesalers for their products, rose by 9 per cent in May from a year earlier, up from a gain of
6.8 per cent in April,
the National Bureau of Statistics (NBS) said.
This was above expectations, as a Bloomberg survey of analysts had predicted a rise of 8.5 per cent, and the highest level since 9.1 per cent in September 2008.
China's official consumer price index (CPI), meanwhile, rose 1.3 per cent in May from a year earlier, from 0.9 per cent in April, the NBS said.
This was below the Bloomberg survey median, which had predicted a 1.6 per cent rise.
"Producer price inflation continued to surge and reached its highest level since September 2008 last month, on the back of a further rise in global commodity prices," said Julian Evans-Pritchard, senior China economist at Capital Economics.
"That said, there are some signs in the data that upward pressure on the factory-gate prices of consumer electronics may be starting to ease. And while consumer price inflation continued to rise, it remains relatively contained."
China's core consumer inflation rate, excluding volatile food and energy prices, rose 0.9 per cent in May compared with a year earlier, up from 0.7 per cent in April.
Food price inflation rose to 0.3 per cent in May, from minus 0.7 per cent in April.
The price of pork – a staple meat on Chinese plates – fell 23.8 per cent compared with a year earlier.
Non-food prices rose 1.6 per cent in May, year on year, up from a reading of 1.3 per cent in April.
"Producer price inflation is probably close to a peak. Base effects will turn less favourable from this month onwards. And we think that coal and metal prices will drop back before long as the recent slowdown in credit growth starts to weigh more heavily on construction activity," added Evans-Pritchard
"Consumer price inflation is likely to rise a bit further as a tighter labour market and easing virus disruptions lifts services inflation. But we don't expect it to rise much above 2 per cent in the coming quarters. As such, it is unlikely to trigger any shift in monetary policy."
On Tuesday, the National Development and Reform Commission (NDRC), China's top economic planning agency, urged all provincial-level authorities to regulate the commodity market, strengthen supervision and make every effort to ensure adequate supply and stable prices of important products.
The NDRC statement, which was released on Wednesday, asked for a specific focus on corn, wheat, edible oil and vegetables.
"In May, international crude oil, iron ore, non-ferrous metals and other bulk commodities prices rose sharply, domestic demand recovered steadily and China's industrial product prices continued to rise," said senior NBS statistician Dong Lijuan.
"In May, all regions and departments continued to ensure supply and stable prices, consumer prices generally stayed stable."
Iris Pang, chief economist for Greater China at ING, expects producer profits to fall as they cannot pass rising costs on to consumers as the gap between the CPI and PPI growth rate widened in May.
"This is especially true at the moment when there are
small lockdowns in Guangdong province.
Some residents are not allowed to leave their homes, which means demand for goods in the domestic market is affected," she said.
She said that producers could look to the global market for a price increase, but given overseas markets had only recently started to recover, it remains uncertain if producers can pass the extra costs on to export markets.