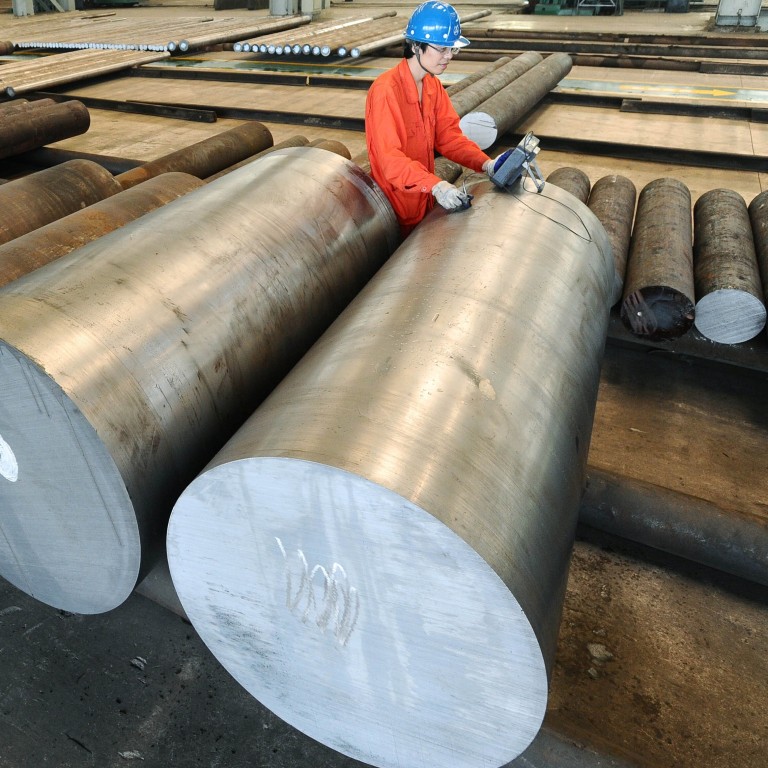 China inflation: surging factory prices seen nearing peak with no 'lasting strong demand' for commodities
Inflation risks mounted in recent months, sparking worries in the US and Europe that further rises in commodity prices could slow the global economic recovery
But economists say Beijing's measures to rein in the prices of raw materials are likely to reduce pressure on China's factory prices in the coming weeks, making goods cheaper
Despite hitting its highest point since the 2008 global financial crisis, the inflation rate in China's factory prices looks to be nearing its peak, according to economists who cite the nation's attempts to curb skyrocketing raw material prices.
Several Chinese analysts said the current round of global commodity price spikes was not sustainable, but they still warned that Beijing should be wary of imported price pressures resulting from an ongoing imbalance between production and demand in the world, as well as from the
United States' infrastructure stimulus
.
Additionally, many experts expect that small manufacturers in the consumer goods sector will have to shoulder a greater cost burden amid shrinking profit markets.
Inflation risks have been mounting worldwide in recent months, leading to worries in the US and Europe that a continued increase in commodity prices could weigh heavy on the global economic recovery from the coronavirus.
And as the world's largest manufacturer, China is not immune from the impact. This was particularly highlighted on Wednesday as data showed that the producer price index (PPI) – reflecting prices that factories charge wholesalers for products – rose by 9 per cent in May from a year earlier. This was largely due to a sharp rise in the prices of international crude oil, iron ore, non-ferrous metals and other bulk commodities, according to the National Bureau of Statistics (NBS).
But Lu Ting, chief China economist at Nomura, was among those who said that the higher-than-forecast reading for May likely marked the peak in this upcycle, and he expected that the producer price index (PPI) will dip slightly to around 8.8 per cent in June. A Bloomberg survey of analysts had predicted a May PPI rise of 8.5 per cent.
His view was echoed by Grace Ng, senior China economist at JP Morgan, who expected in a note on Wednesday that China's PPI inflation rate will peak in the current quarter and moderate in the second half of 2021.
And during an online forum on Wednesday, Lian Ping, the head of the Zhixin Investment Research Institute, took the view that while commodity prices might stay elevated in the near future, this was unlikely to spark a "supercycle" that would point to a protracted rise in prices.
"China, in terms of infrastructure and real estate construction … is unlikely to have lastingly strong demand [for commodities]," he said.
Lian expanded on that, saying: "Some downstream and midstream companies will be under greater pressure because they cannot pass on the rising costs, as upstream and midstream prices have risen sharply while the final product prices in the consumer market have not changed much.
"We especially need to pay more attention to the pressure of small and medium-sized firms in certain sectors."
Among those taking a more cautious outlook on China's inflation rate were economists at Standard Chartered, who warned in a note on June 1 that, "while China's industrial profit margins have stayed resilient so far – buffering the effect of surging commodity prices – there is no room for complacency".
"China's surging PPI poses a greater upside risk to the global inflation outlook than to China's own. A strengthening [yuan] is also feeding into global inflation," they said, noting that these two factors were rapidly driving up the export prices of the world's largest exporter.
Beijing has set a 2021 CPI growth target of around 3 per cent, compared with around 3.5 per cent last year.
"Consumer price inflation is likely to rise a bit further as a tighter labour market and easing virus disruptions lift services inflation," said Julian Evans-Pritchard, senior China economist at Capital Economics. "But we don't expect it to rise much above 2 per cent in the coming quarters. As such, it is unlikely to trigger any shift in monetary policy."
This article appeared in the South China Morning Post print edition as: Surging factory prices seen peaking on mainland