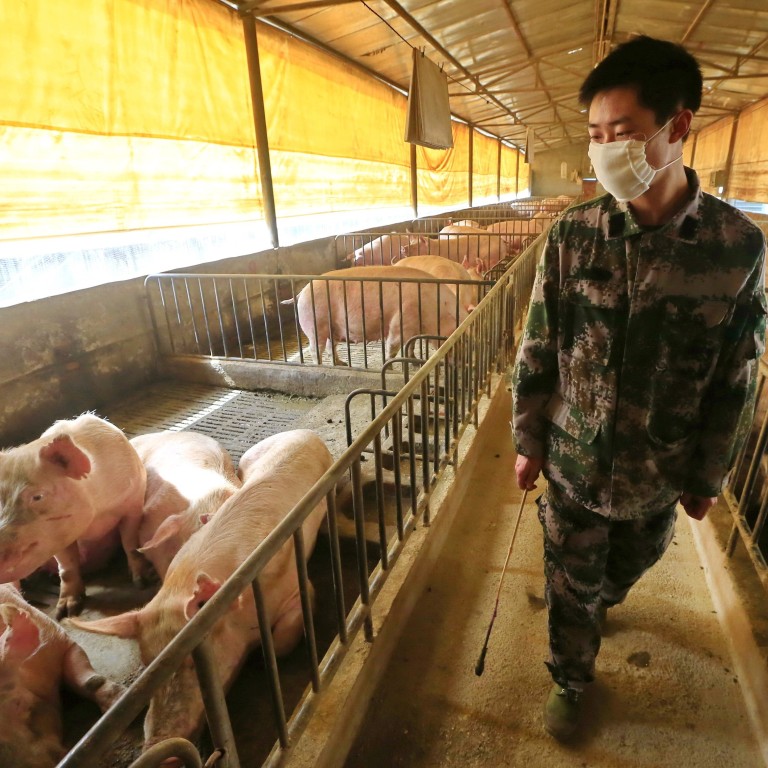 China food security: soybean imports 'exceptionally large' as pig population nears pre-African swine fever level
Soybean imports from the United States and Brazil were up 12.8 per cent, year on year, in the first five months of 2021
Rapid hog restocking and a post-coronavirus resurgence in the food-service industry are combining to dramatically push up demand for soybeans in China
China's soybean imports increased significantly in the first five months of the year, in line with a recovery in the domestic hog population, but domestic demand for the crop looks to be more modest in the coming months amid rising commodity prices.
China bought a total of 38.23 million tonnes of soybeans from January to May. The world's largest soybean importer spent US$19.35 billion on the crop, up 44.2 per cent from the same period last year, according to Chinese customs data last week.
Its biggest suppliers were the United States and Brazil, and soybean imports from those countries during the five-month stretch were up 12.8 per cent, year on year.
"China has been an exceptionally large buyer of US supplies [since October 1]," said Darren Cooper, a senior economist at Britain-based research firm International Grains Council, referring to the start of the US government's fiscal year. "Currently, demand is almost entirely focused on South American supplies, and while purchases from Brazil have been significant, these are expected to show a more modest year-on-year increase through to September."
Beijing's pledge to buy US$36.5 billion worth of farm goods last year under the phase-one trade deal signed with Washington in January 2020 has supported
US soybean imports
. But the recovery of China's hog herd, which was devastated by
African swine fever
, has been the key driver of its surging appetite for soybeans, which are used in animal feed for the massive livestock sector, as well as in cooking oil.
"The expectation of rapid hog restocking has been the key reason for strong imports. But the food-service recovery from Covid-19 is also supporting imports," said Pan Chenjun, a senior animal protein analyst at Rabobank.
China's total spending on food imports, including grains and meat, for the five months of 2021 rose 33.8 per cent from a year ago, with soybeans accounting for more than 22 per cent of its overall expenditure.
The US Department of Agriculture's quarterly agricultural trade forecast, released on May 26, expected that China would reclaim its place as the No 1 customer, driven by its demand for soybeans and corn.
Cooper added that while China's appetite for US soybean exports has been significant, American demand for soybean oil as biofuel is also underpinning growth as the US economy gradually recovers from the coronavirus pandemic.
"Boosted by strong demand from China in particular, US soybean exports have progressed at an unprecedented pace, with shipments forecast to total a record of 62.1 million tonnes – an increase of around one-third compared with the previous season," Cooper said, adding that the increased consumption and processing of soybean oil is expected to continue throughout this year and the next in the US.
Meanwhile, China's import-demand growth could be relatively modest in the years ahead, as its hog population is now recovering to near the pre-African swine fever level, Cooper said.
Analysts said that high prices in commodities have also adversely affected the profits of hog farmers, who are increasingly
seeing their margins squeezed
by the rise in pork supplies in the market.
"Hog prices continue to fall, while feed costs are rising rapidly. Breeding profits have shrunk sharply, and some losses have occurred. Additionally, given the lingering impact of African swine fever, farmers dare not grow their inventory," Hua An Futures said in a research note on Wednesday.
What's more, China's Ministry of Agriculture issued new guidelines in April, recommending that farmers reduce the use of corn and soybean meal in pig and poultry feed, in a bid to reduce the nation's dependence on imports of soybeans and corn. The authorities recommended a list of alternatives, including rice, barley and sorghum.
Hua An said that if the plan is implemented successfully, it could cut China's soybean consumption by at least 8 million tonnes annually.
Rosa Wang, a Shanghai-based analyst with agricultural data provider JCI China, said that the government guidelines were still a work in progress, but pressure on agricultural commodity prices could also affect China's overall soybean imports in the coming months.
Wang said the Chinese government is likely to be wary of growing volatility in commodity prices and will implement various measures to keep the domestic supply steady, adding that the yuan's exchange rate could also be kept flexible to counter price fluctuations.
"Agricultural products prices have gone up for a while, and soybean and corn are the major commodities that have seen price increases," Pan of Rabobank said. "The price increases in the grains and oilseeds will be passed on to the end products.
"If there is a sufficient supply of end products, processors cannot pass all additional costs on to consumers. In this case, processing would be at a loss, and some small players may be forced to exit the market. So, I expect there will be upward pressure on the
consumer price index
in the coming months."