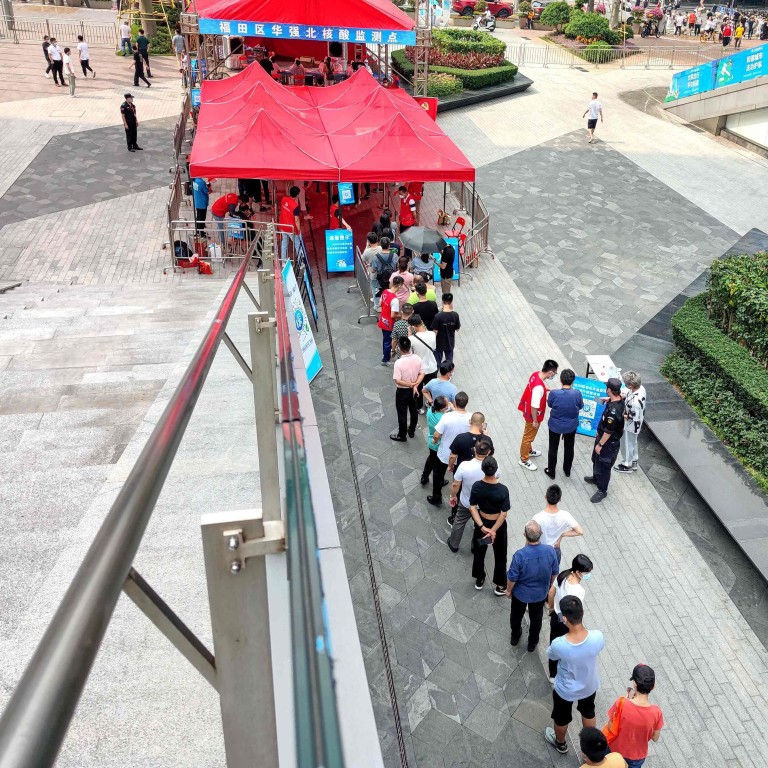 Coronavirus: Guangzhou outbreak leaves small firms reeling amid fears of possible 'spillover effects' on nearby cities
Coronavirus containment measures, including lockdowns and service suspensions, have crippled business operations for many firms in Guangdong
Analysts say the outbreak could wipe up to a percentage point off economic growth in Guangzhou city, but the effect on China's broader economy is forecast to be small
Strict coronavirus containment measures in Guangdong are heaping pressure on local businesses still finding their feet after the first wave of the pandemic swept through the province last year, threatening to wipe up to a percentage point off local growth, but posing only a minor threat to China's overall economy.
Lockdown measures and service suspensions have been imposed in some parts of the province since late May, after a 75-year-old woman living in Guangzhou was found infected with the Covid-19 Delta variant, first found in India.
By Thursday, 128 people had been infected in Guangzhou, the provincial capital, and
the outbreak
had spread to the neighbouring cities of Foshan and
Shenzhen
.
Business closures in Guangdong's main cities have raised concerns about possible knock-on effects in the broader economy, as the province is one of China's main economic growth engines and a major trading hub.
The outbreak is also a test for Li Xi, the Communist Party secretary of Guangdong, who is believed to be a candidate for promotion at the 20th party congress in 2022.
"Economic activity in Guangzhou has indeed dropped to its lowest levels since early 2020," said Peng Peng, executive chairman of the Guangdong Society of Reform, a think tank connected to the provincial government.
"If Guangdong can contain this wave of the pandemic before the end of June, and keep the economic impact within a one-month cycle, the impact on Guangzhou's gross domestic product will be within 0.5-1 percentage points for this year."
Given Guangzhou's importance to the region, there is likely to be "spillover effects" for other major cities like Dongguan, Foshan and Shenzhen, which could also see 0.1-0.5 percentage points wiped off their GDP growth this year, Peng said.
While the services industry would take a slight hit from the outbreak, it would not weigh heavily on China's economy as a whole, according to Larry Hu, chief China economist of Macquarie Capital.
"There have been similar outbreaks in other regions and every time the government was able to contain it in a short period," he said. 
In the meantime, the latest outbreak is being felt keenly by small and medium-sized businesses (SMEs), who are already struggling with skyrocketing costs for raw materials and logistics, as well as foreign exchange fluctuations.
The virus control measures have touched businesses from a number of sectors, from exporters to retailers, to downstream manufacturing factories to education.
"From the second half of last year until now, raw materials have been soaring which have led to severe shortages of finished products, and now the new wave of the pandemic is making everything worse," said Chen Xinshuo, a Guangzhou-based electronics trader. 
"I have been in the export business of electronics products for almost 20 years and this year is tougher than ever. 
"It's optimistic not to shut down this year; making a profit is mission impossible." 
Danish shipping giant Maersk said on Thursday delays upwards of 16 days are expected at Yantian port, up from an estimate of 14 days on Monday. 
Guangzhou is one of China's most important trading hubs for both the domestic market and exports, and it supports hundreds of wholesale markets supplying everything from tea to clothing.
More than 800,000 merchants can be found across the city's markets, racking up combined transactions of more than a trillion yuan (US$156.4 billion) each year.
But almost all have been closed or are operating at reduced capacity.
"Guangzhou is China's most important distribution centre for the domestic market," said Huang Weijie, who runs a small garment factory in Guangdong.
"The pandemic is affecting a large number of small and medium-sized factories across the Pearl River Delta. I'm sure all of them will be cautious in taking orders."
Most areas in Guangzhou and Foshan have halted dine-in services, hurting restaurants and bars. Provinces surrounding Guangdong, which attract scores of tourists from the populous province each year, have also been hard hit due to transport restrictions.
"Orders from Guangdong account for 40 per cent of my total, but they have all been cancelled," said an outdoor tourism agent in Tibet.
The Guangdong outbreak is the first time China has seen local transmission of the variant lineage B. 1.617, which was identified in India last October and has been reported in 44 countries as of mid-May, according to the World Health Organization. 
Mainland public health officials characterised this particular strain of Covid-19, also known as the Delta variant, as "fast-spreading, high viral load and comes with a short incubation period". 
Authorities in Guangzhou have ramped up rapid viral screening in recent weeks and are racing to trace infections.
Wang Guangfa, a respiratory expert at Peking University First Hospital, said Guangzhou was fighting an uphill battle because the Delta lineage spreads faster than anything China has seen before.
The latest outbreak has also shown "blind spots" in China's pandemic control system, he added.
Guangdong had administered 71.2 million vaccine doses by June 6, but that translated to only 57 doses per 100 people, with only 12.3 per cent of the population fully inoculated. The province has yet to inoculate those above 60 years old. 
"It is optimistically expected that the pandemic can be ended before July 1, with no new local cases," Peng said.
"In order to achieve this goal, the Guangdong government has mobilised huge amounts of human and material resources in the short term, regardless of cost.
"We believe that Beijing is so far satisfied by the effectiveness of Guangdong's handling of the outbreak."