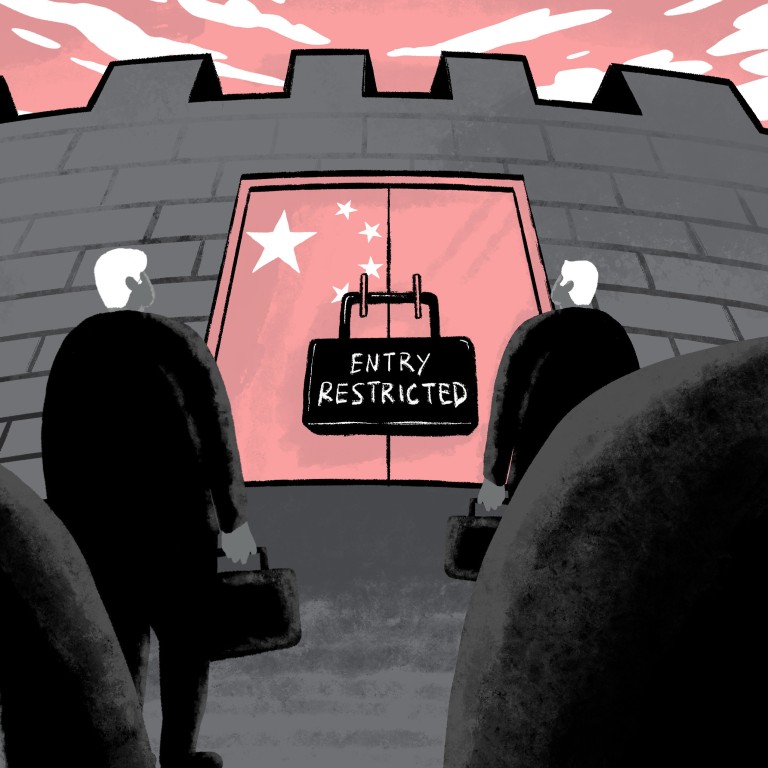 China's closed borders 'a real problem' for foreign business operations amid coronavirus
Many firms fear that draconian travel restrictions may result in fundamental shift away from the way business was done in China before the coronavirus
There are widespread concerns that China's foreign talent pool may never fully recover
This is the second in a series about China's plans to reopen its borders to the world amid the Covid-19 pandemic.
China's practice of quickly clamping down on even the smallest coronavirus outbreaks – by imposing aggressive restrictions on movement and mandating widespread testing – has for the most part kept the pandemic at bay since the initial lockdowns in January 2020.
But this unorthodox approach, including effectively closing the nation's border to visitors, is having a knock-on effect of making it difficult for companies – including many foreign ones – to do business in the country, and the economic implications are expected to be far-reaching.
Some call the measures draconian, adding that they may result in a fundamental shift away from the way business was done in China prior to the pandemic.
Executives of foreign firms, after more than a year of communicating with overseas headquarters solely via video calls, are saying they have become increasingly worried that they may not be able to
retain their expatriate employees
– crucial assets to their Chinese operations.
A survey on business confidence in China this year – released by the European Union Chamber of Commerce last week – shows that 68 per cent of respondents consider coronavirus-related entry restrictions to be one of the top challenges they are facing.
There are widespread concerns that China's foreign talent pool may never fully recover, which the chamber said would be "extremely" discouraging for European companies.
"There is some hope that returning to China will be easier if foreign workers take a vaccine approved by China's public health authorities. However, if there is not a predictable mechanism to facilitate foreign workers' return after visiting families abroad, European companies worry that some employees will simply leave in order to reunite with their loved ones," the survey concluded.
Charlotte Roule, a board member of the EU Chamber of Commerce in China, expanded on that sentiment, saying: "The longer the borders remain closed, the worse it is for our member companies, who need the expertise that foreign nationals bring."
There has also been a huge negative impact on those expat employees currently in China who have been prevented from travelling freely overseas, she added.
For the most part, extensive entry bans for foreigners to the world's second-largest economy have been in place for the past 15 months. In September, China eased the ban a little bit by allowing foreign nationals with specific types of visas, and from approved countries, to enter.
But even after meeting those conditions, all foreign visitors and returning citizens must provide evidence of a negative coronavirus test before being granted the paperwork needed for travel, and then they are subject to medical screenings and quarantine for up to 28 days.
Ker Gibbs, president of the American Chamber of Commerce in Shanghai, said staff mobility is now the No 1 issue for many US companies based in China, and he reiterated that they are experiencing difficulties in both keeping existing employees and attracting new people to open positions.
"Running successful businesses here in China is all about talent. The issue is mainly that China is allowing executives to come into China, but they're not allowing dependants," he said. "That's a real problem for us."
He added that video calls are simply not cutting it. And as the bilateral relationship between the United States and China continues to deteriorate, communication between headquarters and their Chinese field offices is "critical now, more than ever".
US President
Joe Biden
has taken as tough of a policy line against China as did his predecessor, Donald Trump. Earlier this month,
Biden expanded a ban
that prohibits Americans from investing in certain Chinese companies, raising the total to 59 Chinese firms with alleged ties to the country's military and surveillance efforts.
And last week, the Senate passed a
sweeping US$250 billion bill
to boost US competitiveness in the face of mounting geopolitical tensions with China.
Touching on nearly every aspect of the complex and increasingly tense relationship between Washington and Beijing, the 2,400-page US Innovation and Competition Act of 2021 earmarks billions of dollars to support American semiconductor manufacturing and to boost basic research and development, which analysts have labelled an
aggressive "industrial policy"
to counter Beijing.
The National People's Congress fiercely criticised the Senate bill, saying it shows that "the paranoid delusions of exclusivity have distorted the original intent of innovation and competition", and that its intent was to maintain US hegemony by exaggerating the so-called China threat.
"The headlines are so negative regarding China now, so there's a lot of nervousness at headquarters," Gibbs said. "And it's very difficult for people here in China to fully communicate to headquarters about the true situation and fully explain the business context. It is definitely impacting our business."
Ding Shuang, chief Greater China economist at Standard Chartered Bank, said China may not be in a hurry to open the border because the costs in doing so may outweigh the benefits.
If China continues to keep its borders relatively closed, business activities may be disrupted, but it would be more costly for the country if
more virus variants
were imported, he said.
"Opening the border will mainly facilitate people exchanges, but China has been running a deficit in the services trade," Ding noted. "If China opens the border, then it contributes more to the rest of the global economy in terms of services trade than it brings to itself, which is not a priority for China now."
China's services-trade deficit has declined significantly as a result of the pandemic, totalling 72 billion yuan (US$11.26 billion) in the first four months of this year – down 76.3 per cent from the same period last year.
China's trade surplus has expanded during the pandemic, as the world has snapped up Covid-related protection gear and electronic products for home offices and entertainment. 
Chinese exports grew 51.1 per cent in May
compared with a year earlier, helping boost the country's total trade surplus to US$45.53 billion last month from US$42.85 billion in April.
The border restrictions, coupled with fears of contracting the coronavirus in countries where it is still prevalent, are also taking a toll on China's tourism industry – the world's largest.
As a result, Chinese tourists have been more interested in
visiting domestic destinations
. The Ministry of Culture and Tourism estimated that there will be more than 4 billion trips made across China this year, with revenue from internal tourism estimated at around US$500 billion.
Alicia Garcia-Herrero, chief economist for Asia-Pacific at Natixis, expects China's economic growth rate to fall by at least 1 percentage point this year and said it is likely to hover around 3 per cent – even with a very positive low-base comparison from last year – if the border does not reopen.
"Hopefully, tourists will come in 2022, but it is very unlikely that we will go back to previous levels, as Chinese policymakers are fostering tourism within the mainland, and Hainan [province] continues to be supported as an alternative," she said.
It remains to be seen how border restrictions could affect the Beijing Winter Olympics, due to take place in February. Beijing must allow overseas athletes to enter, but questions remain as to whether international spectators will be able to join them.
In a call with International Olympic Committee chief Thomas Bach last month,
President Xi Jinping expressed confidence
that China will host the Beijing Winter Olympics and Paralympics next year "on schedule".
China has recorded more than 100,000 coronavirus cases and looks to continue relying on its strict lockdown measures to prevent the spread of Covid-19. It has also administered more than 825 million
coronavirus vaccines
, according to the Johns Hopkins Coronavirus Resource Centre.
The Chinese government has not released data on the proportion of the population that is fully inoculated, but given that Chinese vaccines generally require more than one dose, the number of fully vaccinated people is likely to be lower.
At least 70 per cent of the target population in China is expected to be vaccinated against Covid-19 by year's end, according to Zeng Yixin, deputy head of the National Health Commission. Chinese health officials have said that 70 to 80 per cent of the country's population must be inoculated to achieve herd immunity.
Twenty vaccines have entered clinical trials in China since last year, according to Zheng Zhongwei, head of China's
Covid-19 vaccine
development task force, adding that vaccine production will increase in the second half of this year.
"China has taken the lead in terms of the number of vaccines developed," he said.