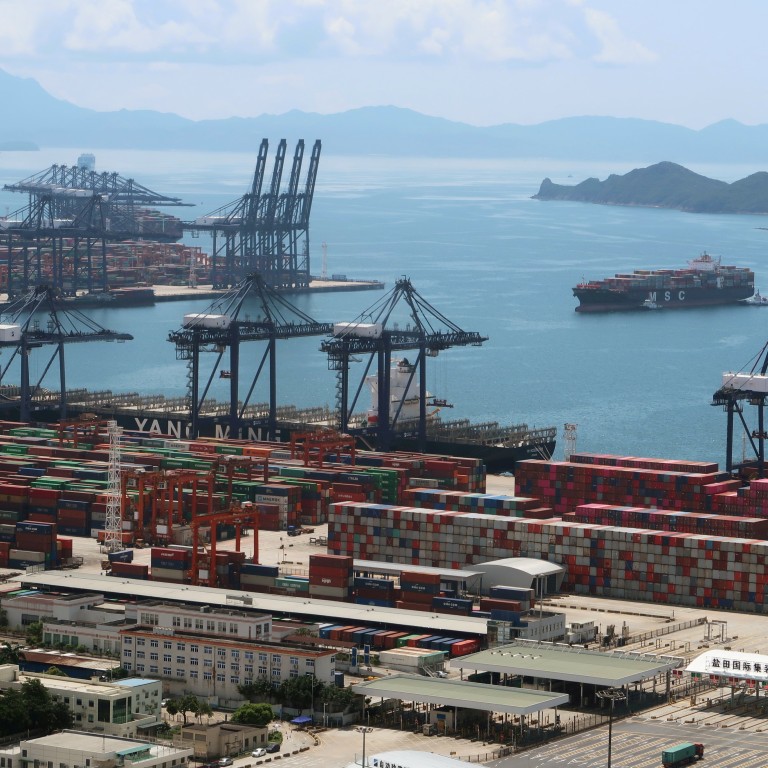 China shipping: Yantian port delays already worse than those caused by Suez Canal debacle in March
Weeks of containment efforts following outbreaks of Covid-19 among dockworkers in China's Pearl River Delta have caused severe shipping backlogs and inventory shortages
Worst-hit port is the Yantian International Container Terminal, which is the largest single port in China and accounts for 10.5 per cent of its foreign trade container throughput
The Port of Yantian, which is at the epicentre of China's latest coronavirus-containment efforts, is creating massive headaches across the maritime shipping world and further complicating the process of reopening the global economy.
Disruptions to the supply chain for some companies are said to already be worse than those caused by the six-day
blockage of the Suez Canal
in March, which made global headlines and spawned countless memes on social media.
From June 1-15, a total of 298 container vessels with a combined total capacity of more than 3 million 20-foot equivalent units – the standard measure for freight container volume, known as TEU – skipped the southern container port in Guangdong province, according to project44, a shipping and logistics service platform.
That marked a 300 per cent monthly increase in what are known as blank sailings – when a vessel skips a port along its scheduled route or cancels the journey entirely because it is not allowed to discharge or load cargo – according to analysts with the platform.
Over the last two weeks, the seven-day average for median dwell times – denoting how long export containers spend at the Yantian International Container Terminal – doubled, reaching 23.06 days on June 15, project44 said.
Though not all of the ships' cargo was meant for Yantian, the volume of loaded export containers that were left behind has caused a severe backlog, inventory shortages, and unprecedented transport costs for businesses, according to the platform.
Yantian port authorities had said on Tuesday that its operations should return to normal later this month as workers came back and more berths reopened. Overall operating capacity has already returned to about 70 per cent, but project44 said it could take weeks to process the backlog of containers.
"The damage has already been done,"
Maersk
, the world's largest container line, said in a statement on Thursday.
"Due to Covid-19 and a significant volume push since the end of last year, terminals are becoming global bottlenecks, be it at berths, yards or gating out cargo, and it's continuing throughout the logistics chain – in the warehouses, the distribution centres – with numbers on the rise."
Maersk said that congestion and delays at the Yantian port were a much bigger disruption to its operations than those caused by the Ever Given container ship getting stuck in the Suez Canal in March. The company also confirmed that the current estimated wait is over a fortnight, causing many carriers to divert vessels to other ports.
Analysts have estimated that Yantian had been unable to handle about 357,000 TEU in the last two weeks – a number that has already exceeded the 330,000 TEU affected by the Suez Canal blockage.
An outbreak of Covid-19 among dockworkers in China's Pearl River Delta since late May has brought some major ports in South China to a standstill. The worst-hit port is the Yantian International Container Terminal, which is the largest single port in China and accounts for 10.5 per cent of the country's foreign trade container throughput.
As a result, Yantian's severe congestion is overflowing, affecting other ports across the Pearl River Delta. But other ports, including Shekou and Chiwan in Shenzhen, and Nansha in Guangzhou, have not been spared by the latest wave of Covid-19, either.
This makes it even more difficult for China-focused shippers to find alternative ports and adjust their networks to avoid the Yantian congestion, according to Ting Lu, chief China economist at Nomura.
 The container freight rate index for exports at Shanghai and Ningbo ports surged by 6 per cent and 5.2 per cent, respectively, in the first two weeks of June, reflecting the limited capacity at key Chinese ports.
The slow turnaround of vessels at destination ports in China has also sent shipping rates rocketing, with ocean carriers from Asia to North Europe asking for US$20,000 per 40 feet (12.2 metres) – about a 1,000 per cent increase from a year ago. Trans-Pacific carriers are asking US$17,000 per 40 feet for US East Coast ports.
"The big issue is that container shortages and delays will severely impact companies' ability to deliver to customers, while industries will face shortages of materials," said David Blennerhassett, an analyst at Quiddity Advisors, in a report published by research firm SmartKarma on Thursday.
"[When] this pent-up export cargo does move, there will be a knock-on effect as this cargo hits European and US ports, given that both already face stretched landside operations – specifically rail carriers being unable to clear the terminal."