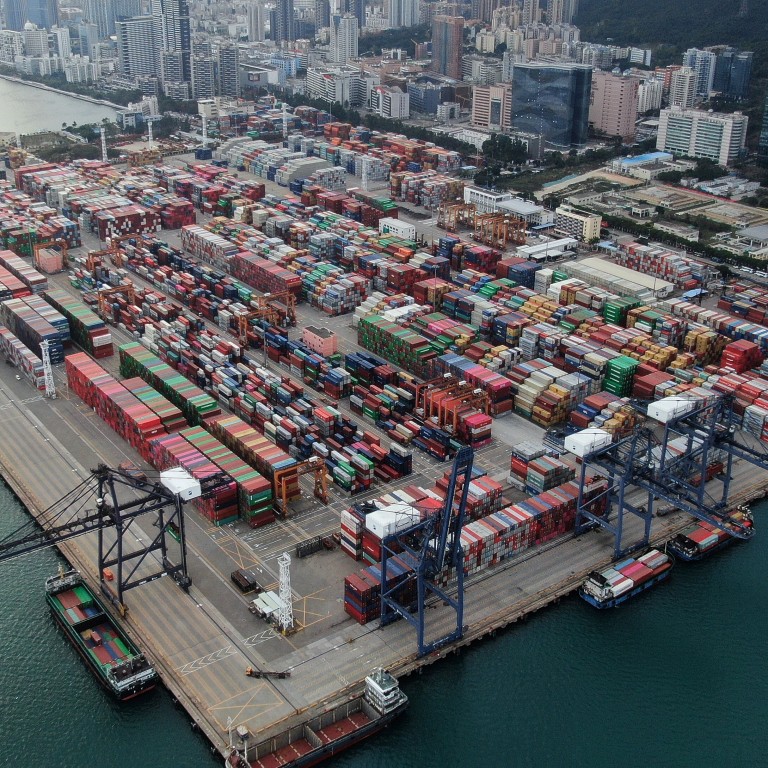 Coronavirus impact on China's exports may have been underestimated amid Guangdong outbreak, analysts say
Some firms across the southern manufacturing hub of Guangdong are worried about losing orders to other factories in China if sporadic outbreaks persist
Strict coronavirus-control measures in Guangdong have had a serious impact on container throughput at various ports
The coronavirus outbreak in Guangdong province has placed "huge" psychological pressure on small and medium-sized enterprises across China's manufacturing hub, and some fear they might lose orders to other factories across the country.
This comes as parts of the province, which accounts for about 10 per cent of China's economic output, have recently been ravaged by a confluence of setbacks – surging commodity prices and shipping fees; an electricity shortage; and troublesome lockdowns associated with Covid-19.
Huang Weijie, who runs several wholesale shops in Guangzhou and a factory in Yangjiang, said many local factories – especially smaller ones – are in a state of semi-suspension, as wholesale markets have been closed since the end of May.
"Consumption activities in several major cities in Guangdong from May to July will certainly go down to a very low level, which means the summer clothing sales season has passed and will certainly lead to an increase in factory inventories," Huang said.
Making matters worse, the impact of the recent outbreak on the country's exports may have been underestimated, as analysts with Soochow Securities are now estimating that China's year-on-year export growth in June will be 16.4 per cent, much lower than many analysts' projections of nearly 25 per cent.
Guangdong has conducted multiple rounds of mass testing since the outbreak began, and provincial authorities have launched 15 special measures in June to strengthen prevention and control of the outbreak.
The strict disinfection and quarantine measures caused severe congestion at the Yantian International Container Terminal in Shenzhen. Yantian is China's largest single port, accounting for 10.5 per cent of foreign trade container throughput. Yantian port said on Wednesday that it would resume normal operations on Thursday. The port had closed three berths on May 21.
Nonetheless, Danish shipping giant Maersk said on Monday that the backlog at the port caused by coronavirus outbreaks among workers would take "several weeks" to clear, after it warned one week ago that Yantian was "the most prominent bottleneck right now".
Peng Biao, an analyst with Fashionprint.com, which closely monitors supply chains, said she did not expect the outbreaks to go away any time soon.
"The psychological pressure on SMEs is huge, because now all industries in Guangdong now sense that such outbreaks can seriously affect their operations, with each wave causing four weeks' worth of disruptions, at least," she said. "And sporadic outbreaks are a sure thing, sooner or later.
"Therefore, different industries must incorporate the risk of the next round of outbreaks into their operating costs and re-evaluate their effective production times, costs and profits for the year."
The problems are bad enough that there was an extremely poor showing among Guangdong-based exhibitors at last week's China International Textile Machinery Exhibition in Shanghai.
Affected by the port congestion in Shenzhen, from June 1-10, foreign trade container throughput at China's eight major ports fell to minus 1.6 per cent, year on year – the first time throughput had fallen below zero since the Lunar New Year, according to the China Port Association.
Meanwhile, both the Ningbo Containerised Freight and Shanghai Containerised Freight indices reached new highs this week, indicating that the congestion problems in Guangdong have spread to other regions.
"In addition to the port congestion, the soaring container freight index, the recent appreciation of the yuan and the rising raw material prices have also impacted the profits of Chinese exporters, and this has somewhat inhibited their willingness to take more orders. We believe that exports in June will be lower than the level since the beginning of the year," Soochow Securities in a note on Tuesday.
China's exports grew almost 28 per cent in dollar terms in May from the same period of last year, which was below the pace in April but still well above historical growth rates.
This article appeared in the South China Morning Post print edition as: Coronavirus outbreak in Guangdong has smaller manufacturers worried