Xinjiang
Get more with myNEWS
A personalised news feed of stories that matter to you
Learn more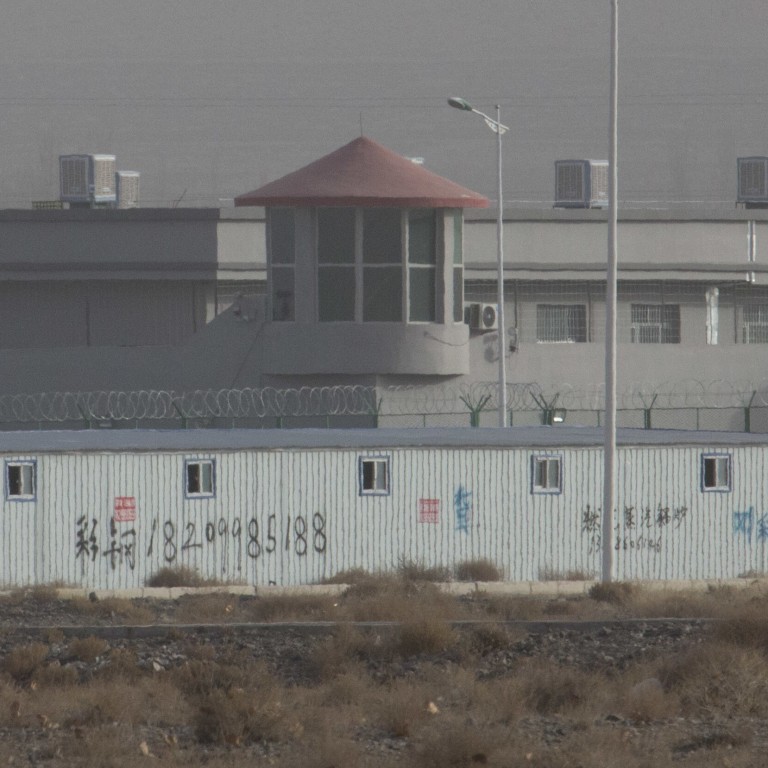 Xinjiang firms blacklisted by US seen 'shifting orders within China' to minimise impact
Biden administration confirms ban on US imports of metallurgical-grade silicon products from one Xinjiang company, and adds additional companies in Xinjiang to Entity List
But one analyst says 'Chinese companies have been preparing for any US sanctions since the trade war began', and does not expect targeted businesses to be hard hit by latest US move
The US ban on imports and restricted exports involving five Chinese companies will not have an outsized impact on them, because producers can simply change the production origin by shifting orders elsewhere in the country, according to a Chinese analyst.
The Biden administration confirmed on Thursday that it has banned US imports of metallurgical-grade silicon, as well as products made from it, from Hoshine Silicon Industry, over
forced-labour allegations
in China's far-west
Xinjiang
Uygur autonomous region.
Additionally, the US Commerce Department added Hoshine,
Xinjiang Daqo New Energy
,
Xinjiang
East Hope Nonferrous Metals,
Xinjiang
GCL New Energy Material, and the paramilitary Xinjiang Production and Construction Corps to America's Entity List, saying they were complicit in the use of forced labour involving Uygurs and other Muslim minority groups in Xinjiang.
Some of the companies on the Entity List are major manufacturers of monocrystalline silicon and polysilicon, which are used in solar-panel production. Metallurgical-grade silicon contains at least 98 per cent silicon, and most of it is used in industrial production. By comparison, it is not as pure as electronic-grade silicon, which is needed to make electronics such as computer chips.
Under such restrictions, US companies are required to get a licence to sell products or technology to blacklisted companies, but such exceptions are rarely granted.
Peng Peng, general secretary with the China New Energy Investment and Financing Alliance, said the US market for Chinese solar-panel production is not that big, but she said there are not many import alternatives outside China.
Peng added that China produces about 76 per cent of the world's polysilicon, with production bases mainly in Xinjiang, the Inner Mongolia autonomous region, Sichuan province and Yunnan province.
"I believe Chinese companies have been preparing for any US sanctions since the trade war began. So, we need to think next about how to counter the US sanctions by swapping the origin of production, by shifting orders within China," she said.
She added that the concerns would be much more serious if the European Union and other countries follow suit by banning products from the region.
Early this year, the outgoing administration of then-president Donald Trump
banned all cotton and tomato products
imported from Xinjiang. Following the ban, East Hope, GCL and Xinte Energy – all Xinjiang-based polysilicon manufacturers – announced plans to build factories outside Xinjiang.
It was unclear why Xinte was not among those companies placed on the Entity List. Xinte Energy gained 7.26 per cent on the Hong Kong stock exchange on Thursday following the news that some of its rivals had been blacklisted by the US.
GCL and Xinte had also previously revealed plans to build new factories in Sichuan and Inner Mongolia.
The state-backed Global Times tabloid has reported that Daqo, East Hope, GCL and Xinte produced about 243,000 tonnes of polysilicon in 2020, accounting for 55 per of the total output in China and 36 per cent of the global production.
Daqo told Reuters that it has "zero tolerance" towards forced labour, and that it does not sell directly to US companies, nor does it purchase from the US, and there will not be "a significant impact on the company's business".
Last month, East Hope signed a strategic cooperation agreement with the government of northwest China's Ningxia Hui autonomous region. With an investment of 30 billion yuan (US$4.63 billion), the project will boost production of solar-grade polysilicon, industrial-grade silicon materials, and high-purity silicon materials for electronics.
Plans for the first phase of the project will see it reach a production capacity of up to 250,000 tonnes per year – or half of the global production total in 2020. But it is unclear when output might reach that production level.
Beijing has denied all allegations of forced labour in Xinjiang. The US government has labelled Beijing's actions in Xinjiang a genocide – a term the Chinese government vehemently rejects.
Commerce ministry spokesman Gao Feng reiterated that stance during a media briefing on Thursday, saying the "so-called forced labour issue" in Xinjiang is "completely contrary to the facts".
"The US is once again using its state power to practice protectionism and bullying in the name of so-called human rights, which seriously damages the international economic and trade order and poses a serious threat to the security of the global supply chain," Gao said.
Foreign ministry spokesman Zhao Lijian on Thursday also vowed that China would closely monitor the measures being taken by the US and "make necessary responses to resolutely safeguard its own interests".
This article appeared in the South China Morning Post print edition as: Companies 'can shift orders elsewhere to avoid US ban'