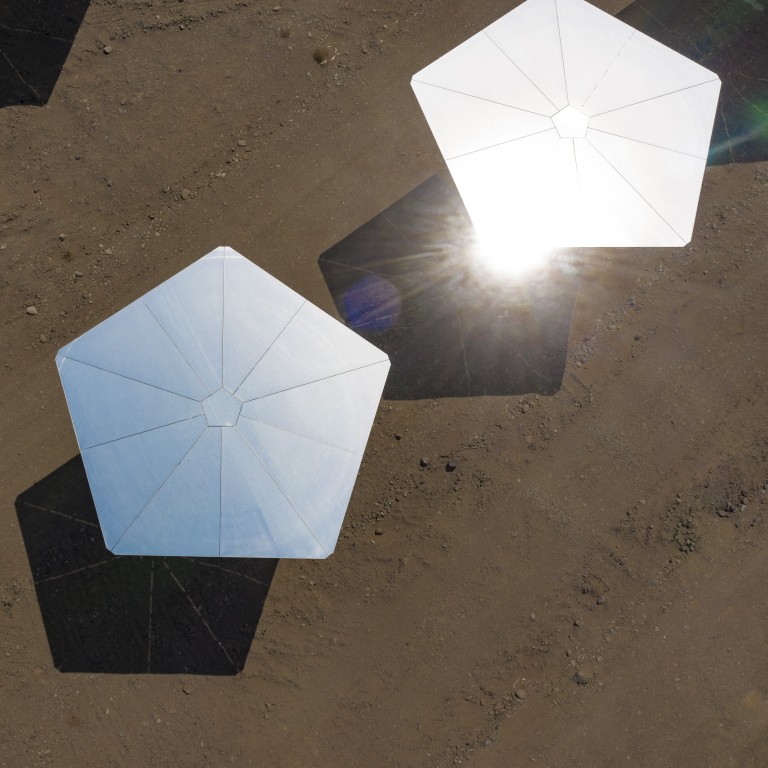 US ban on China's Xinjiang solar products linked to alleged forced labour heaps pressure on supply chains
Newly blacklisted Hoshine Silicon Industry is Xinjiang's biggest producer of metallurgical-grade silicon, a key raw material in solar panels
Joe Biden administration's ban on silica-based products from the Chinese company is likely to touch many of the world's biggest solar-grade polysilicon makers
The Biden administration's ban on products from a Chinese company in the
Xinjiang
Uygur autonomous region over alleged human rights abuses is expected to complicate solar supply chains and create new challenges for US companies trying to cut exposure to the region.
Last week, the US announced a
ban on silica-based products
containing materials from
Xinjiang
-based Hoshine Silicon Industry and updated its
trade blacklist
to include Hoshine;
Xinjiang
Daqo New Energy; Xinjiang East Hope Nonferrous Metals; Xinjiang GCL New Energy Material Technology; and the Xinjiang Production and Construction Corps.
The action against Hoshine – identified in a report earlier this year as having "significant exposure to forced labour through its quartz supplier" – will have significant knock-on effects for the global solar supply chain and could potentially slow development of the industry just as demand for clean energy begins to take off, according to analysts.
"The top eight polysilicon manufacturers, which produced more than 90 per cent of the global solar-grade polysilicon output in 2020, have all been mentioned by Hoshine as customers," said Johannes Bernreuter, a research analyst who studies the solar supply chain and produces annual reports on the polysilicon market.
"This will increase the pressure on polysilicon manufacturers to cut ties with Hoshine," he said.
The global solar industry gets about 45 per cent of its polysilicon – the base material for photovoltaic cells that convert sunlight to energy – from factories in Xinjiang, where human rights groups and a United Nations agency say members of China's ethnic Uygur Muslim minority group have been subject to forced labour and mass detention.
Hoshine is Xinjiang's biggest producer of metallurgical-grade silicon, which is made from high-purity quartz. The raw material is sold to polysilicon makers in China and around the world, then cast into metal ingots or cut into wafers that are made into solar cells.
Xinjiang's access to cheap coal-fired energy and silica sand mines gives it distinct advantages in polysilicon production, and this means its importance to global solar supply chains starts upstream. Four of the world's five largest manufacturers of solar polysilicon, including the Xinjiang subsidiaries of East Hope Nonferrous Metals and Daqo New Energy, have operations in the region.
Dennis Ip, regional head of power, utilities, renewables and environment at Daiwa Capital Markets in Hong Kong, said it would not be easy for Western companies to set up alternative supply chains outside the region.
"It would take roughly two years to diversify polysilicon to wafer-production supply chains from Xinjiang to other parts of China," he said. "If we are talking about setting up supply chains outside China – even longer, maybe five years."
US solar companies had already begun reorienting supply chains and establishing new traceability protocols in anticipation of new measures from the Biden administration.
The Washington-based Solar Energy Industries Association (SEIA) began urging its members to shift supply chains out of Xinjiang last year due to allegations of forced labour and recently launched a traceability tool to help companies keep track of materials used in their products.
In February, some 175 SEIA-affiliated solar companies signed a pledge opposing forced labour in the supply chain.
"Based on what we're hearing, our understanding is that most of the major suppliers are subjecting themselves to independent third-party audits," said John Smirnow, general counsel and vice-president of market strategy at the SEIA. "They're well-positioned to provide assurances to the US government or to customers that what they're supplying to the US does not include polysilicon from the Xinjiang region."
Smirnow said supply contracts were also increasingly requiring assurances or commitments on forced-labour prevention, including adherence to a traceability protocol.
Daqo New Energy Corp, a polysilicon supplier to four of the world's largest solar-module manufacturers, said in May that it would send independent third-party auditors to review its business, while vigorously denying allegations of forced labour in its supply chains.
Daqo and its raw-material supplier, Hoshine, were two of the primary subjects of a May report by the Helena Kennedy Centre for International Justice on forced labour in Xinjiang's solar supply chain.
The report found that both companies had connections to Uygur "labour-transfer programmes" or had exposure to companies that took part in them.
Beijing contends that the labour-transfer programmes are designed to create jobs and reduce poverty, and that involvement is voluntary.
The Biden administration has faced mounting pressure from both Democrats and Republicans to impose sanctions on China over the alleged use of forced labour in the production of solar panels. US customs authorities have already imposed so-called withhold release orders (WROs) covering cotton and tomato products produced by Xinjiang entities.
The latest WRO on Hoshine means American importers will now have to prove that the polysilicon in their panels was not made with any material from the company. But experts said enforcing the order will be challenging due to the complexity of the solar supply chain and Hoshine's dominant position in the industry.
"Untangling supply chains from China ultimately means building up new supply chains outside China, and that will take time and a lot of investment," Bernreuter said.
"In the meantime, Western solar players can only try to have wafer manufacturers in China use polysilicon not produced in Xinjiang."