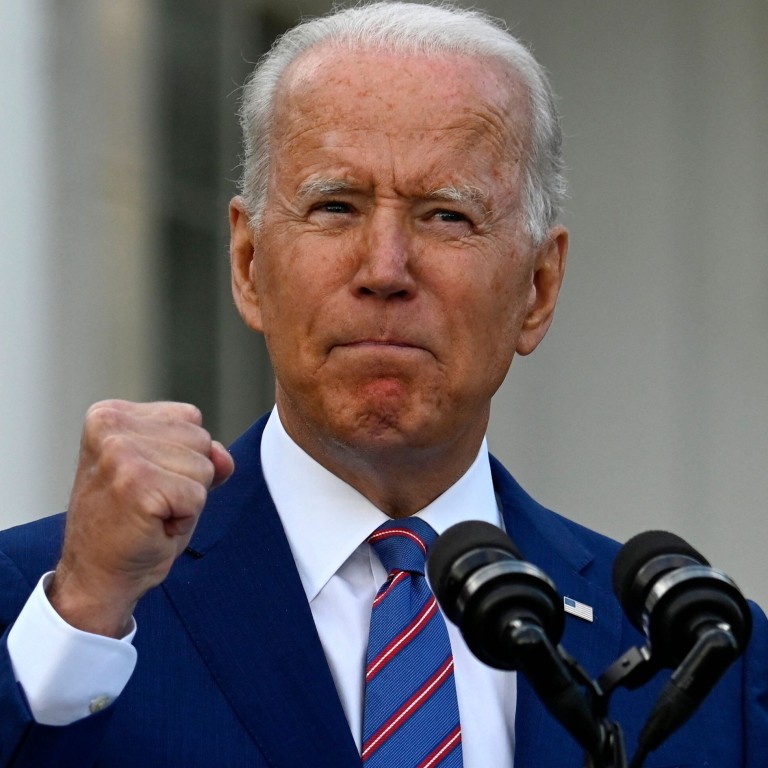 US-China trade war hits third anniversary, with no sign of Joe Biden easing economic pressure
Three years after the US imposed its first trade war tariffs, they remain in place for most goods under the Biden administration
While the two countries initially sparred over trade, tensions now touch on things like Xinjiang, Hong Kong and human rights
Three years after the US and China began a tit-for-tat trade war, the tariffs imposed by the Trump administration remain in place on most Chinese goods, and bilateral tensions have extended beyond trade to encompass a range of geopolitical and human rights issues under US President
Joe Biden
.
Since the signing of the phase one deal in January last year, Beijing has repeatedly urged the US to roll back its punitive tariffs on Chinese products and called on the American business community to help convince Washington. But US officials, including Trade Representative Katherine Tai, have said the tariffs will remain in place for now.
Although Biden has not pushed his China trade agenda to the front pages of the newspapers like his predecessor, he has very much carried on what Trump initiated, analysts said.
Given it was only China that made concessions under the phase one trade deal, it would be surprising if Biden rescinded the agreement, said Bryan Mercurio, a professor specialising in international economic law at the Chinese University of Hong Kong.
"That being said, Biden will at some point seek to put his own authority on trade relations so we may see small tweaks to the phase one trade deal in the future, assuming China believes it's in its own interest to do so," Mercurio said.
Shi Yinhong, a professor of international relations and adviser to the State Council, China's cabinet, said it will be very difficult for Beijing and Washington to relaunch trade negotiations "in the foreseeable future" and a mutually acceptable agreement would be "very difficult".
"The trade war will continue, at least for the near future," he said.
Under the phase one deal, China has committed to buying an additional US$98.2 billion worth of covered goods this year on top of 2017 levels, although purchases have fallen behind target, partly due to the coronavirus pandemic.
China's purchases of US goods from January to May reached only 69 per cent of the year-to-date target based on Chinese import data, and only 62 per cent of the target based on US export data, according to the Peterson Institute for International Economics.
"Complicating this is the fact that the US' pursued actions that touch on things like supply chain and investment policy, which have woven together these economic and political issues in ways that will be difficult to disentangle," said Nick Marro, lead analyst for global trade at The Economist Intelligence Unit.
"As a result, I think the chances of a meaningful de-escalation in US-China tensions are pretty slim."
Stephen Olson, a former trade negotiator with the Office of the United States Trade Representative, said anyone who hoped for a quick wind-down of the trade war under Biden will be disappointed, because his China policy has not diverged in a substantive way from that of his predecessor.
"At some point, the US will have no choice but to engage with China on the tough structural issues that have plagued the trade relationship," said Olson, who is now a senior research fellow at the Hinrich Foundation.
"The administration has not yet tipped its hand as to what it hopes to accomplish.
"Biden's intention to pursue a US worker-centric trade policy, along with his desire to put human rights at the heart of foreign policy, will ensure that any trade talks with China will be tough going."
Bryan Mercurio said he does not expect the supply chain review to affect trade in the short term, as it is private companies and not the US government that imports goods from China.
"In order for any restructuring of the supply chain to take place in any sector, the government will have to make it financially attractive through subsidies or other sweeteners. I do not see this happening on a large-scale basis," he said.
This article appeared in the South China Morning Post print edition as: No sign Biden will ease up as conflict enters third year