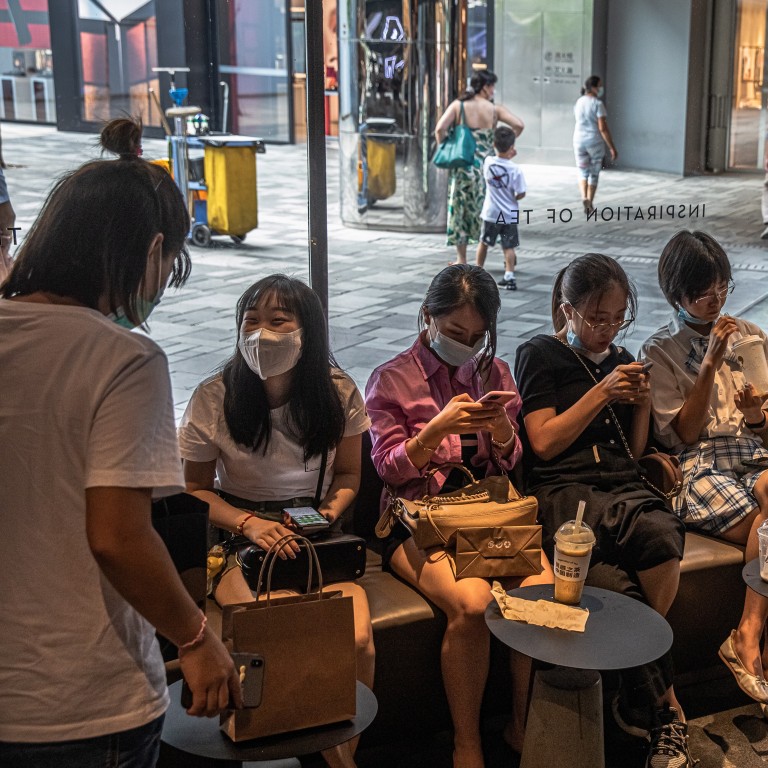 China retail sales get 3 trillion yuan boost as personalised marketing grows via 'private traffic' in chat groups
WeChat groups, run by foreign and Chinese firms alike, have become crucial marketing tools for reaching new consumers and building brand loyalty in a post-pandemic China
E-commerce report finds that direct marketing tactics – with customised promotional offers and discounts – are helping companies better connect with their target audience
The numerous WeChat messages that pop up on Amber Liu's phone every day have become a go-to source of coupons and information about retail sales.
These types of posts originate from chat groups, but the Shanghai-based journalist barely knows any of its members.
Like countless others, she is mainly interested in the products on offer – ranging from cosmetics to lattes. And that's exactly what companies are banking on.
"Some groups can be really noisy because the group admins keep flooding them with promotional messages," the 24-year-old said. "But they can be very useful in attracting customers."
Across China, such WeChat groups have become increasingly important channels for retailers – both Chinese and foreign brands – to gain access to new customers and to help maintain brand loyalty, according to a June report by Azoya, a provider of e-commerce solutions that helps brands grow in China.
Defined as "private traffic", the marketing tool refers to building and maintaining a customer database that retailers can access for free or at little cost.
"'Private traffic' is a buzzword in China," said Franklin Chu, managing director of Azoya USA. "Private domain operations are no longer the icing on the cake … they are the must-haves for retailers. It will become the new norm."
The private-traffic concept is nothing new. Its Western equivalent could be a customer email list. But Chinese people are not as reliant on email as their Western counterparts. In China, WeChat is king. With 1.2 billion monthly active users, it is far and away China's most ubiquitous mobile app, and it is where most of this private traffic takes place.
The decade-old social app, owned by Tencent, provides a complete infrastructure for private traffic, the report said. Retailers can promote their products on its photo-sharing and live-streaming platform; can offer personalised consultation to clients in the chat groups; and can then distribute coupons and receive payments via WeChat Pay, the app's payment service.
Chu pointed out how the app's myriad features help brands build up and establish private domains, and he said the trend of using WeChat as a channel for private traffic could be traced back to its 2011 launch.
"It was just that private traffic was not as systematic at that time, and in most cases offline salespeople were [manually] adding customers through their personal WeChat accounts," he said.
But the coronavirus pandemic has thoroughly changed the picture. Offline sales channels took a big hit last year as widespread lockdown measures limited face-to-face interactions and kept people home. In response, people increasingly sought out e-commerce platforms, and brands have responded in kind.
The launch of WeChat Work – an app function supporting work-from-home trends – subsequently formed the basis of the group-chat model. It helps marketers add limitless customers to the brand's network, where promotional content is easily shared with the target audience.
One of the groups Liu joined is run by Zhuben, a Chinese cosmetics manufacturer with several such chat groups – each of which is limited to 500 members. In the group that Liu joined, five brand admins make posts and are available around the clock to answer customer inquiries.
In these groups, most marketers use discounts and coupons to entice users. The strategy has proved effective in cultivating brand loyalty, according to a survey conducted by iiMedia Research – a third-party data mining and marketing agency that the report also cited. The survey found that 40.8 per cent of customers joined these groups for the perks.
"Consumers have a better shopping experience in the private domain," Chu said. "They can enjoy real-time promotions and exclusive activities."
In a WeChat group run by a Luckin Coffee branch in Shanghai, for instance, 10 promotional messages appeared in the span of four hours on Wednesday. And whenever someone new joins the group, a welcome message follows.
Compared with traditional e-commerce Chinese platforms such as Taobao and JD.com, which are categorised as "public traffic" since they gain traffic through advertising or keyword usage, private traffic focuses more on delivering personal messages to consumers, according to the report.
"They get a customised shopping experience," Chu said. "For instance, personal make-up consultants can provide professional care advice, and cosmetics recommendations accordingly, to different consumers with different skin types."
Sales via private traffic will reach roughly 3 trillion yuan (US$464 billion) this year, according to Azoya's estimate. In comparison, e-commerce sales in China totalled 37.21 trillion yuan (US$5.75 trillion) in 2020, according to Ministry of Commerce figures.
"Public-traffic platforms currently still account for the majority of China's e-commerce market share, but the trend of brands attaching importance to private traffic cannot be ignored," Chu said.