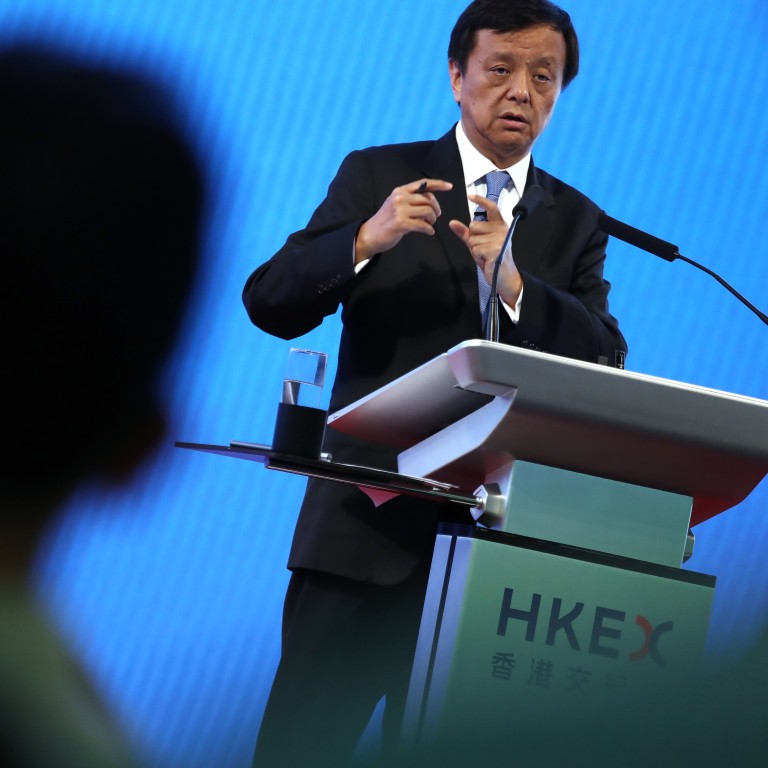 China 'needs Hong Kong' in race for global financial leadership, former stock exchange chief says
There is a chance that China could become the leader in the global financial system, according to the former head of Hong Kong's stock exchange operator
Hong Kong would then need to become an extension of the East, rather than an extension of the Western world, said Charles Li
China is well on its way to becoming the world's first digitalised and cashless economy, allowing it to dictate global financial rules while also enabling Hong Kong to shoulder an important responsibility alongside, according to the former head of the city's stock exchange operator.
But as China still does not have the ability to change the US-centric global economy, the arrival of a digitalised era in the future means there is a real chance that China could become the one leading the global financial system and will no longer have to follow Western rules.
Hong Kong would then need to instead become an extension of the East unless it wants its status as a financial hub to come under threat, said Charles Li Xiaojia, former chief executive of the Hong Kong Exchanges and Clearing (HKEX).
"Hong Kong will need to establish the rules and regulation [based on its common law legal system] to create a testing ground for the new financial system," Li who remains a senior adviser to HKEX having
stepped down from his rol
e as chief executive in December, said on Tuesday
"Hong Kong is not grabbing the role, but it is China which needs Hong Kong."
Online payment platforms like
WeChat Pay and Alipay
are already heavily used in China, while the
trials of its digital currency
are well under way, limiting the occasions where traditional coins are notes are used to pay for goods and services, especially amid the coronavirus.
And in the digitalised era, the quantity, depth and broadness of Chinese data are vast, allowing faster development of its data governance system than in the United States or Europe, and this could eventually crush the traditional financial system, Li added.
But separately, mounting geopolitical tensions could create challenges for Beijing to balance personal and business data privacy with public data safety.
National security concerns can also immensely increase because of the risk that data can be collected by overseas parties as a source of intelligence, Li said.
"Whether you have abused data to harm your consumers, this is something that the government is concerned about. That comes with the situation for Didi," Li said. "For all the big companies that own data, they are together facing a big challenge in the government's attitude towards them."
The stock price of
ride-hailing app Didi Chuxing
plunged by as much as 25 per cent on Tuesday after China's State Council said it would tighten rules for initial public offerings (IPO) both domestically and overseas as part of a sweeping overhaul.
The move came just days after Didi's blockbuster IPO in New York. It was then removed from app stores, while it is also the subject of cybersecurity investigations over national security concerns.
The move against Didi, which has 377 million active users in China, comes as a new wave of "digital sovereignty" emerges around the world over data control and as international competition for data security increases.
Last month, the US signed an executive order that compels its Department of Commerce and other relevant departments to review and take appropriate actions against software applications owned or controlled by a "foreign adversary", who may threaten national security and sensitive data, including personally identifiable information, personal health information and genetic information.
Also citing national security concerns, Beijing responded with a data security law of its own, addressing key issues of data competition and protection around the world, and providing guidance to enterprises for data compliance and even data assetisation management and development.
Li believes Hong Kong should grasp an opportunity to maintain its top-tier hub status in the upcoming financial trend amid the digitalisation era, especially with many Western hubs not wanting to change their operations and the world order.
This trend involves international investment being attracted to numerous Chinese microeconomic entities, such as restaurants, beauty salons and other small shops, whose overall volume will require a huge amount of capital.
Hong Kong, being an international financial hub, can facilitate financing of such entities, providing transparent quotation information for investment analysis, Li said.
Hong Kong has a unique role to help China develop a healthy financial market to encourage capital to flow to its economy, said Lawrence Li, chairman of the Hong Kong Financial Development Council.
"After having faced various environments and difficulties, [Hong Kong's] resilience is pretty high. To help [China's] dual circulation economic strategy run healthily, it is an important responsibility," he said.
This article appeared in the South China Morning Post print edition as: Key role for HK in digitalised economy