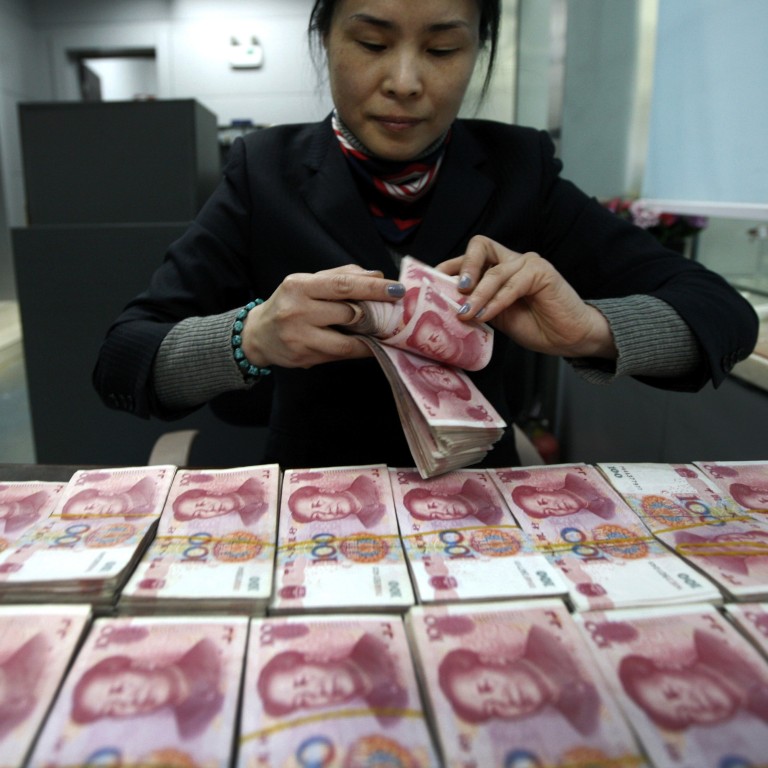 China economic policy easing 'would be no surprise' after Beijing signals rate cut
Move would be the first cut in more than a year, and analysts say it would step up financial support for the economy, which could boost job growth
However, some small and medium-sized enterprises 'would continue to operate in difficult conditions' even if banks are encouraged to lend more money, one economist warns
A signalling by China that it might free up more liquidity to banks – by cutting the amount of cash that they must hold in reserve – has taken the market by surprise and reveals new pressures facing the economy in the coming months, according to analysts.
For the first time in over a year, China's State Council indicated that the reserve requirement ratio (RRR) might be cut, which would step up financial support for the real economy, especially small and medium-sized enterprises.
Cutting the RRR would free up more cash that has been set aside at People's Bank of China (PBOC), allowing banks to lend more.
The move also comes as the Chinese government has hinted at a monetary policy that would diverge from that of other major economies such as the United States, which has started discussing interest rate hikes and a timetable for quantitative easing tapering in its post-pandemic recovery.
"A shift to some kind of policy easing in the second half of the year would be no surprise … but using a high-profile tool such as the RRR cut is a big surprise to markets and us," Lu Ting, chief China economist at Nomura, said in a note on Thursday.
Lu estimated that the RRR would be cut by 0.5 per cent in the coming weeks to counter the growing downward pressure in the economy, but he did not expected a firm policy rate cut in the second half of the year.
The State Council, China's cabinet, had reaffirmed that Beijing will "avoid opening the water gates and flooding the market with liquidity".
"So, to what extent the monetary policy will be loosened is still uncertain," Zhang Zhiwei, chief economist at Pinpoint Asset Management, wrote in a note on Wednesday.
Economists at HSBC, in a note on Thursday, said: "We believe Beijing's stance is still to strike a balance between supporting growth and stabilising the macro-leverage ratio."
They said a possible RRR cut was more about reallocating credit to sustain the recovery of jobs than it was about another broad-based easing cycle.
Morgan Stanley also viewed it as an interim fine-tuning, rather than the start of a major new easing cycle.
"We expect the PBOC to fine-tune interbank liquidity management to accommodate faster local government bond issuance," Morgan Stanley chief China economist Robin Xing said in a note.
Iris Pang, chief economist for Greater China at ING, said the cut was likely targeted at lowering the cost to banks when they lend to SMEs.
"That means that not all SMEs can get loans from banks, even if there is a targeted RRR cut. Some SMEs would continue to operate in difficult conditions," she said in a note on Thursday.
Also on Thursday, PBOC deputy governor Fan Yifei said the central bank would continue to guide financial institutions in terms of increasing lending to more SMEs, lowering the market loan interest rates and reducing charges in the payment process.
However, the "new normal" of differing monetary policies between Beijing and Washington is one to watch, analysts said.
The PBOC had already cut the RRR three times in the first four months of last year, releasing about 1.75 trillion yuan (US$270 million) worth of liquidity, as part of its 9-trillion-yuan package to fight the coronavirus pandemic, stabilise the economy and provide support to businesses and individuals.
Given that, some government advisers have warned that Beijing should not withdraw the expansionary fiscal and monetary policies it has conducted since the pandemic began. Instead, some have argued that it was even necessary to introduce more aggressive measures.
Sheng Songcheng, a former official at China's central bank, wrote in an article published on Tuesday that China should "reasonably and appropriately" lower interest rate levels in the second half of the year to support economic growth and allow room for future policies.
This article appeared in the South China Morning Post print edition as: beijing 'set to ease monetary policy'