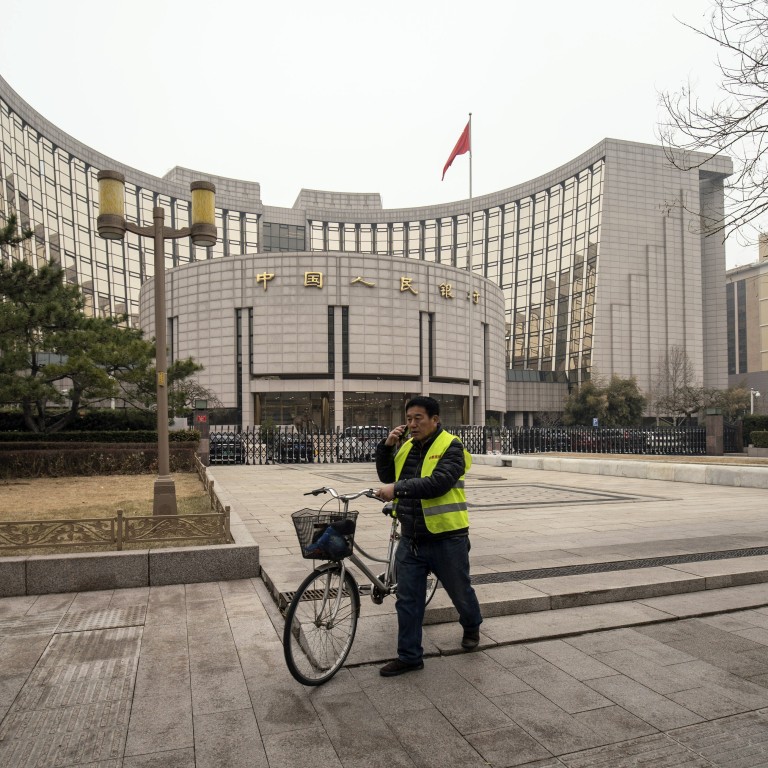 China freeing up 1 trillion yuan will help support businesses, but impact seen as 'negligible' to economy in near-term
People's Bank of China confirmed on Friday that it will cut the reserve requirement ratio (RRR) for financial institutions from next Thursday to support the real economy
The reserve ratio is the portion of a commercial bank's liabilities that it must hold onto against possible losses, rather than lend or invest
China's central bank has announced it will cut the reserve requirement ratio (RRR) for major commercial banks by 0.5 percentage points, releasing 1 trillion yuan (US$154 billion) worth of liquidity into the interbank system on Thursday with an aim of supporting small Chinese businesses with more credit.
The move comes amid signs that China's economic growth is slowing. But economists say it will do little to lift consumer spending or alleviate economic tightening in the second half of the year after a buoyant first half, led by
18.3 per cent growth
in the first quarter of the year.
The cut by the People's Bank of China (PBOC) will allow most banks to maintain a reduced average ratio of 8.9 per cent, while small banks that now have a lower reserve ratio of 5 per cent will be excluded.
The reserve requirement ratio sets the minimum amount of reserves that must be held by banks and cannot be loaned out.
An extra 1 trillion yuan will be available for banks to lend as of Thursday, though some of the liquidity will be used to repay the 400 billion yuan (US$62 billion) worth of medium-term lending facility loans to banks that will mature on Thursday. In addition, some of the extra liquidity will be lent to firms so they can pay taxes due later this month.
After China's sharp economic recovery in the first half, some economists now expect second-half economic growth to drop to about 5 to 6 per cent, with domestic consumption weak and small firms are under pressure from rising costs. The
Chinese economy
could be at risk of a capital outflow if the US raises interest rates in an effort to tighten rapid recovery in its market.
But if this is a move to stimulate consumer spending and halt the economy's second-half slowdown, it will have little impact, according to Zhiwei Zhang, chief economist with Shanghai-based investment firm Pinpoint Asset Management.
"We continue to expect June macro data to show a further slowdown, particularly in consumption. Retail sales already disappointed in April and May," he said.
"China's unbalanced recovery paints a worrying picture for other countries that have just started to recover from the pandemic. The new normal of economic growth may be slower than the pre-Covid period, and this may last much longer than expected."
Capital Economics said that with credit growth levelling off in June, and having decelerated to the pre-pandemic pace, an economic slowdown is still expected in the second half of the year.
Analysts polled by Reuters had predicted that new yuan loans would rise to 1.8 trillion yuan in June from 1.5 trillion yuan in May, and against 1.81 trillion yuan in June last year.
Capital Economics' chief Asia economist, Mark Williams, said measures such as RRR cuts tend to lower financing costs for those able to access credit, but they do not increase how much can be borrowed.
"We suspect this is a pause rather than an end to the slowdown – today's RRR cut notwithstanding. Either way, the deceleration over the first half of the year will be a headwind to activity in the second half," Williams said.
Any immediate impact of the ratio cut is likely to be negligible to China's economy, according to Capital Economics' senior China economist, Julian Evans-Pritchard.
"Our assessment is that the PBOC is trying to nudge banks to lower lending rates without shifting its broader policy settings, such as its quantitative controls on credit," he said in a note on Friday evening.
"If we are right, then the near-term economic implications of the RRR cut are likely to be small."
Previous measures to stimulate the economy, such as handing out billions of yuan worth of shopping vouchers in April, had little effect in lifting consumer spending.
The central bank has not offered details on how much new credit small firms will be able to access, be it through lower rates or other measures, nor on steps they have to take to apply for it.
"Interpreting RRR adjustments in China is not straightforward, as their impact on monetary conditions has become less clear-cut over the past decade," Evans-Pritchard said.
"They are sometimes still used to push down interbank rates, as was the case when Covid-19 struck early last year. But more often than not, the RRR now serves a more narrow purpose – as a way to direct lending to certain sectors or simply as a liquidity-management tool, resulting in little lasting shift in overall monetary conditions."
On Friday, the PBOC reiterated that its monetary policy stance had indeed not changed, and that the RRR cut was partly intended to prevent a tightening in liquidity conditions due to the upcoming tax season and a withdrawal of funds via its medium-term lending facility.
"It is just a routine operation after monetary policy normalisation, aimed at optimising the funding structure of financial institutions and therefore facilitate their better financing support for the real economy," the PBOC said.
"The prudent monetary stance doesn't change."
The decision followed Premier Li Keqiang calling for more tools to
support small businesses
, which have been plagued by rising costs.
New data from the National Bureau of Statistics on Friday also showed that
factory-gate price inflation
in China remained high in June, falling slightly from a near 13-year high in May.
The producer price index (PPI), which reflects the prices that factories charge wholesalers for their products, rose by 8.8 per cent in June from a year earlier, down from a gain of 9 per cent in May.
The central bank's move makes sense, from a historical perspective, according to ANZ Research Greater China chief economist Raymond Yeung and senior China strategist Zhaopeng Xing.
Allowing banks to reduce their reserves is the most effective – and common – way of tackling the liquidity problem without having to expand the central bank's own balance sheet, they said.
"RRR cuts have often been used as a key measure to normalise China's monetary policy over the past few years," they said in a note. "We believe the PBOC's move today is intended to demonstrate that China has a variety of policy tools to conduct monetary policy.
"Looking ahead, we expect the PBOC to ensure sufficient market liquidity and financial stability."
This article appeared in the South China Morning Post print edition as: Beijing to cut reserve ratio to support small businesses