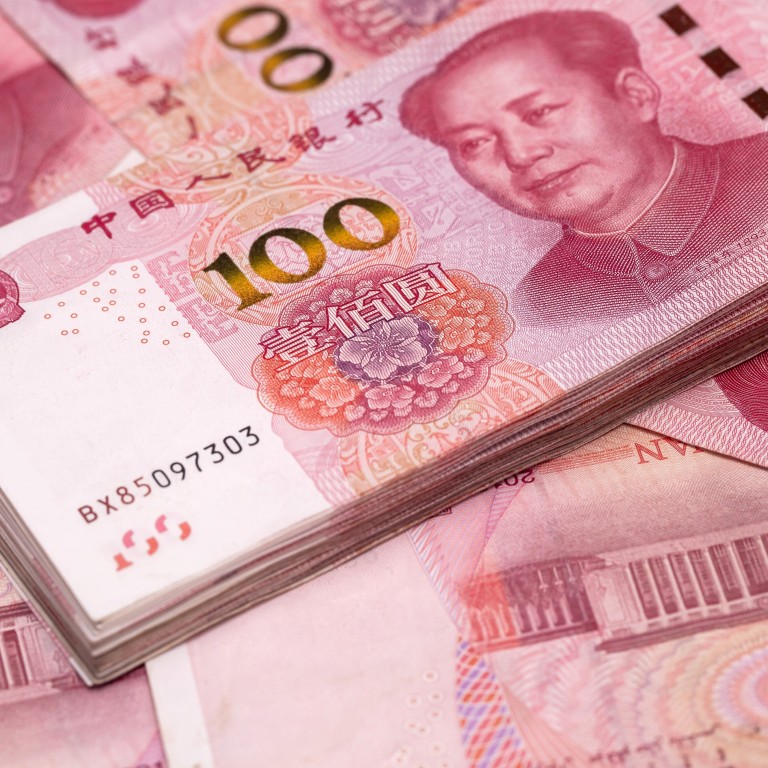 China 'recession' risk sparks 'unease' in economic circles, with warnings of quarterly slowdowns
Consumption outlook in year's second half 'remains pessimistic', and capital outflow could result in 'yuan depreciation' and give rise to asset bubbles
Bearish economist says China is in late-stage stagflation and warns that real estate and exports will drag on the economy in the coming months
A surprising move to cut the banking system's reserve requirement ratio (RRR) signals looming headwinds of a potential recession for China's economy while further widening a divergence from Washington's pro-tightening economic stance, according to economists.
The People's Bank of China will slash the RRR by 0.5 percentage points on Thursday, unleashing 1 trillion yuan (US$154 billion) worth of liquidity into the interbank system, with the primary aim of using more credit to help support small, cost-pressured domestic businesses. It is the first such cut in 15 months.
But the move has left some economists wary on the nation's economic outlook. Some have predicted that gross domestic product (GDP) will grow by 5 to 6 per cent in the second half of 2021, year on year, after first-quarter growth jumped 18.3 per cent – albeit against a low base comparison with last year when the coronavirus pandemic resulted in widespread lockdowns.
Ren Zeping, chief economist at Soochow Securities, said that the "window of China's monetary easing cycle" is opening amid weakening economic momentum.
China's slowdown stems from weak consumer spending and because small and medium-sized firms – the nation's biggest employers – are struggling with the high cost of raw materials and reduced production. A
surge in commodity prices
pushed factory-gate inflation to
9 per cent in May
– the highest in 13 years. It dipped slightly to
8.8 per cent in June
.
"We [the
Chinese economy
] are now at late-stage stagflation and in the early recession of the economic cycle," Ren said in a note published in Chinese media on Monday. "The second half of this year and the first half of next year will be the transition point … the economy will slow down, quarter by quarter. Real estate and exports will cause the biggest drag on the economy."
In an earlier note on Saturday, Ren said: "New export orders have fallen for two consecutive months. In the second half of the year, as external demand gradually shifts from durable goods to services, and as overseas production capacity gradually recovers, high growth in exports [from China] may not be sustainable."
The central bank started to withdraw the 9 trillion yuan (US$1.39 trillion) worth of stimulus measures when the pandemic came under control last summer, striding towards a "normal" monetary position. Its balance sheet grew only 3.14 per cent from the start of last year.
Iris Pang, chief Greater China economist with ING, is among those who see warning signs in the RRR cut.
"This gives me a sense of unease. Are banks under stress? If this is the case, it implies there could be more bad loans," she said a note on Friday. "China may need another RRR cut in the fourth quarter. If bank troubles spread to the real economy – for example, they are unable to provide loans to solid companies due to constraints of capital and liquidity – both the RRR and interest rates may need to be cut."
Bad loans could have stemmed from recent deleveraging reform where banks had not been able to lend to real estate developers as easily as before, and fintechs, which banks also lend to, have also been subject to deleveraging reform, she added.
China's woes could also worsen with the increasing divergence in policy away from what is being seen in the US, economists added.
"The RRR cut suggests that the mindset of [Chinese] monetary authorities has changed; it will be more forward-looking and will take the initiative to embrace the gaming between powers, rather than follow in the footsteps of the US Federal Reserve," Zhongtai Securities analyst Dai Zhifeng said in a note.
The two economies' diverging policies reflect different priorities. China's short-term pressure lies in sustaining growth, but the US is focused on reining in inflation, Cheng Shi, chief economist with ICBC International, the investment arm of China's largest commercial bank, said in his note.
The different policies will result in different interest rates and currency exchange rates that will, for example, cause unintended hot capital flows.
When interest rates drop in China, capital could flow out of it and into the US, where investors may find relatively higher returns.
This phenomenon occurred in the first half of the year when higher interest rates in China attracted trillions of yuan in capital, raising concerns over the
emergence of asset bubbles
.
"China is likely to see capital outflow in the second half of the year, and the yuan exchange rate will face depreciation pressure, but it will not be too intense," Yang Qinqin, research director at the Rushi Advanced Institute of Finance, wrote in a note on Saturday on the RRR cut.
Sheng Songcheng, former head of the PBOC's statistics department, also shared his concerns.
"We must stay alert to the spillover effect of the US Fed's monetary policy turnaround," Sheng wrote in a note at the weekend.
"The US tapering will narrow the interest rate gap with China and reverse the capital flows. As the hot money flows out of China, the yuan exchange rate will face depreciation pressure."
Sheng said the second half of this year will be a key period for China to marginally loosen its monetary policy – not only for a further RRR reduction, but also a rate cut.
Currently, the bilateral interest rate gap remains relatively large. The 10-year yield of US Treasury bills has fallen from a late-March high of 1.74 per cent to 1.37 per cent, compared with 3 per cent for Chinese government bonds.
China must continue its bid to sustain economic growth, having passed its recovery phase, Sheng added.
"Domestic small, medium-sized and micro enterprises are struggling," he said. "The upstream raw material prices are too high. Due to the homogeneity of SMEs and fierce competition, prices cannot be passed down [to consumers] … the consumption outlook in the second half of the year remains pessimistic."
This article appeared in the South China Morning Post print edition as: surprise move sends worrying economic signal